Ethiopia Backpacking Trips
Explore secret Africa on an alpine wildlife safari.
Heading out the door? Read this article on the new Outside+ app available now on iOS devices for members! Download the app.
Photos by Kurt Werby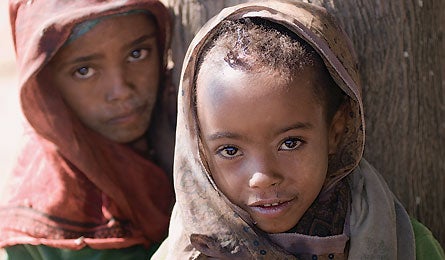 The Amhara have lived in Ethiopia for 1,000 years.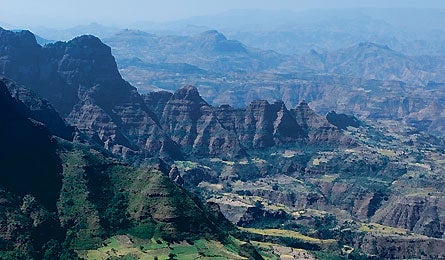 The Semien Highlands.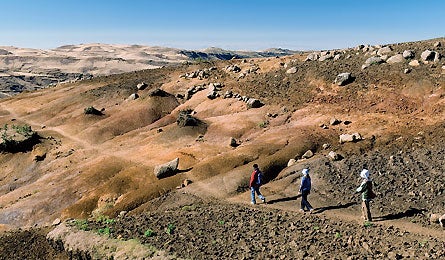 Hikers approach the village of Geech.
Pyrenees Traverse, France | Cape Wrath Trail, Scotland | Zillertal Alps, Austria | Tongariro Northern Circuit and Heaphy Track, New Zealand | Cordillera Apolobamba, Bolivia | Overland Track, Australia | Sarek National Park, Sweden | Rolwaling and Khumbu Valleys, Nepal | Polar Route, Greenland | Simien Mountains National Park, Ethiopia
Talk about off the map: This chain of 14,000-foot mountains might as well be off the planet. And this 83-mile, eight-day trek hits the trifecta of adventure travel: Mind-boggling scenery, exotic wildlife, and fascinating culture. The Simiens, sculpted by 40 million years of eruptions and erosion, are a haunting mix of sheer escarpments, deep gorges, and ambas–stone columns that are remnants of prehistoric volcano vents. Gelada baboons protected within this UNESCO World Heritage Site are so comfortable around humans that you can sit on the ground near them (just don't get closer than 20 feet). And John James Audubon himself would have dropped his binoculars at the array of bird life, which includes waddled ibis and enormous vultures called lammergeysers. Trekking through villages of mud-and-grass huts, you'll meet Amhara locals whose ancestors became the first Africans to repel a full-scale European colonization at the end of the 19th century.
The trek starts in Buyit Ras, but first visit park headquarters in Debark, where you'll meet your mandatory ranger escort (who isn't a guide, officially, and usually speaks only Amharic). Local guides with packhorses are available here as well; both are recommended. The elevation and infrequent water sources make this a challenging hike, and much of the route crosses true wilderness in largely trailless terrain. Buyit Ras–as well as designated camps the next two nights at Geech and Chenek–put you in prime baboon habitat with big-mountain views. En route, you'll cross a series of 14,000-foot peaks with edge-of-the-Earth views across the vast, desolate plains of east Africa.
Life-list moment: Dayhike to Bwahit Peak from Chenek and see elk-size walia ibex–a species that exists only in the Simien Mountains–on crags just 20 minutes from camp.