Adirondack Park: Mount Marcy
Tag New York's high point on this 14.2-miler into a mix of forest and broken rock, with jaw-dropping vantages of the High Peaks and Green Mountains.
Heading out the door? Read this article on the new Outside+ app available now on iOS devices for members! Download the app.
With 43 (out of 46) mountains topping 4,000 feet, the High Peaks region of New York's Adirondack State Park is a Mecca for serious mountain climbing in the east. If you're all about making challenging climbs harder, tackle 5,344-foot Mount Marcy during the winter, when temperatures drop to minus 30F and glare ice smears the standard walk-up route.
Start your trip with an overnight at Marcy Dam, a 2.3-mile hike from the historic Adirondack Lodge (or in local parlance, the Loj). You'll find shelter in one of five three-sided log lean-tos, but frigid temps will still make this feel like full-on winter camping. (Trap some extra warmth by draping a tarp over the open side.) The good news is you'll be poised for an alpine start, which you'll need for the 10.2-mile round-trip assault on Marcy's summit.
This is the easiest (nontechnical) route to the summit, but it still requires your A-game in winter conditions. Before dawn, head down the well-marked Van Hoevenberg Trail (named after Henry Van Hoevenberg, who pioneered the first route up Mt. Marcy and opened the original Loj in 1890). The first couple miles unroll at a gentle grade, but the trail soon steepens. At 5,000 feet, you'll pop out above treeline; it's wise to stop and refuel before you do. Mt. Washington may have the windspeed record of 231 mph, but Marcy regularly clocks gusts up to 75 mph. During warm spells, Marcy can be ice-free. But expect anything from deep, drifted snow to glare ice–pack crampons, an ice axe, and an emergency sleeping bag.
From Marcy's summit at the apex of the Great Range and the Adirondaks, you can see all of the 46 High Peaks. Enjoy the view: The greater Adirondacks comprise 6.1 million acres and is the largest protected area in the contiguous United States–bigger than the Everglades, Yellowstone, Glacier, and Grand Canyon National Parks combined. Oh, and if Marcy's 5,344-foot summit isn't tall enough for your taste, climb it again next year. The mountains here are rising 1.5 to 3 centimeters annually.
Gear Up Stop in Keene Valley on your way to the trailhead and visit The Mountaineer. They've got everything from maps to mittens, and always have current conditions and forecasts. mountaineer.com
Book/Map Pair Adirondack Trails High Peaks Region, ($20; adk.org) with Trails of the Adirondack High Peaks Region ($8; adk.org).
Go Guided Need some pointers for staying warm in a deep freeze? Head out on guided trip with Adirondack Rock and River. One-day trips start at $160/person.
-Mapped and Reported by Shannon Davis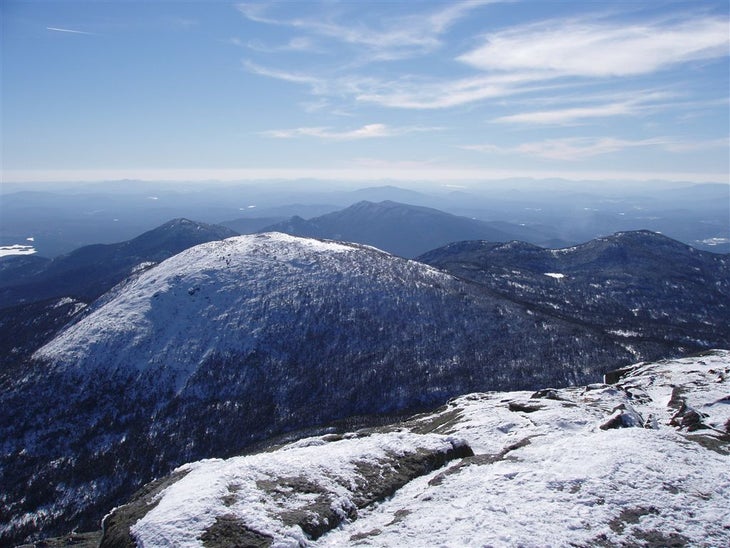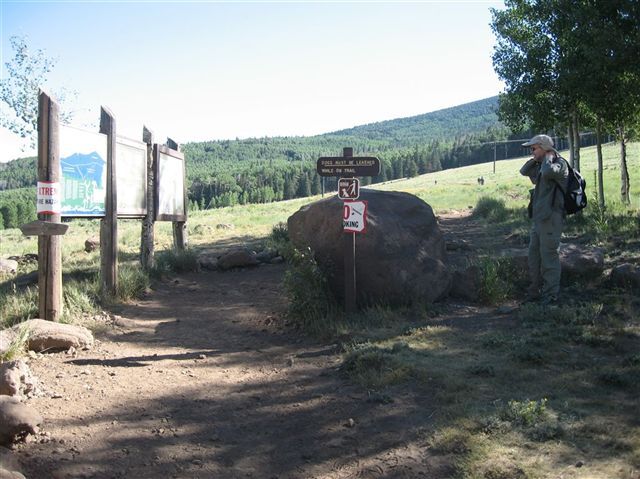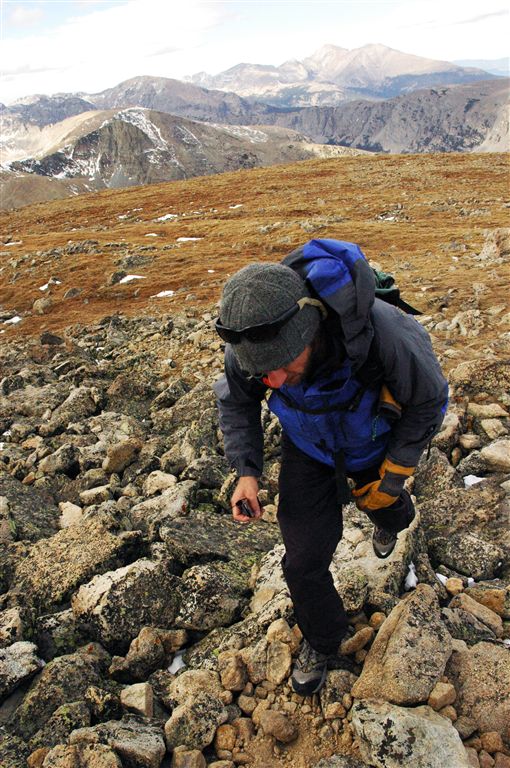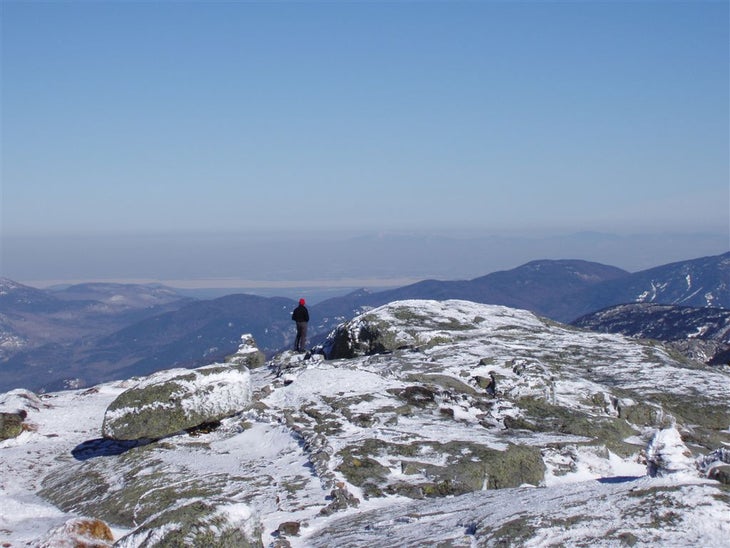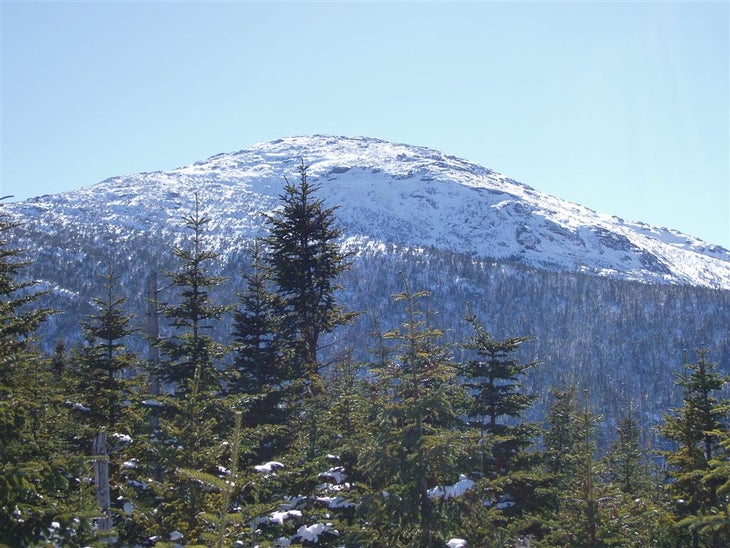 Trail Facts
Waypoints
MMT001
Location: 44.1829491, -73.962532
Go S on the Van Hoevenberg Trail (blue disks)
MMT002
Location: 44.1725159, -73.9588852
L @ 4-way; to the SW is 5,114-ft. Algonquin Peak, NY's second highest
MMT003
Location: 44.1588173, -73.9514999
Ripple-free waters of Marcy Dam reflect the bare scars of Avalanche Pass on nearby Mt. Colde. Follow trail R after crossing boardwalk-capped dam
MMT004
Location: 44.1579819, -73.9506989
L @ Y (still Van Hoevenberg Trail); in .1 mi., meet Phelps Brook and cross twice
MMT005
Location: 44.1531334, -73.9402695
Phelps Camp: An alternative and less crowded campsite to Marcy Dam. Continue WSW
MMT006
Location: 44.1518517, -73.9358521
R @ Y; clustered birch trees rise above ferny undergrowth
MMT007
Location: 44.1499329, -73.9315491
Cross Phelps Brook; in .1 mi., sharp R @ T
MMT008
Location: 44.141716, -73.9259491
R @ T; after .1 mi., L @ Y. Stride softly: Moose, black bears, even gray foxes are likely to be in this area
MMT009
Location: 44.1242485, -73.9246674
Head off-trail 40 ft. for grand view of Mt. Marcy and upcoming ridge climb
MMT010
Location: 44.1224518, -73.9182816
R @ 4-way with Hopkins Trail
MMT011
Location: 44.1155815, -73.9155197
R @ T; follow yellow blazes and cairns over next .5 mi. above treeline. Lake Placid's Olympic ski jumps come into view
MMT012
Location: 44.1127319, -73.9237366
From outcrops on 5,344-ft. Marcy, survey High Peaks and Lake Tear of the Clouds. Factoid: In 1901, then-VP Teddy Roosevelt was on Marcy the day before he was sworn in as McKinley's succes­sor. Backtrack to trailhead
Summit View
Location: 44.1126785, -73.9237289
©Shannon Davis
Trailhead
Location: 44.1828499, -73.9626312
©Shannon Davis
Summit Climb
Location: 44.113781, -73.921524
©Shannon Davis
Mt. Marcy Summit
Location: 44.1126785, -73.9235306
©Shannon Davis
Mt. Marcy
Location: 44.1241913, -73.9243317
©Shannon Davis