A NASA Scientist's Favorite Stargazing Hikes
From the heart of the Ozarks to the edge of the Ouachita National Forest, Amber Straughn—one of the minds behind the James Webb Space Telescope—reflects on her explorations along Arkansas' best local trails.
Heading out the door? Read this article on the new Outside+ app available now on iOS devices for members! Download the app.
Amber Straughn's love of astronomy began as a kid while peering up from the wilderness at dark skies in awe. Now a NASA scientist, astrophysicist, and deputy project scientist for the James Webb Space Telescope (JWST), the Arkansas native draws inspiration for her scientific missions from her time on the trail. "I've always been really interested in the night sky, the stars, and, in a sense, what's beyond what we can see with our eyes," says Straughn. "[Looking at the dark sky] invokes the big question: what else is out there?"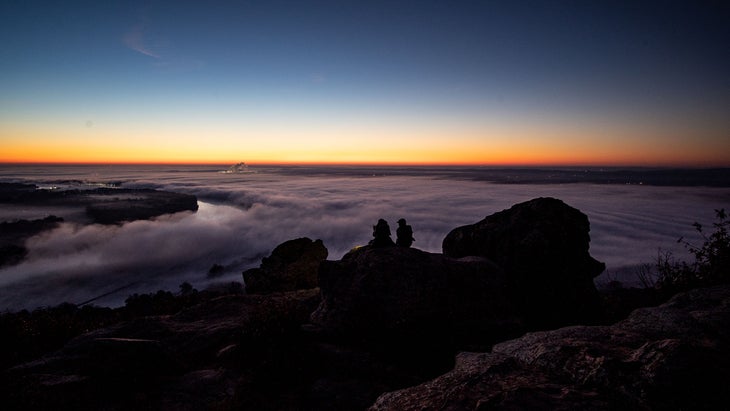 Dayhike by Night: Petit Jean State Park
Shooting stars and meteor showers are best enjoyed perched atop an overlook in the 3,476-acre Petit Jean State Park, Arkansas' oldest. Amber's favorite trip: the 8.2-mile Winthrop P. Rockefeller Boy Scout Trail, a lollipop loop flush with rock formations, caves, and bluffs overlooking Cedar Creek. To do it, start at Davie's Bridge trailhead, tracing the northern rim of Cedar Creek Canyon through forest and rocky narrows. Catch a glimpse of the night sky at mile 1.2 in the Turtle Rocks area, where a swath of dome-shaped, sandstone rocks resembling larger-than-life turtle shells create a clearing in the pines. Here you can also take a .25 mile out-and-back spur to Rock House Cave, a rock shelter known for its red-pigmented pictographs and petroglyphs etched by Native artists over 500 years ago. The main trail makes a gradual descent at mile 2.5, ending at Cedar Creek at mile 4 (right where Canyon Trail intersects). Close the loop by continuing on Boy Scout Trail along the canyon's south rim. In daylight, peer down on a 95-foot waterfall at mile 6.9 at Cedar Falls Overlook, or, on a clear night, gaze up to a sky full of constellations.
Biggest Payoff: Sugar Loaf Mountain Nature Trail
It's not light-years away, but Straughn says it does take some extra effort to reach Sugar Loaf Mountain Nature Trail—Arkansas' only island trail, and only accessible via boat. Catch a 7-minute ferry ride (or paddle a kayak or canoe) from Fairfield Bay Marina to Sugar Loaf Mountain in the middle of Greers Ferry Lake. Spot eagle nests and panoramic views of the deep-turquoise lake as you climb the 2.5-mile loop, topping out 54 -feet above the water at the mountain's peak. (Reservations required for the ferry; offered year-round. Call 501-884-6030 for schedule and pricing.)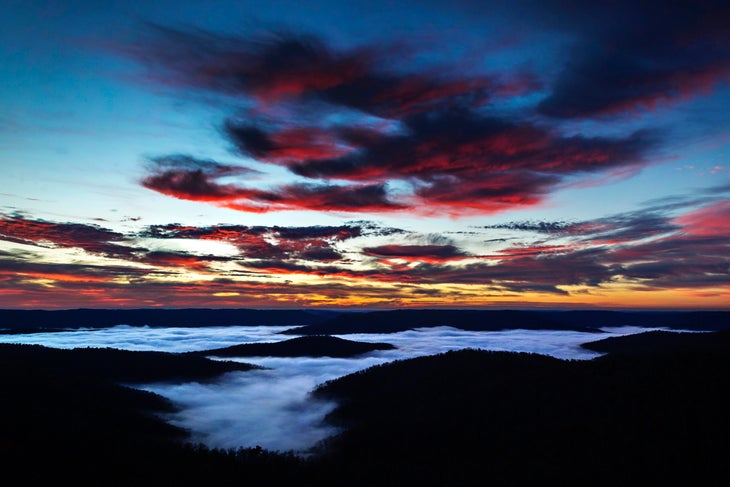 Go the Distance: Buffalo National River
The starriest skies in Arkansas light up the Buffalo National River, when sparkling emerald green water transitions into a star-studded reflection at night. Since gaining its International Dark Sky Park designation in 2019 from the International Dark-Sky Association (IDA), the Buffalo National River has welcomed even more long-haul hikers drawn in by the promise of stargazing to the full 37-mile stretch between Boxley to Pruitt. Looking for something less committing? The shorter 10.6-mile route between Kyle's Landing and Ponca is a popular out-and-back alternative. Starting at Kyle's Landing, head west on the Buffalo National River Trail, setting up camp at Steel Creek Campground at mile 8.2. Take a dip along the way in the crystal-clear water, swimming underneath the limestone outcroppings. Or simply soak in views of vertical bluffs across the river, streaked like an artist's canvas with white, gray, and rust. On day two, log a couple of extra miles to Ponca or backtrack to Kyle's Landing trailhead to complete the full segment.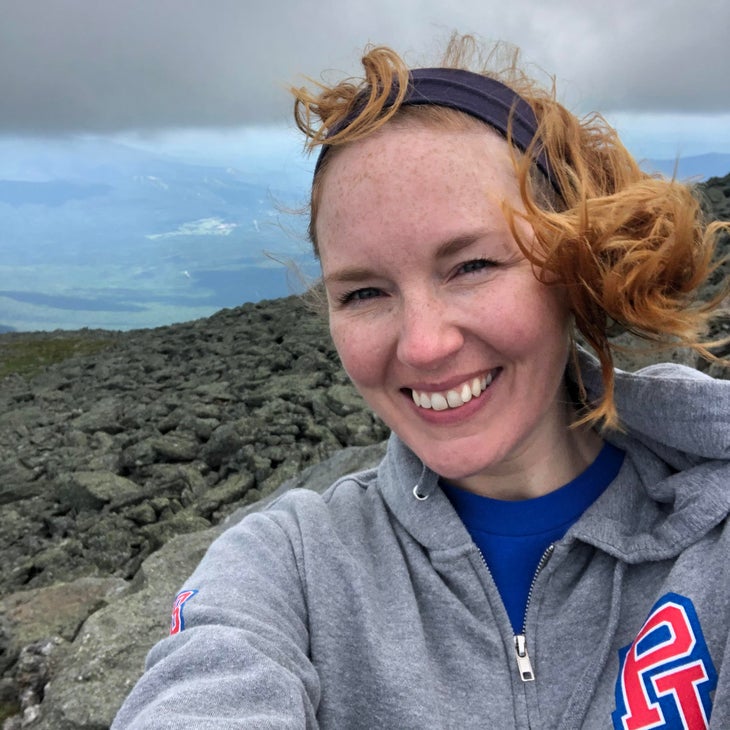 On a Mission
When she's not hiking epic trails, Straughn leads epic scientific research for the JWST—NASA's largest and most powerful space science telescope—which launched into space on December 25, 2021. Straughn's research focuses on studying star formation, how galaxies change over time,  and black hole growth deep in space.
Trip Planner
Season March to November Permits Not required within Petit Jean State Park, Sugar Loaf Mountain, or Buffalo National River area.