9 Spectacular Early Spring Backpacking Trips You Can Do Right Now
Already itching to head into the backcountry? These overnights are accessible way earlier than the high country classics, with views just as good.
Heading out the door? Read this article on the new Outside+ app available now on iOS devices for members! Download the app.
It's spring, and everyone is ready to get outside. The weather is getting warmer (mostly), the snow is melting, and everyone has a closet of brand-new gear they can't wait to get on the trail. And, luckily for all of us, you don't have to wait until the flowers start to bloom to get out. These spring trails are ready for a weekend, or a week, away, no wait required.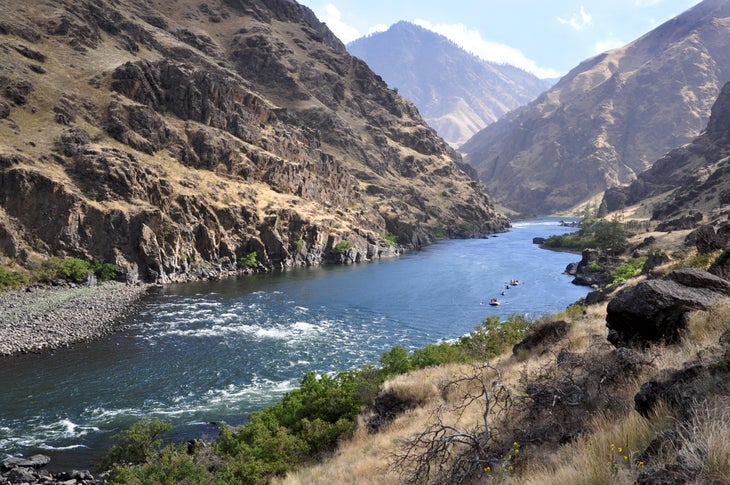 Length: 53.5 miles
Elevation Gain: 17,488 feet
Route Type: lollipop loop
Difficulty: difficult
Take a week to hike 56 miles through the deepest canyon in North America on this lollipop loop. With over 17,000 feet of elevation gain, it isn't easy, but the payoff is more than worth it: Ridges, side canyons, and water unfold to the far horizon, with no companions but the elk. The best campsite of the loop comes where Saddle Creek Trail intersects with the Oregon Snake River Trail, deep in the canyon with wild and rocky views all around. Note: don't get your drinking water from the Snake River, which is very polluted.
Appalachian Trail, WV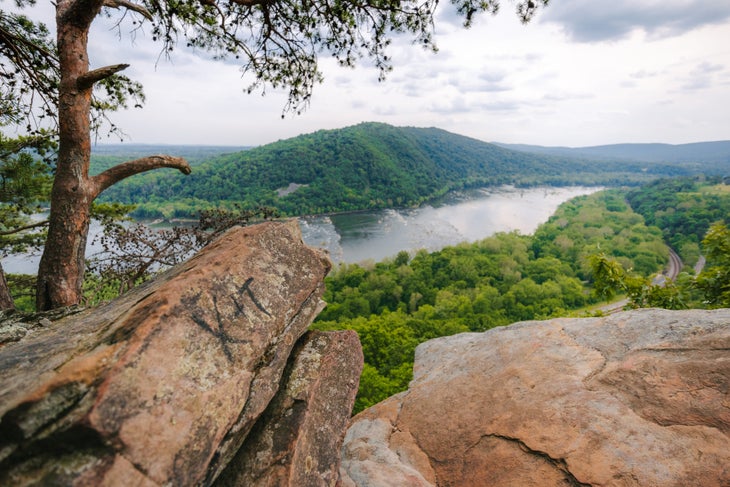 Length: 11 miles
Elevation Gain: 1,460 feet
Route Type: out-and-back
Difficulty:moderate
You can't ditch your rain jacket (hey, it's spring in the East), but in Harper's Ferry, where it rains less in April (3.3 inches) than during any month all summer, you might not have to unpack it. Follow the AT north for a steep climb to Ed Garvey Shelter, 6.3 miles from town. Set up a tripod at 800-foot-high Weverton Cliffs, a short blue-blazed side hike one mile south of the shelter, for cherry-picker views of the Potomac River. —Tim Shisler
Porcupine Mountains Wilderness, MI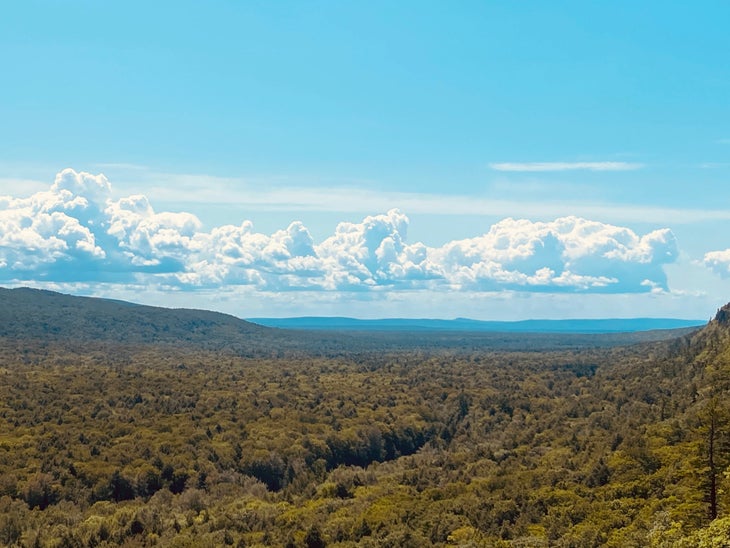 Length: 18.1 miles
Elevation Gain: 2,037 feet
Route Type: loop
Difficulty: moderate
April melt may raise the Upper Peninsula's Little Carp River from a lazy trickle into churning whitewater, but you can expect only 2 inches of rain here. Pack gaiters for the 20.2-mile clockwise loop on the Little Carp, Lake Superior, Big Carp, and Correction Line Trails in the heart of the Northwood's "Porkies." —Tim Shisler
Superior Hiking Trail, MN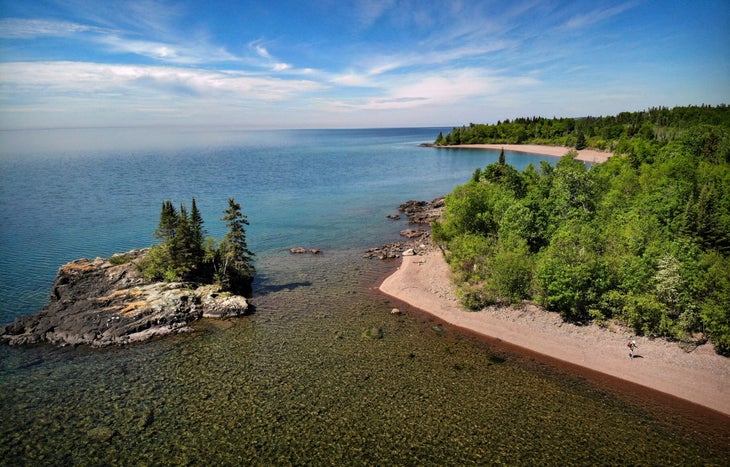 Length: 29.7 miles
Elevation Gain: 3,694 feet
Route Type: point-to-point
Difficulty: moderate
The finest lakeside camping in the Land of 10,000 Lakes is along this section from Castle Danger (40 miles NE of Duluth on MN 617) to Beaver Bay. The 29.7-mile trek skirts 130-foot-high cliffs peppered with killer views on Breadloaf and Christmas Tree ridges. Making good time? Explore Split Rock Lighthouse and Gooseberry falls. —Tim Shisler
Catwalk Trail, Gila National Forest, NM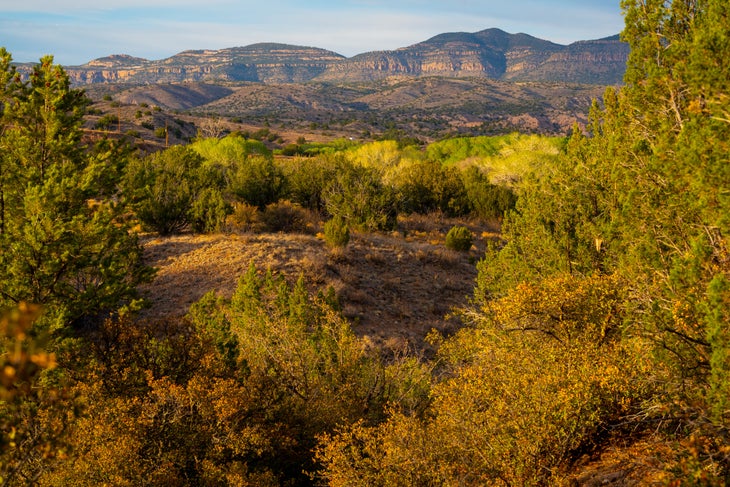 Length: 4.5 miles
Elevation Gain: 695 feet
Route Type: out-and-back
Difficulty: easy
Follow the aptly named Catwalk Trail down the mile-long, elevated steel walkway from Whitewater Picnic Ground through a volcanic canyon. After a mile, it widens to reveal sycamore and cottonwood groves lining Whitewater Creek, a popular rainbow trout fishing spot. Several shaded campsites surround the Deloche-Winn Canyon Trail junction, just upstream, 2.3 miles from the trailhead. Watch for rattlesnakes sunning themselves. —Tim Shisler
Golden Stairs Trail, Canyonlands National Park, UT
Length: 32.4
Elevation Gain: 2,148 feet
Route Type: out-and-back
Difficulty: difficult
Hit this 32.4-mile out-and-back in the Maze District for an ambitious, insiders-only trek through hidden grottos and redrock pinnacles on a, well, maze of faint trails. Start from the Golden Stairs trailhead (4WD only), and hike along the Standing Rock jeep road to Mother and Child Pinnacles. Then head east through Sweet Alice Canyon. —Tim Shisle
New Hance-Grandview Trails, Grand Canyon, AZ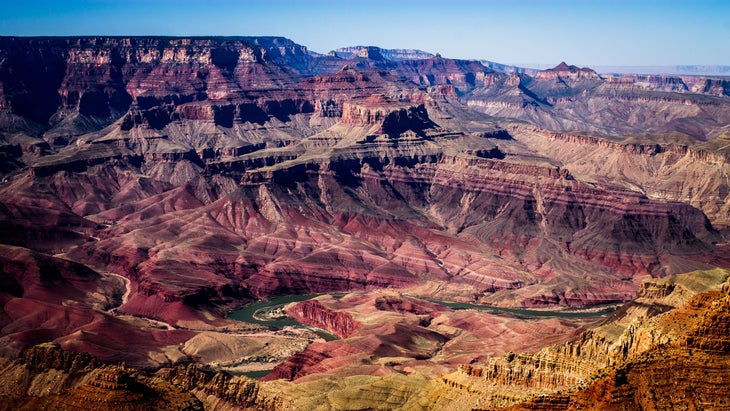 Length: 21 miles
Elevation Gain: 10,228 feet
Route Type: point-to-point
Difficulty: very difficult
In April, spring temps in the Big Ditch are moderate and rainfall averages only an inch. And summer crowds are still months away. Combine the New Hance and Grandview Trails for 21 rough miles of solitude and breathtaking canyon scenery, including Horseshoe Mesa and Cottonwood Creek. The route is unmaintained but easy to follow; campsites have water sources. —Tim Shisler
 Sunol Backpack Area, Ohlone Wilderness, CA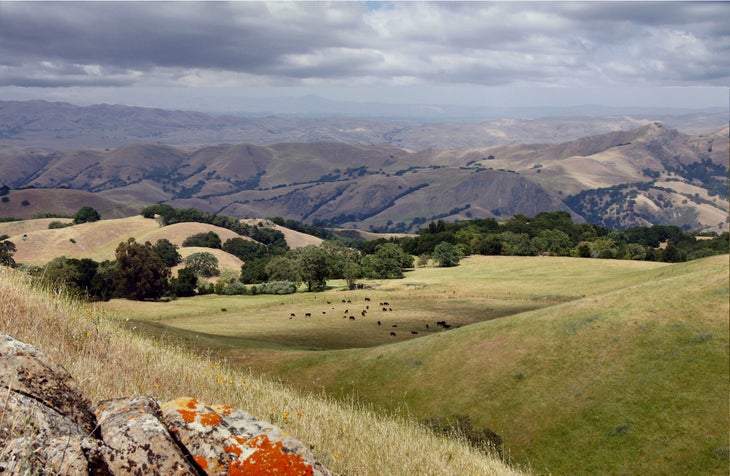 Length: 20.7 miles
Elevation Gain: 6,482 feet
Route Type: point-to-point
Difficulty: moderate
Swap car horns for coyote yips on this 20.7-mile traverse through the heart of the Ohlone Wilderness, 28 miles northeast of San Jose. Its grassy, rolling hills get less than an inch of spring rain, on average. Drop a shuttle car at Del Valley Regional Park, then set off from Sunol Visitors Center. Camp at Sunol Backpack Area and tree-lined Stewart's Camp. Follow the trail markers with a white oak leaf in a brown circle.—Tim Shisler
Ventana Double Cone, Big Sur, CA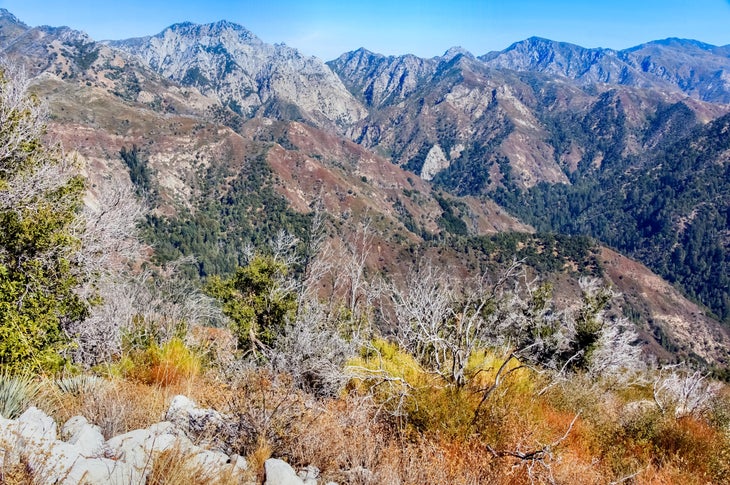 Length: 26.1 miles
Elevation Gain: 6,018 feet
Route Type: out-and-back
Difficulty: moderate
Ventana Double Cone hovers 4,853 feet above the jagged Pacific coastline and commands wide-angle views of the Ventana Wilderness and Mt. Pico Blanco. The approach hike, a steep, lung-taxing 15 miles through sword ferns and redwoods, begins at Bottchers Gap Campground. Camp at Little Pines and Lone Pine camps on the way, summit on day three, and retrace your route 15 miles downhill on day four. —Tim Shisler