30 Hazardous Hikes (That You Should Do Anyway)
From grizzlies to falling rocks to maze-like canyons, you'll want to come prepared for these tricky trips.
Heading out the door? Read this article on the new Outside+ app available now on iOS devices for members! Download the app.
No matter how comfortable hikers are with the wilderness, it's still just that: wilderness. In the backcountry, anything can and does happen. But just because a trail's hazardous doesn't mean it's not worth hiking. In fact, some of our favorite trails come with a dash of danger.
We've picked out 30 of our favorite hikes that are a little (or a lot) risky, and divided them into five categories. Read on and tackle them for yourself. Just make sure you know what you're doing.
The Hazard: Gravity
You'd better not be afraid of heights if you're going to tackle one of these airy trails. Get ready for exposure, knife-edge ridges, and falling rocks.
The Danger: Poor Footing
Rattlesnake Ledge Trail, Rattlesnake Mountain Scenic Area, WA
The hike Rarely does such little effort yield such great rewards. Climbing 1,160 feet over two miles, the Rattlesnake leads to a lofty outcrop floating above Rattlesnake Lake with cloud-nine views of hulking Mt. Si and the turquoise waters below. From the Rattlesnake Lake trailhead, the path hugs the shoreline for a quarter-mile before shifting into stair-step mode. Switchbacks tame the ascent through thick forests of Noble firs and pines. Emerge from the forest at mile 1.4 to a walloping panorama of lakes rimmed by towering peaks.
The risk Snakes are the least of your worries. A 15-foot-deep fissure slices through Rattlesnake Ledge and has trapped scenery-drunk hikers. Plus, the rock itself is a crumbly mix of basalt and granite. "It's like walking on BB's," attests King County SAR member Scott MacColman, who's helped to rescue (or recover) the nine hikers who have lost their footing and tumbled off Rattlesnake Ledge in the past 10 years. "Once you start to slide," cautions MacColman. "There's nothing stopping you for 600 feet."
The Danger: A Knife-Edge Trail
Angels Landing Trail, Zion National Park, UT
Wear sticky soles on this 2.3-mile ascent of a blade-like ridge to airy Angels Landing. Enjoy panoramas of golden cliffs and towers, but don't stumble: You'll freefall 1,000 feet.
The Danger: Overhanging Ledges
Chimney Top Trail, Red River Gorge NRA, KY
The hike to this cliff edge and its center-balcony view of lumpy 10-foot-long Half Moon Arch is easy (just .3 mile one way) and fast. But the Wiley Coyote way down is even faster, should you get cocky on the 600-foot knob—it shoots like a gangplank into space.
The Danger: Rockfall
Hermit and Boucher Trails, Grand Canyon National Park, AZ
Two of the Big Ditch's most adventurous routes present a serious hazard: These elevator-shaft-steep trails pass through the crumbly Supai formation, where ever-shifting boulders obscure the routes, challenge your footing, and provide evidence of the canyon's continued erosion.
The Danger: A Sheer Face
Half Dome, Yosemite National Park, CA
Even with a permit process that thins crowds, the cables route up Half Dome still serves up vertigo-inspiring exposure and a potential fall of 400 feet.
The Hazard: Wildlife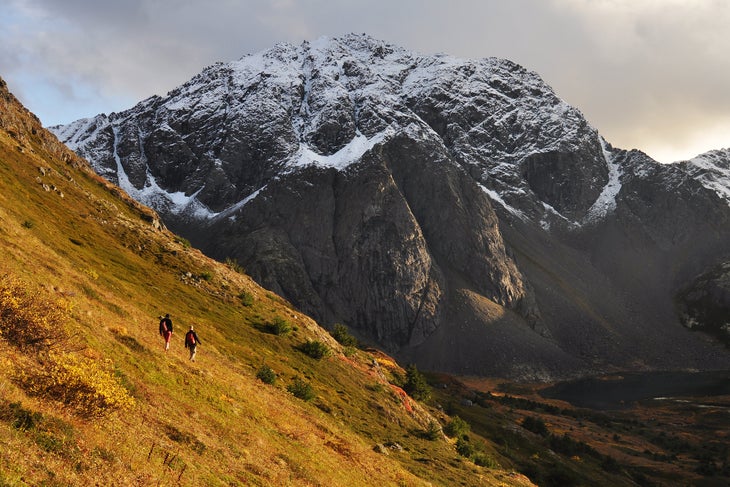 Be careful of the local fauna: These six trails are home to everything from grizzlies to hordes of ticks.
The Danger: Grizzlies
Bird Ridge Trail, Chugach State Park, AK 
The hike Top-of-the-world views over wild, untouched mountains make Bird Ridge feel remote—yet the Bird Ridge trailhead, on the Seward Highway 16 miles southeast of Anchorage, is within easy reach of the city. Instant access doesn't mean effortless hiking, however: The lung-straining, 2.5-mile hike climbs a whopping 3,450 feet. Starting amidst the hemlocks and spruces bordering the highway, the trail immediately angles skyward, clambering over steep, unrelenting hills and jumbles of roots and rocks requiring hand-over-foot scrambling.
Still, this is one of the most popular hikes in Chugach State Park, which is a testament to the payoff. At treeline, you'll strike out across tundra-topped slopes offering euphoric views of Turnagain Arm, a knife-like strip of sea slicing through the Kenai Peninsula. Opposite the water, the glaciated, 4,000-foot Kenai Mountain saws into the sky.
The risk Near-town convenience lulls hikers into disregarding the threat of bear encounters, a common menace in Alaska. "You get cavalier," explains Randy Taylor, an Anchorage hiker who'd glimpsed plenty of bear scat on this trail but rarely packed pepper spray. "I'd done so many hikes and never needed it," he says. Yet on Labor Day 2010, he grabbed his neglected can of UDAP bear spray to hike Bird Ridge with his wife and six-year-old granddaughter. And on the descent, the trio surprised a sow, which fled from their shouts of "whoa, bear!" but quickly turned to charge.
"I shoved my granddaughter Ashley behind me and thought, 'This is it—this is how we're going to die,'" Taylor recalls. Fumbling with his bear spray, he accidentally aimed it at his own eyes and blinded himself, then reversed the can's direction and fired again—this time into a snout snarling three feet from his own. These days, Taylor always keeps his bear spray on his hipbelt.
The Danger: Snakes
Mad Creek Trail, Routt National Forest, CO 
This water-hugging route into the remote Mt. Zirkel Wilderness cuts along a rocky, south-angled slope riddled with rattlers' dens. In April and May, the snakes slither from their holes to bask on the sun-soaked path.
The Danger: Scorpions
Whitewater Creek Trail, Gila National Forest, NM 
Traverse suspension bridges, rock staircases, and a canyon-to-canyon boardwalk on this 20-mile loop through shady sandstone gorges and sandy riparian zones—perfect bark scorpion habitat. Three inches long and sand-colored, it has the most potent sting of any scorpion in North America.
The Danger: Moose
Mt. Aire Trail, Uinta-Wasatch-Cache National Forest, UT 
Winding among ponds and berry bushes, this 1.8-mile (one-way) route is a summer oasis from the baking desert below—for hikers and moose. The 1,000-pound ungulates have charged several hikers here, so keep dogs leashed and eyes peeled for Bullwinkles in thick brush.
The Danger: Boars
Gregory Bald Trail, Great Smoky Mountains National Park, TN 
This 8.8-mile out-and-back leads to a sprawling 10-acre mountaintop meadow ablaze with blooming flame azaleas in June. It's also a favorite lunch spot for wild boars, an invasive species known for rivaling black bears in size and for charging unsuspecting hikers.
The Danger: Ticks
Rocky Run Trail, Brandywine Creek State Park, DE 
This two-mile loop scales rocky hillsides, wanders old-growth hardwoods, and hugs one of the state's most pristine streams. The hitch? Ticks. Delaware is one of the worst states for Lyme disease incidence.
The Hazard: You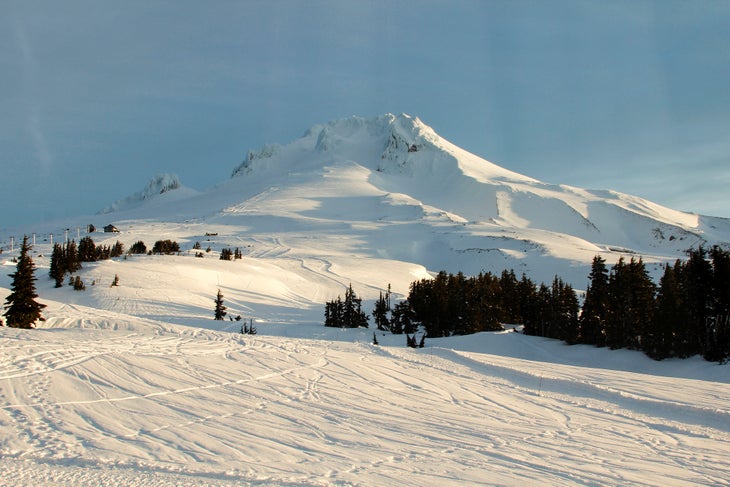 You're your own worst enemy on these trails, which range from a mazelike warren of caverns in Utah's red rock country to a tricky climb up a famous volcano.
The Danger: Summit Fever
Mt. Hood, OR
The hike Rising to just 11,250 feet, Mt. Hood still looks plenty monstrous, thanks to its precipitous prominence high above the surrounding valleys. This dramatic topographic relief is a magnet for the summit-hungry—10,000 attempt it annually. Feeling the urge? Cut your teeth on the south slopes, which aren't as technically demanding—from the Silcox Hut at 6,950 feet, it's a straightforward climb to the Hogback (the saddle between Crater Rock and the summit). Catch your breath and regroup, then cross the omni-present bergschrund to the Pearly Gates, a steep, often rime-rimmed pitch to the peak, where the glacier-covered world drops beneath your boots.
The risk Hood shocks climbers with quick-moving, violent weather. But done-in-a-day routes make climbers feel they can beat the odds. Some feel they have invested too much planning and expense to call off their bid. Others, like Jarod Cogswell, simply underestimate the storms. He'd summited Hood 15 times before attempting the Leuthold Couloir in January 2003. "The forecast called for a slight chance of light rain in the afternoon, but our plan was to be off the mountain before then," Cogswell explains.
Excellent climbing conditions (firm snow) lured the group upward despite the accumulating clouds. Once the storm closed in, iced-up goggles and milky skies made visibility too poor to backtrack, so they continued to the summit ridge where darkness trapped them—stoveless—amidst 60-mph winds and -40°F temperatures. Two feet of snow fell that night. They survived by building a snow cave, but Cogswell suffered frostbite on all fingers and his partner lost part of a thumb. Now, Cogswell serves on Portland Mountain Rescue, the same team that saved his group the following morning. Free permit required May 15-Oct. 15 and year-round on Hood's south side
The Danger: Lack of Planning
The Maze, Canyonlands National Park, UT
Few trails penetrate this labyrinth of sandstone fins, knobs, and interconnecting canyons—and that's both the reward and the risk: Devising your own route (and staying found) through The Fins (a trailless zone north of Ernie's Country) can uncover never-glimpsed arches.
The Danger: Fading Trail
The Kekekabic Trail, Boundary Waters Canoe Area Wilderness, MN
Wilderness rules prohibit permanent trail markers, and riotous Northwoods vegetation often snuffs this lightly used, 38-mile trail, but heightened navigational senses make hikers more likely to spot resident moose and bear.
The Danger: Outdated Maps
Trout Peak, Kaniksu National Forest, ID
Trail #57 is easier to find on a map than on the ground—the faint switchbacks fade into a nest of recently-downed trees two miles into the five-mile (one-way) route. But huckleberries reward hikers in July and August, and the 5,226-foot summit feels like your own private island in the sky.
The Danger: Unexpected Obstacles
Tuckup Trail, Grand Canyon National Park, AZ
Just getting to this Toroweap District trail demands sand-driving skills and spare tires (25 percent of visitors experience at least one flat), and the Tuckup Trail disappears after two miles. Payoff? Easy walking on one of the Grand's rare patches of flat trail and its best pictograph panel, Shaman's Gallery, at mile three.
The Danger: Impatience
Appalachian Trail, Mt. Katahdin, Baxter State Park, ME
Many northbound thru-hikers are so eager to snap their photo atop Katahdin that they brave wintry weather in ultralight summer gear. Sandal-shod pilgrims wearing grocery bags over naked toes are frighteningly common come October.
The Hazard: Terrain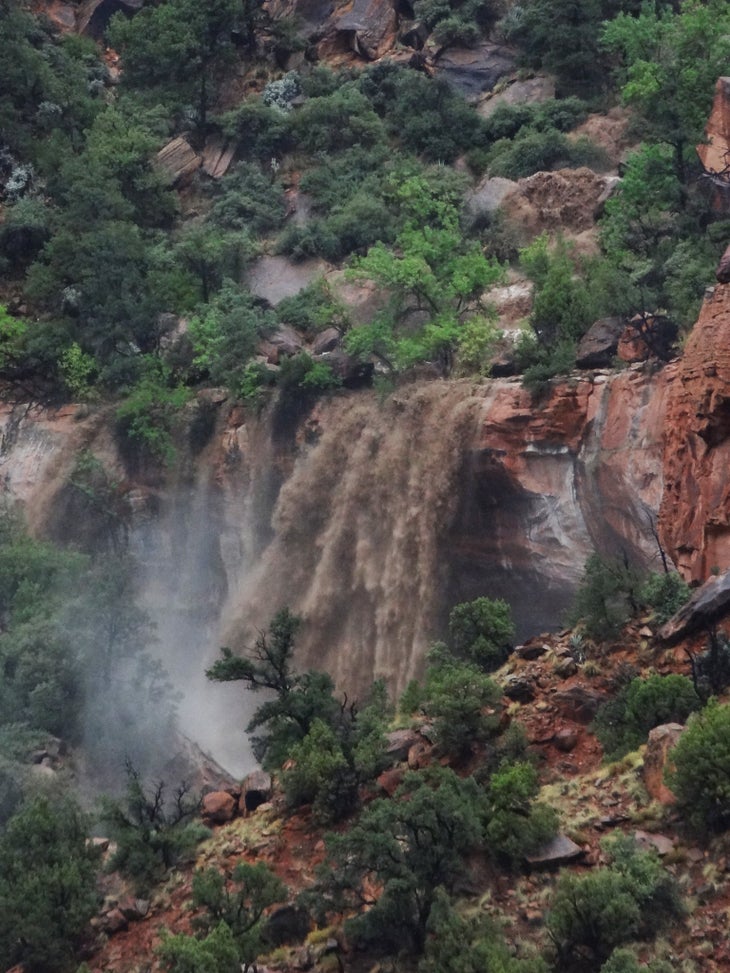 The scenery here is awesome—but it can be deadly, too. Watch out for flash flooding, crevassed glaciers, and steep snowfields on these trips.
The Danger: Flash Floods
Spry Canyon, Zion National Park, UT
The hike Ready to take your canyoneering skills to the next level? Spry Canyon gives hikers plenty of ropework practice, with 11 rappels scattered along the three-mile slot. And it's relatively easy to reach: The route starts a third of a mile east of the main tunnel, where Pine Creek hits UT 9. After a half-mile hike north along Pine Creek's wide, sandy wash, the route climbs over slickrock ledges and bowls to the pass between East Temple and Twin Brothers, then drops down to the mouth of Spry, where towering walls of orange-red sandstone signal the start of the slot.
The first rappel is down slabby sandstone, but subsequent raps dangle hikers over vertical cliffs. Swims are brief and infrequent (dry seasons may present just one pool, near the end). The final descent is the best: The 90-foot drop over Navajo sandstone lands hikers in lower Pine Creek, where it's a short walk to the bridge a half-mile east of Canyon Junction (leave a car here for your return).
The risk The same pourovers that—when dry—make Spry a canyoneering playground become spine-crushing waterfalls after a rainstorm, when the terrain funnels water over the 40-foot dropoffs. Other slots may act as drainages for greater quantities of water than Spry, but few grow as Niagara-like with just one inch of rainfall—which is what fell in just 30 minutes the day Joe Cain and his two partners hiked down this four-foot-wide canyon. Cain had checked (and double-checked) the weather forecast, which called for a 30-percent chance of showers after noon, but figured they'd be through the slot by lunch. They almost were—but not before a wall of churning mud hammered down upon them from above.
Cain soared over a 40-foot dropoff; his friends continued over a second, larger spillway where the water's force recirculated them for minutes at a time. When they did surface, a two-foot-high wall of foam made it hard to gasp actual air. "I thought I was going to die," says Cain, who credits his survival to pure luck—despite unlucky gambling in the slots. "In canyons like Spry," says Cain, "a one-in-three chance of rain might mean drowning." $5 permit required
The Danger: Snowfields
Mt. Dickerman Trail, Mt. Baker-Snoqualmie National Forest, WA
Cherry-picker views of volcanic hulks Mts. Baker, Glacier, and Rainier await atop 5,723-foot Mt. Dickerman. But the 4.3-mile route crosses steep, exposed hillsides pocked with snowfields that linger well into summer (bring crampons and an ice axe).
The Danger: Glaciers
Emmons Glacier, Mount Rainier NP, WA
In the Lower 48, little compares to the satisfaction of summiting Rainier, the most glaciated peak in the contiguous U.S. But its crevasses make the descent risky—especially in May and June, when cracks are harder to detect than in late summer.
The Danger: Steep Snow
Conundrum Couloir, Maroon Bells-Snowmass Wilderness, CO 
Fifty-degree pitches and an overhanging cornice spice up this classic snow climb. Hikers who fall will slide and bounce like pinballs to its base.
The Danger: Narrow Ledges
Precipice Trail, Arcadia National Park, ME 
This 1.6 mile climb of Champlain Mountain packs trance-inducing Bar Harbor views—after climbing iron handholds and stepladders, traversing lengthy unmarked rock fields, and braving dizzying drops along a two-foot-wide ledge.
The Danger: Mud and Disappearing Paths
Florida Trail, Big Cypress NP, FL 
These 30 swampy miles slosh through knee-deep water and oozing mud that challenge routefinding experts and make a GPS essential. But primal pleasures include sighting gators, scarlet bromeliads, and graceful egrets.
The Hazard: Weather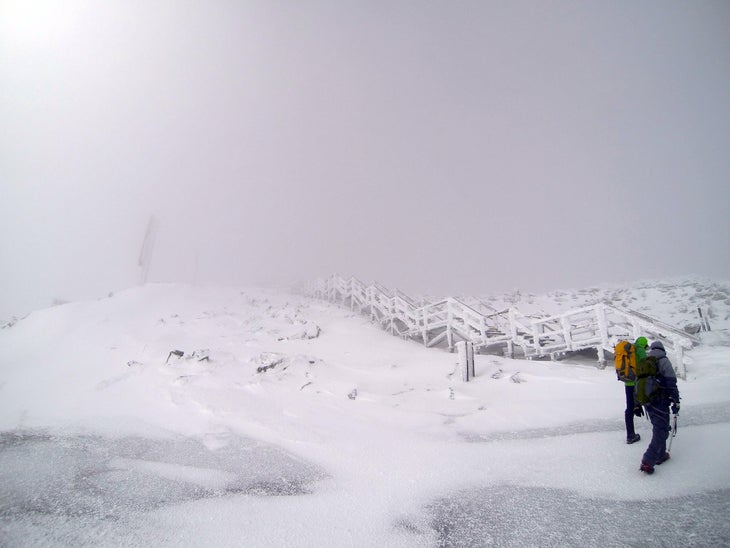 Blizzards, storm surge, twisters: These six trails are known for their harsh weather. Keep an eye on the forecast.
The Danger: Wind
Appalachian Trail, Grayson Highlands State Park, VA
The hike Swaths of fiery rhododendron. Far-reaching panoramas over a sea of gentle green mountains. Wild ponies grazing outside your tent. These soothing sights meld to make Grayson Highlands a sensory delight, and this two-mile section of the Appalachian Trail visits them all. Tack on the Horse Trail East, Wilson Creek, Appalachian Spur, and Cabin Creek Trails, and you can create a 10-mile loop that starts and ends at the Overnight Backpacker's Lot, on Grayson Highlands Lane, a true life-list weekend.
Start off on the Horse Trail East, which skims across scrub-covered hillsides and offers open views of the surrounding hills. Enter the hardwoods and magnolias along the Wilson Creek Trail, following the pristine trout stream and passing within sight of a 25-foot waterfall. Camp at Wilson Creek Shelter, then head south on the AT to enjoy a high-altitude tour de force across Grayson's lofty balds before following the Spur to Cabin Creek Trail and its rhododendron-rimmed cascades back to the trailhead.
The risk Highlands hikers sometimes feel more like the sail than the sailor: Forty mile-per-hour winds are common on these treeless, 5,000-foot-high balds, where snow flies from September through May and rangers close the trails when low temps (15°F and below) and high winds (35 mph and above)create a winter-like cocktail. Year-round windchill poses hypothermia hazards, and its force can lift petite trekkers off their feet.
Such punishment caught Virginia hiker Jeff Roberts off guard. He checked the weather forecast prior to backpacking through Grayson Highlands last July, but dismissed the predicted thunderstorms. "In the south, storms happen every day and they're usually not as big a deal as they can be out West," he explains. But camped above treeline at 5,400 feet, Roberts discovered a new appreciation. With wind hammering his tent and lightning creating disco-strobe effects, Roberts feared for his life. "I thought about relocating to a more sheltered spot like Thomas Knob Shelter, but it was a half-mile away, and the storm was on top of me," he recalls. Rivers of water flowed beneath his tent floor, and lightning struck feet from his door. Then the storm passed as soon as it arrived. In other spots, says Roberts, weather might just keep you awake at night—but at Grayson, it can be downright life-threatening.
The Danger: Heat
Bright Angel Trail, Grand Canyon NP, AZ
Combine a 4,380-foot climb with routine summertime highs topping 110°F, and you get a recipe for heatstroke. Most of the Grand Canyon's 200 annual heat-related rescues occur on this popular river-to-rim stairway. Avoid hiking midday, and pack water and plenty of salty snacks.
The Danger: Whiteout
Mt. Washington, White Mountain NF, NH
A dozen trails lace this 6,289-foot summit (our favorite is the gradual, ridge-hugging Jewell Trail route from the west), and all expose hikers to its legendarily erratic weather (and 100-plus-mph winds). Pack plenty of warm layers to ward off hypothermia (a year-round threat); in whiteouts above treeline, spot the next cairn before continuing.
The Danger: Storm Surge
Lost Coast Trail, King Range National Conservation Area, CA
This 53-mile oceanside trail leads hikers miles from the nearest road and outpost, then squeezes them between rugged cliffs and coast—often pounded by storms. Some years see 200 inches of rain, making this one of the wettest spots in the U.S.
The Danger: Lightning
Continental Divide Trail, Weminuche Wilderness, CO
The CDT rarely dips below 12,000 feet on its 90-mile Weminuche traverse, where blown-open views of sky-scraping summits extend in all directions—and lightning, when it strikes, zaps at eye level.
The Danger: Twisters
Caprock Canyons State Park Trailway, TX
This 64-mile rail trail winds among remote, eroded badlands and golden prairies visited only by bison, but storms here pack a ferocious punch after gathering strength over the West Texas plains.