100 Days Outdoors: Mt. Adams Part Two "Tent Stake and Eggs"
Creativity is always important, especially when it comes to food after a long hike.
Heading out the door? Read this article on the new Outside+ app available now on iOS devices for members! Download the app.
Waking up on Mt. Adams was tough. Let me rephrase that—"waking up" would insinuate I had actually gotten some sleep. Getting out of bed was tough. The small wall of rocks meant to shade the flat sandy tent pad from the biting winds did its best through the night, but even its best let enough wind through to have me worrying about the structural integrity of the tent. But the sun would soon rise all the same, and the time to resume our ascent was nearing.
Though, our work would start only after a headlamp-lit breakfast of freeze-dried scrambled eggs and ham. With no forks, we'd have to share our only extra tent stake, not wanting to risk using one holding the tent down.
The high volume active, outdoor lifestyles led throughout the Pacific Northwest is evident in places like Mt. Adams. Much like Bozeman, MT, it feels like there'll always be someone who can do it faster while looking better, no matter what sport or activity. But that's motivating in a way, pushing personal boundaries and goals.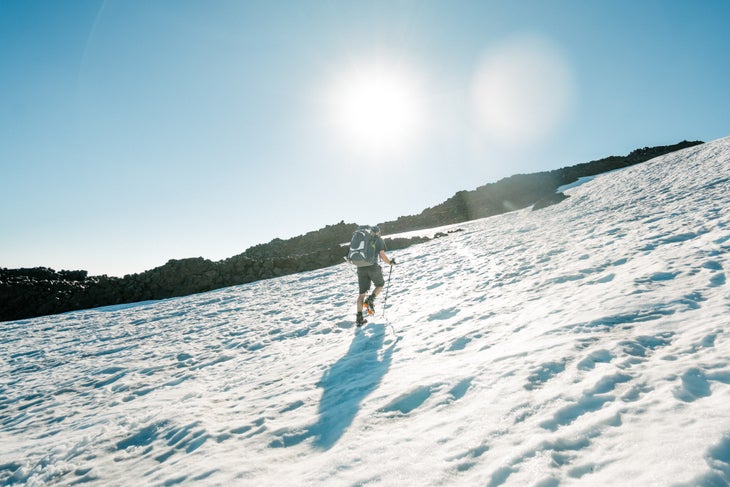 While we chose to spend a night at basecamp, giving us a sunset on the mountain, many start the 12.4 mile hike much earlier and do it all in one go, some even hauling ski gear for a faster and arguably more fun descent.
That said, glissading (literally sliding down the snow on your butt, steering with your ice ax) was definitely a highpoint–second of course to reaching the top–despite feeling strangely childlike. Adults can have fun too, right? 
Watch the Part Video on Mt. Adams
Our windy summit of Washington's 12,200 ft Mt. Adams.
See Week Seven In Photos
Watch the world through Aidan's eyes as he travels to the summit of Washington's Mt. Adams.
A Bed of Snow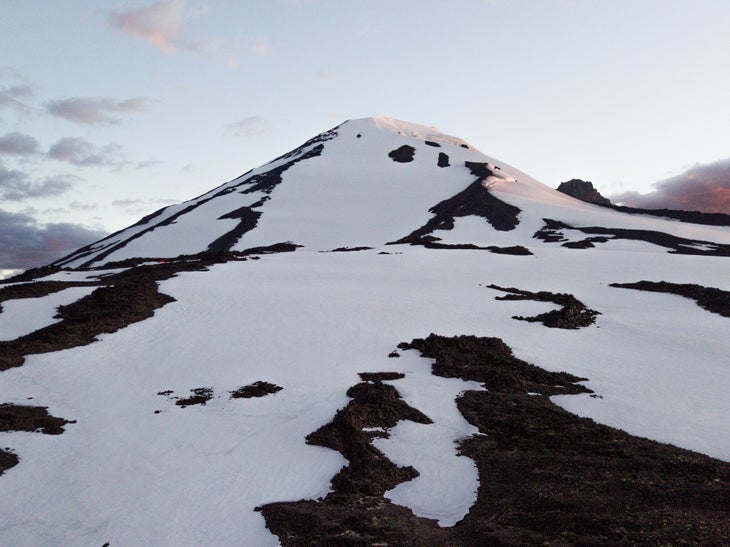 Getting out of bed early in the morning can be tough enough on it's own, but getting out of bed on the side of a snowy mountain that you're climbing, after a night of worrying if your tent will withstand the non-stop wind is something entirely different.   
PRO TIP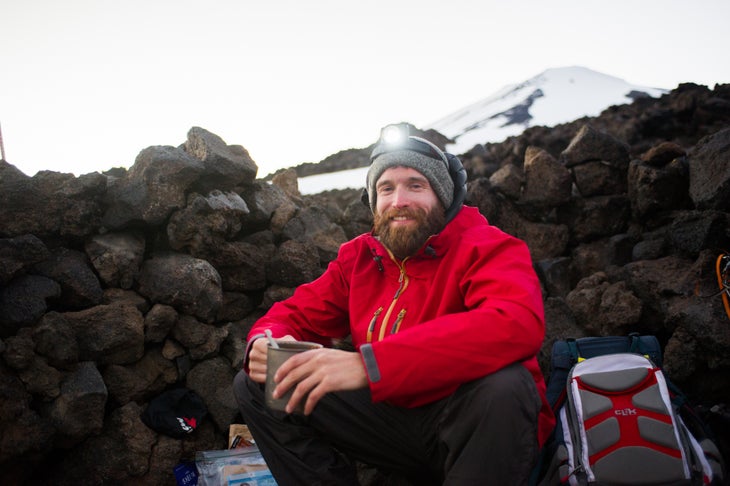 If you find yourself in the wilderness realizing you've forgotten eating utensils, don't fret—tent stakes work as great food shovels.   
Witnessing the Sunset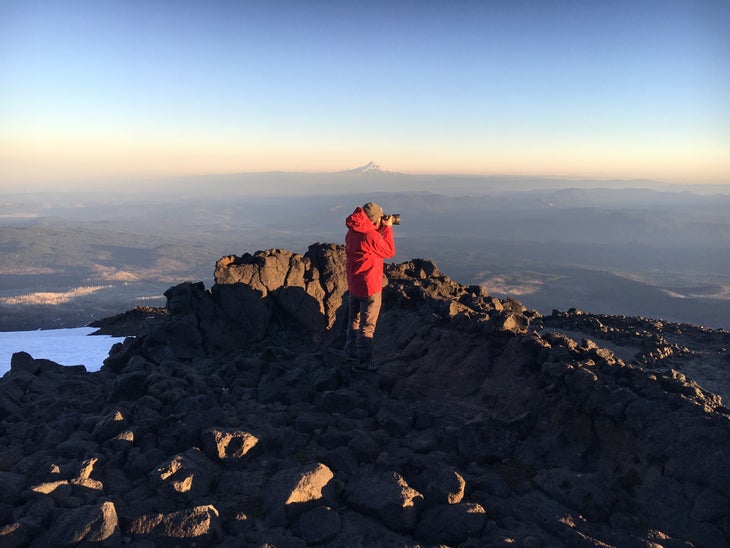 Best part of spending the past seven weeks outside? Witnessing every sunset and… well… almost every sunrise. 
The Rolling Hills Painted in Muted Tones of Pastel Hue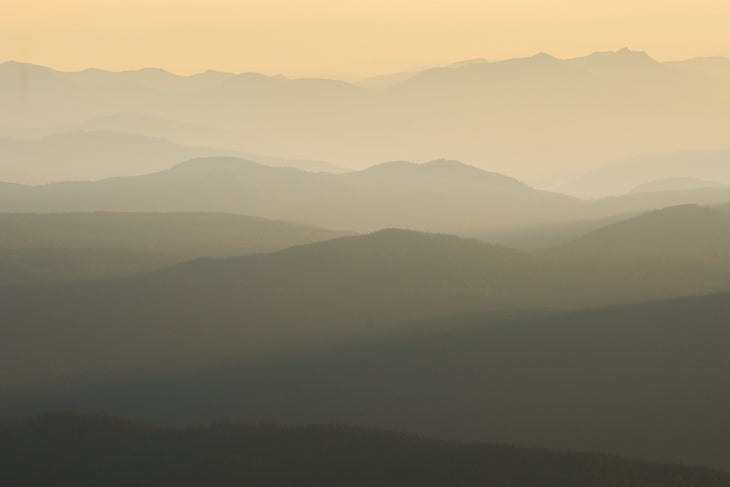 The pastel layers of rolling hills connecting the state of Oregon with Washington was so beautiful it almost distracted me from my frozen toes. Almost. 
Motivation
There's nothing quite as motivating as getting passed by someone carrying twice the weight and who's covered twice the distance   
The Pay Off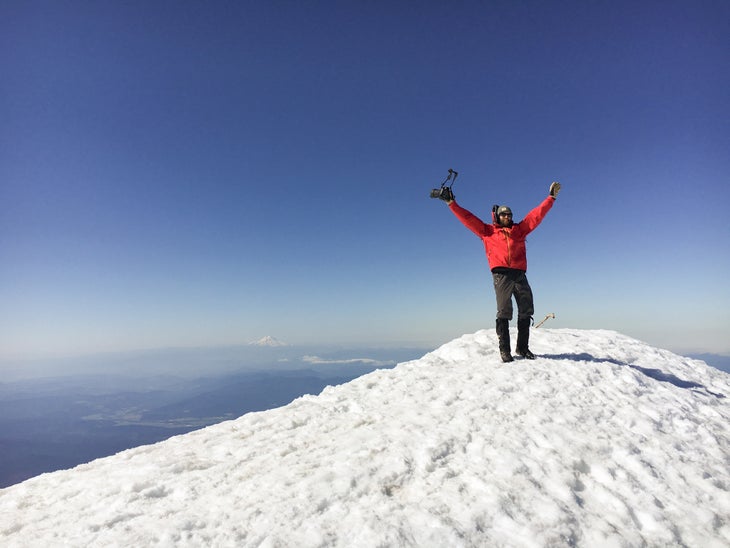 Hard work doesn't always pay off, but it did for us as we summited the snowy peak of Washington's Mt. Adams without a single cloud in the sky. What an amazing feeling!