10 Unforgettable Trips to Make a Backpacker for Life
Go hiking at one of these ten reader-suggested destinations, and you'll never stop.
Heading out the door? Read this article on the new Outside+ app available now on iOS devices for members! Download the app.
We long for the wild. We yearn for quiet peaks, undisturbed lakes, and stretches of lonely trail. Though we experience them alone, it's this passion that bring us together. And, whether we're grizzled vets or awestruck newbies, it all started with one life-changing trip. Here's a tribute to the places that made you, our readers, backpackers for life.
Wondering what to bring to these awe-inspiring places? Check out our Ultimate Backpacking Checklist.
Sequoia & Kings Canyon National Parks, California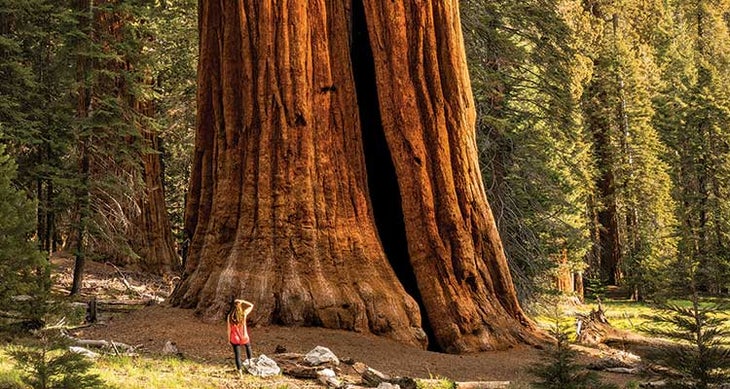 Wildfire Alert: In 2021, the KNP Complex Fire burned through large portions of Sequoia and Kings Canyon National Parks. Roads, trails, and campgrounds may be closed. Visit the website for up-t0-date information and when in doubt, call the park.
Here's an easy way to create a lifelong passion for the outdoors: Blow your mind on a slice of crazy-cool scenery. The Grand Canyon will do it. So will a geyser in Yellowstone. Or a never-ending ridgeline in the San Juans. Or the world's largest trees.
Sequoia National Park's namesakes can grow taller than the Statue of Liberty. Some of them have trunks that are wider than city streets. All you have to do is walk among these heaven-kissing trees and you'll know that nature is her own best architect, says reader Kenna Watkins.
For the best introduction, check out the 7-mile Giant Forest Loop. Pass the world's largest tree by volume—275-foot General Sherman—before even leaving the parking lot, then shake the crowds. Plan to linger in the Senate Group and the Giant Forest, both groves of particularly massive sequoias. Continue on to Tharp's Log, a giant, hollow sequoia trunk that's been repurposed as a cabin and serves as a nice place to massage the kinks out of your neck.
Season Summer through early fall Permit None
Adirondack Mountains, New York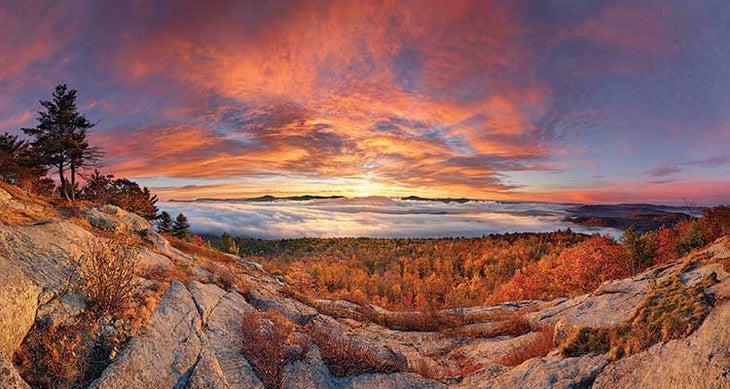 It's no wonder the Adirondacks are renowned for peakbagging. Just four hours from the Big Apple, there's a 6-million-acre forest preserve that's home to hundreds—hundreds—of mountains, including 46 taller than 4,000 feet.
You can land top-of-the-world vistas throughout the Adirondacks, but 1,956-foot Cat Mountain may offer the best crash course, says reader Jonathan Mager. The approach is easy by Adirondacks' standards, and the view from its bald summit opens east over Lake George to the Tongue Range, which is shrouded in fall-perfect hardwoods. To get there, link the Thomas Mountain and Cat Mountain Trails 3.4 miles. From there, either retrace your steps, or circle back on the blue-blazed Richard Hayes Phillips Trail for an 8-mile loop. This ridge trail is more strenuous (and less maintained) than the way you came, but it takes you across the top of Thomas at some 1,800 feet, and in the Adirondacks, there's always room for another peak in the bag.
Yosemite National Park, California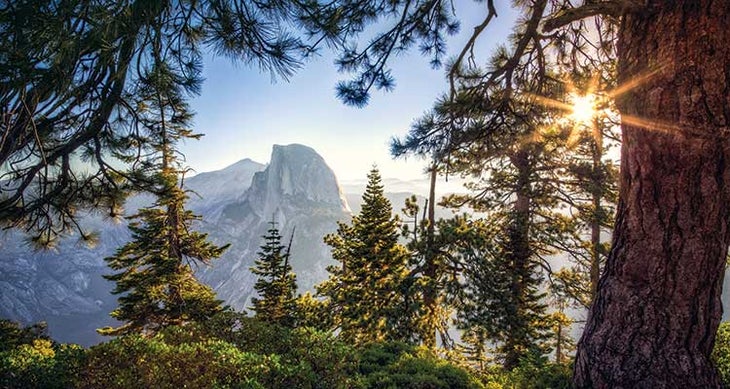 It's unsurprising that the wilderness that converted John Muir into a champion of nature has the same effect on so many of you. In our survey, more of you declared Yosemite as the place you fell in love with hiking than anywhere else. And of those responses, you called out Half Dome as the crème de la crème. "I stood up there and I couldn't hear any cars, just the birds and the wind," says reader Christopher Cheng.
If you haven't checked it off your life list yet, it's about time. The hike is roughly 16 miles out and back and requires an extremely hard-to-get permit (that's a little easier to get if lopped into a backcountry itinerary). Failing that, the 6-mile trip to 9,926-foot Clouds Rest might yield the best views of Half Dome.
Season Summer through early fall Permit Required for Half Dome ($4.50 + $8/person)
Mt. Hood, Oregon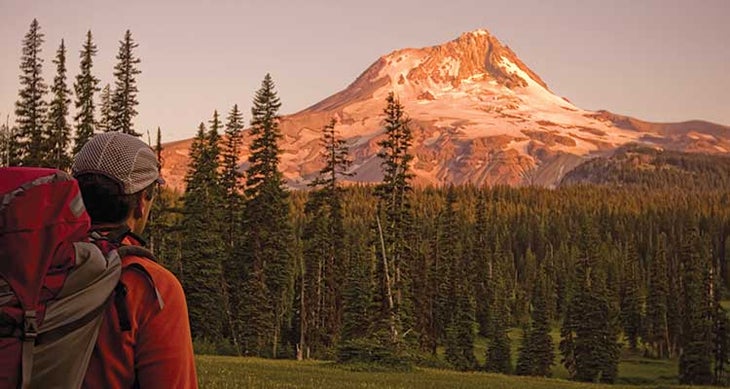 Mt. Hood offers up the sort of scenery and trip options that most people need to hop on a plane to find. But that's just it. Most people who find their way to this locals' peak do so by car. Hood looms over Portland, less than 50 miles away. Eugene and Bend are both within driving distance. And, not that Seattleites are starved for wilderness, but Mt. Hood is a manageable drive for them, too. No wonder this volcano stole so many of your hearts.
The best way to see the best of Hood, of course, is to circumnavigate it on the 40-mile Timberline Trail, which roller-coasters through alpine meadows and glacier-fed drainages. But if you're after Hood as an objective in itself, rest assured that even new mountaineers can tackle the 11,240-foot peak via the 6.8-mile Hogsback Route. "It's perfect for people who are learning because it's so gradual," says reader Ryan Irvin. "But, Hood also has difficult objectives for experienced mountaineers." The options are endless—no matter how you get here.
Season Summer Permit Northwest Forest Pass ($30/year) required
Porcupine Mountains, Michigan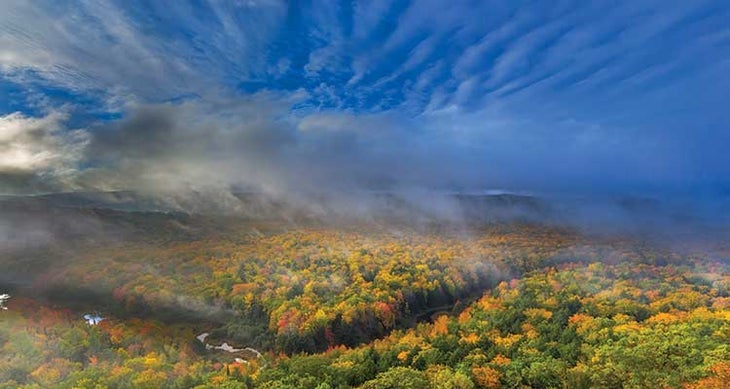 Nestled in the tippy top of Michigan, the Porkies are an easy excuse to lose yourself for a weekend—or a week, if you're lucky. Take your pick of mountains, forest, or lake, and you probably won't have to share. "We hiked along Lake Superior and camped at a site with nobody else around," says Michael Ludwig of his inaugural trip to the Porkies. "The terrain was rocky and hillier than anything I'd ever seen in Michigan."For a taste, check out the 17-mile section of the Lake Superior Trail that runs through the state park. Lake views and empty campsites are guaranteed.Season Summer through fall Permit Required ($14)
Everglades National Park, Florida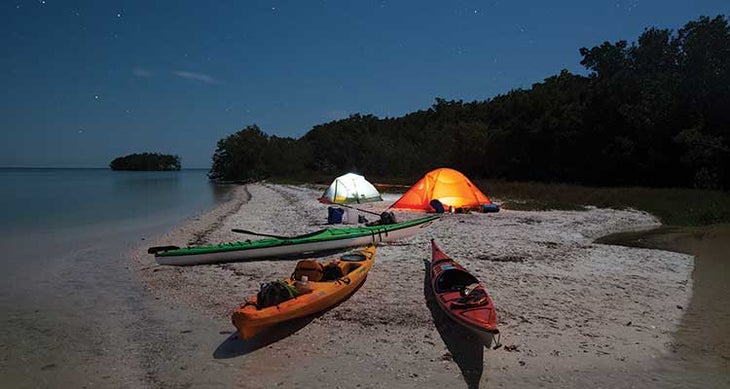 No wonder you caught the camping bug here: Caribbean-like waters, white-sand beaches, and a little dose of adventure go a long way toward building nature lovers. You have to have some navigation prowess and know the best time to visit (winter), but if you've got both of those down, then your best bet is the Ten Thousand Islands area, a patchwork of inland swamps and gulf beaches. Go for a DIY adventure or find an itinerary at backpacker.com. Pro tip: Make Rabbit Key a centerpiece.
Season December to April Permit Required ($15 + $2/person/day)
Mt. Rainier National Park, Washington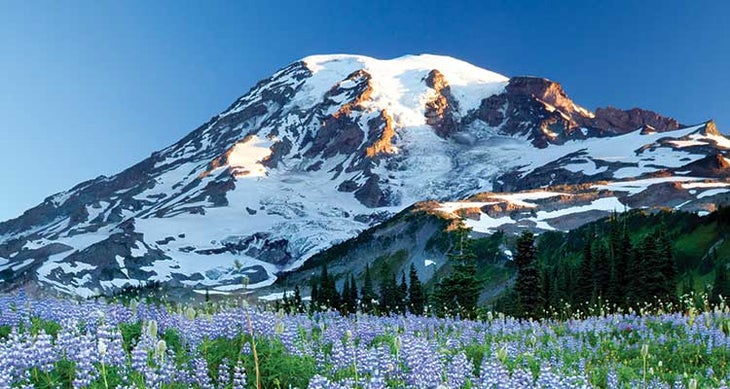 Reader Erika Lira sums it up best: "I was never bored—simply mesmerized by everything." With the subalpine meadows filled with wildflowers, the ancient forests, and the exotic wildlife, you may even forget that there's a 14,410-foot volcano. OK, probably not; chances are, you're staring at the Lower 48's most glaciated peak the whole time you're here.
As with most of America's national parks, you really can't go wrong no matter where you end up in Mt. Rainier. But here's a recommendation with solitude in mind: the 5.2-mile Sunrise Rim Trail. Start at the Sunrise Visitor Center (avoiding Paradise's crowds) and enjoy views of the North Cascades, the Tatoosh Range, and Mt. Tahoma herself. For a longer jaunt, try the 17-mile Mother Mountain Loop. Uncontrollable cravings to climb the big one may result.
Season Summer Permit Required (free) for overnighting
Black Hills, South Dakota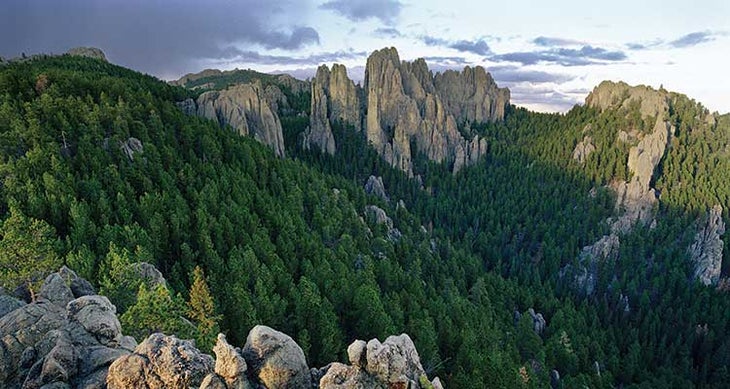 The Great Plains get a bad rap, but our readers know that their wildest corner is no joke. Between the state's high point, the sky-high stands of pine and spruce, the granite pinnacles, and the colorful badlands, South Dakota's Black Hills are a worthy destination even if you don't live nearby. Most people come for the bison—"it was unnerving seeing such huge animals," says reader Korey Peterson—but stay for the mountains.
If you do the same, we recommend the 12-miler through the French Creek Natural Area, where you'll boulder-hop through a narrow slot with 60-foot-tall walls. (Camping in the canyon is allowed.) A close second: the 3-mile out-and-back to 6,971-foot Little Devils Tower for a scene of the granite-studded pine slopes called the Cathedral Spires.
Season Year-round Permit None
Great Smoky Mountains National Park, Tennessee/North Carolina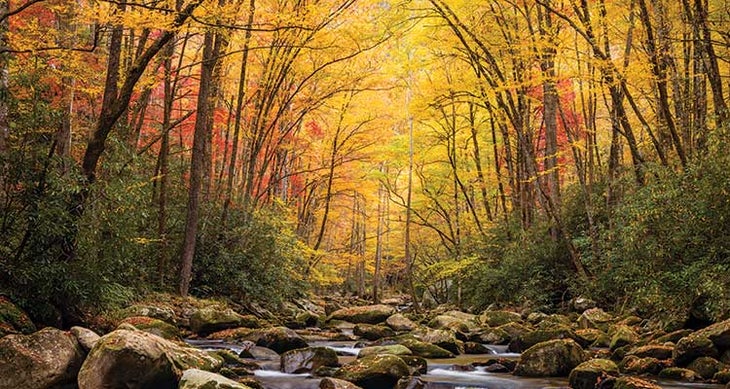 If you're a backpacker and you're from the East Coast, chances are good you got your start in the Smokies. The most easily accessed national park for a majority of folks east of the Mississippi, Great Smoky Mountains draws some 10 million visitors annually.
If that sounds like a crowd, don't fret. Our readers know that bumper-to-bumper byways and shoulder-to-shoulder overlooks are no way to experience the Smokies: They know where to find solitude here. For the best—and quietest—tour of the country's most popular park, you need to venture to Big Creek, where mossy hardwoods, unnamed waterfalls, and fern-lined trails separate you from the crowds. "Despite all of the madness in the Smokies, the trail is relatively quiet," says reader and photographer Paul Marcellini. Visit on a short dayhike from the Big Creek Campground or build a weekend around it on a 15.2-mile loop that links the Big Creek, Swallow Fork, Mt. Sterling Ridge, and Baxter Creek Trails.
Season Year-round Permit Required (free)
Roan Mountain, Tennessee/North Carolina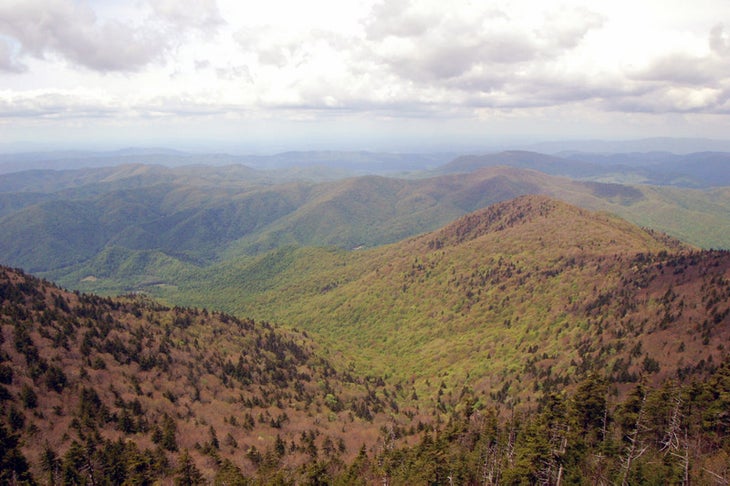 Maybe "Roan Mountain" isn't the best name. Comprised of five peaks, Roan is less a mountain than its own wilderness area. Thick coniferous woods and rhododendron gardens characterize the west end, while grassy balds distinguish the east. It's a hiker's playground.
For a taste, head to the east side, which rolls out views of layered peaks as far as the eye can see. Oh, and the wildlife there is the stuff of Disney flicks. "On Hump Mountain, we saw a herd of wild horses," reader Jason Stanley recalls. "One of them nibbled my gear and licked the salt off my sweaty pack." Head north on the Appalachian Trail from Carver's Gap and go as far as you want. Hump is near mile 8 (the Overmountain Shelter is a nice midway point for backpackers).
Season Spring through fall Permit None