THRU: A Hike Across the Pacific Northwest in Photos
In THRU, a team of strangers take on a 1,200-mile journey across America's wildest long trail and document their adventures through the Pacific Northwest. Here, the co-creators share a behind-the-scenes glimpse through photos they took along the way.
Heading out the door? Read this article on the new Outside+ app available now on iOS devices for members! Download the app.
Editor's Note: THRU | The Pacific Northwest is the story of a group of strangers that decide to tackle a seldom-traveled long trail, the Pacific Northwest National Scenic Trail, which wends its way 1,200 miles from the mountains of Montana to the Olympic coast in Washington. In this photo essay, Andy Laub shares the moments that defined the trip for him. Outside+ members can watch THRU now.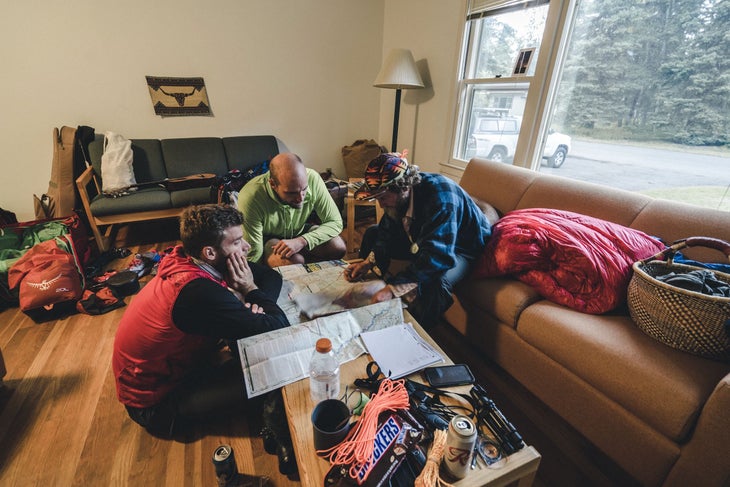 Peter Hochhauser, my co-creator on THRU, and I met for the first time the day before this pack explosion at a friend's house outside Glacier National Park. As we poured over maps, we realized that the official route for the Pacific Northwest Trail only traversed 50 miles within the Park's boundaries. Having never been here, and wanting to see more of it, we adjusted our course so that we'd start the hike 80 trail-miles south of the official route. This impromptu change ballooned our first stretch to nearly 130 miles.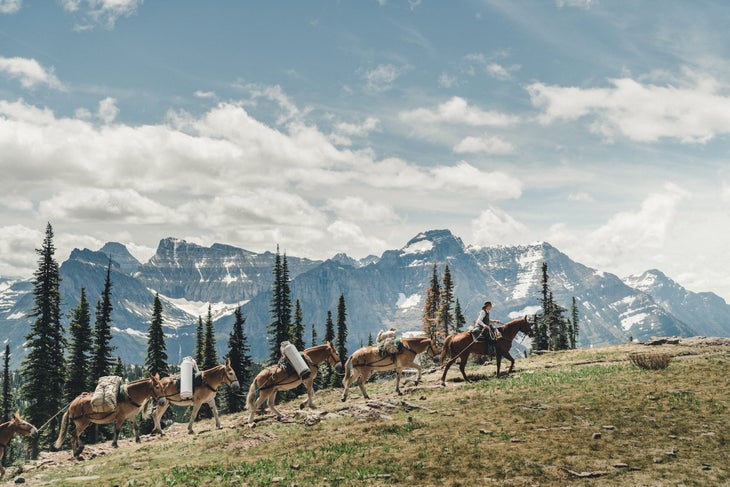 Featured here charging up the hill with her string to deliver a supply of gas and food to Glacier's only backcountry chalet is Jill Michalak, Glacier National Park's first female mule packer. Jill can sum up her position as the backcountry equivalent of a freight train in one sentence, "…I'm living the dream, with the occasional nightmare."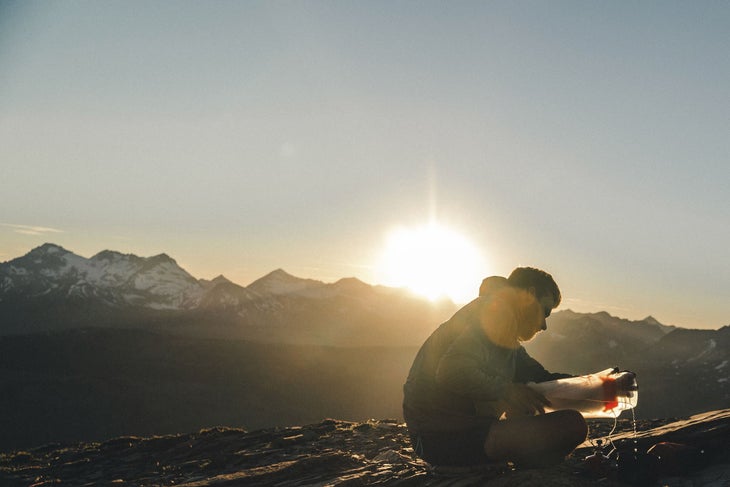 As the sun sets on the heart of Glacier, I brew a pot of black tea. The crew will need its comforting warmth for the overly exposed and chilly night ahead. Especially Brennen, who will need to babysit his camera from nightfall until 2 a.m. as he captures the Milky Way rising across the inky void.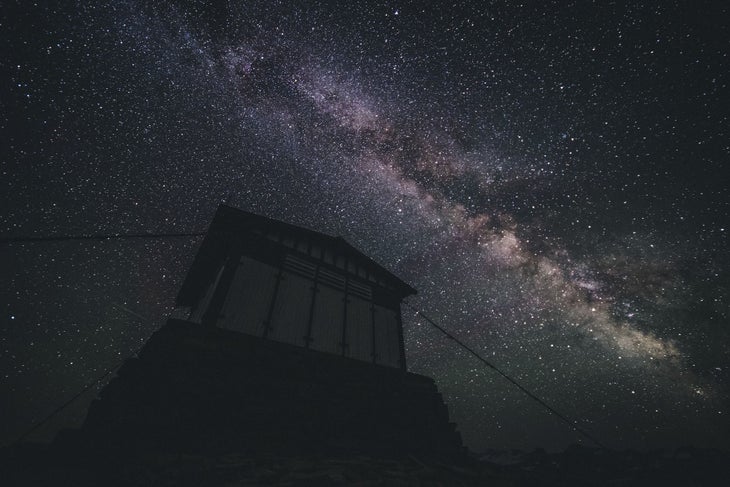 Every night, before I shut my eyes, I look up at the night sky. Sometimes it's a quick glance, just a register of where I'm at before drifting off to la-la land. But on this particular night, I looked up and the stars were so bright that it felt like they were pressing down upon me. It was a powerful impression. One that could have lasted for hours or just a few seconds, I'm not quite sure. But either way, this moment marked a shift in perspective—I sure wasn't in Philly anymore.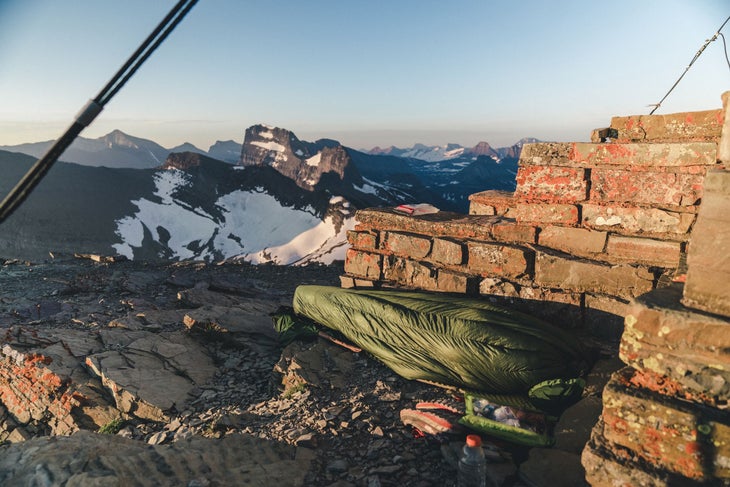 There's just something special about being bundled up in your quilt, stretched across a thin piece of foam, high in the mountains as day breaks. Maybe it's the comfort of being safe inside a warm cocoon. Or maybe it's special because the day beckons and this moment won't last. On a thru-hike, you begin and end your days like this—appreciating comfort within discomfort.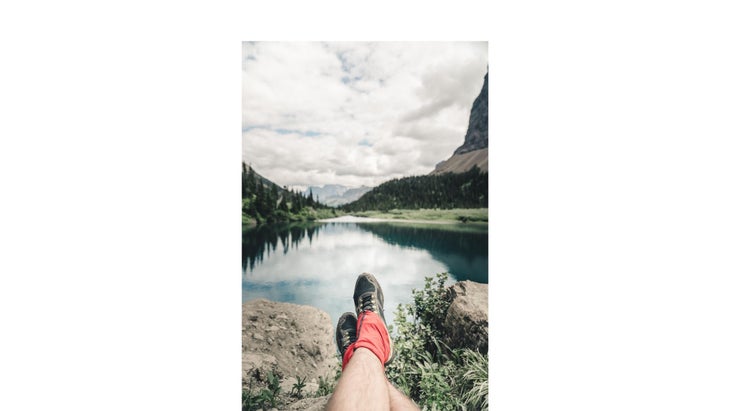 A rare, still moment. Especially within the mosquito-infested valleys of Glacier National Park. And the reason for this stillness? Wind. Here, the constant breeze was strong enough to keep the blood-sucking hordes away, which allowed us to pump the brakes on our mosquito spur.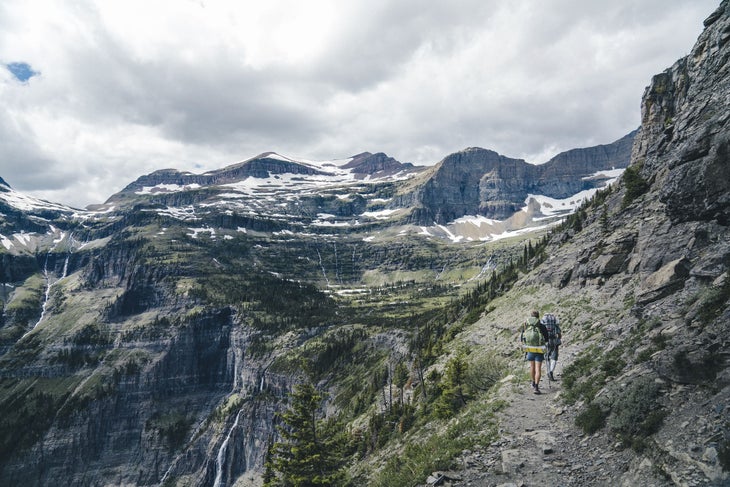 I have traveled to many places and seen many sights, but here in Glacier's Hole in Wall, I found a space I barely believed. With topography from a dream and waterfalls abound, we washed for the first time in over a week.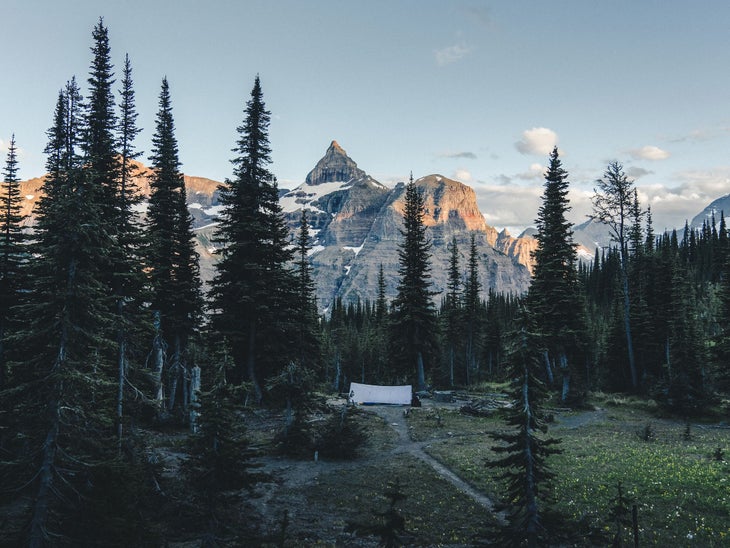 With alpine glow as a nightlight, we set up next to a mosquito-filled pool of snowmelt and bid Glacier goodbye. The first stretch was a beauty. I just wish I remembered my bug net.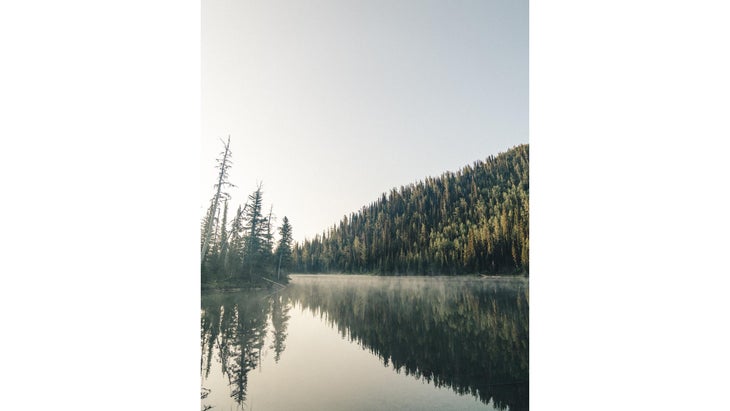 When I head out to the mountains, my son asks me, 'why?' I tell him, "to find magic." And I mean it. When you walk hundreds of miles to live inside scenes like this one, taken at a mountaintop lake in Western Montana, you don't just see magic, you feel it.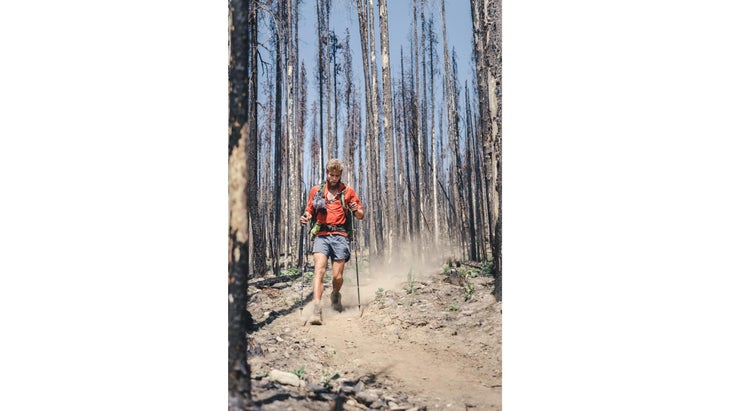 The year before our hike, the American West ignited into flames that consumed millions of acres of forest. In turn, the once-green landscapes transformed into a mix of burned-out dust and deadfall. Here, kicking up dust, the trail eventually dissolved and we had to rely on maps and GPS to reach our next resupply.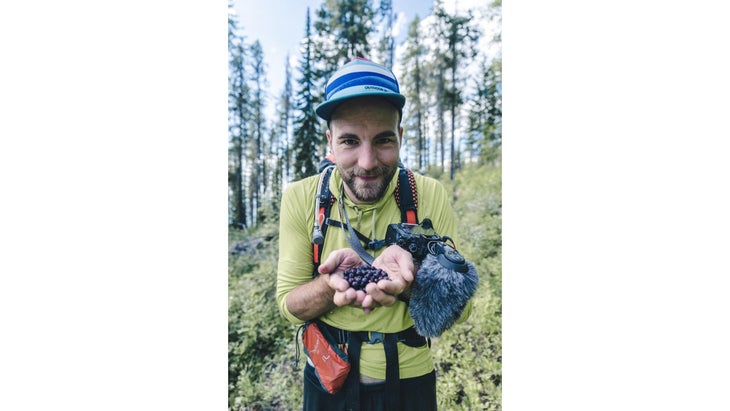 In Western Montana the mountains are remote, water sources are sparse, and the Pacific Northwest Trail is a smattering of single track, dirt roads, and bushwhacking. But our consolation for the tough going was loads of huckleberries.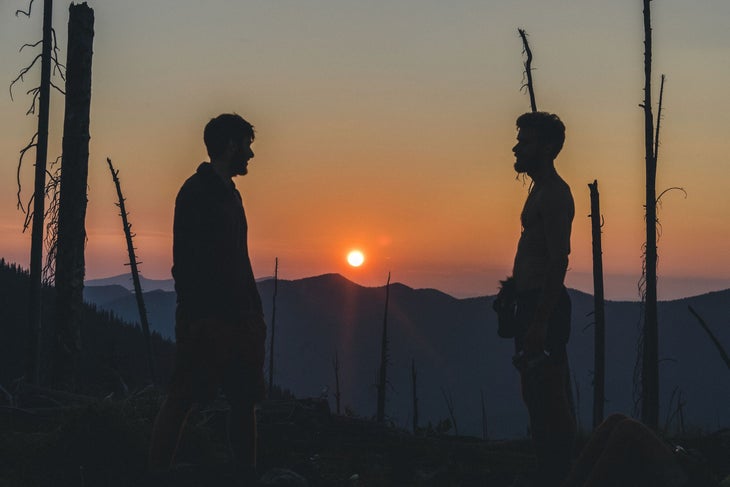 The last night of our second stretch reminded me that thru-hikes are not just about connecting with nature, they're also about connecting with human nature. As we cooked dinner, a stranger rolled in. His name was Konnor Kenneweg, a 22-year old from Ohio. He started the conversation by telling us his trail name was Double Stuf. A name bestowed on him by another thru-hiker because he had two of everything in his pack—including two pillows. As with many other strangers met along the route, we became fast friends.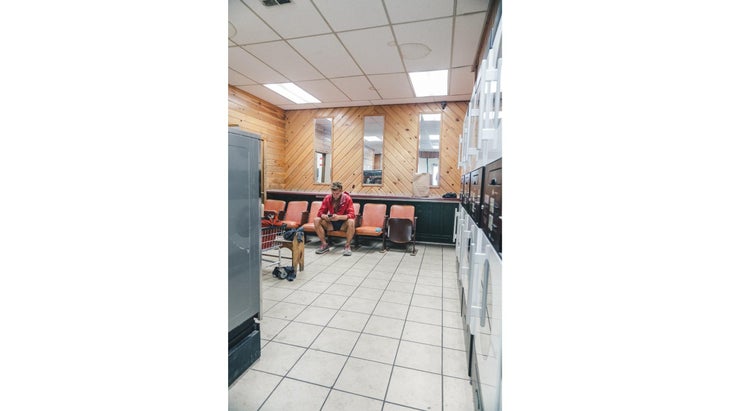 After nearly two weeks we reached Eureka, Montana—our first town with a paved road. Filthy, we stripped off everything except rain gear and hit up the laundromat. As I waited to switch the clothes over to the dryer, I FaceTimed my wife and son for the first time since leaving home.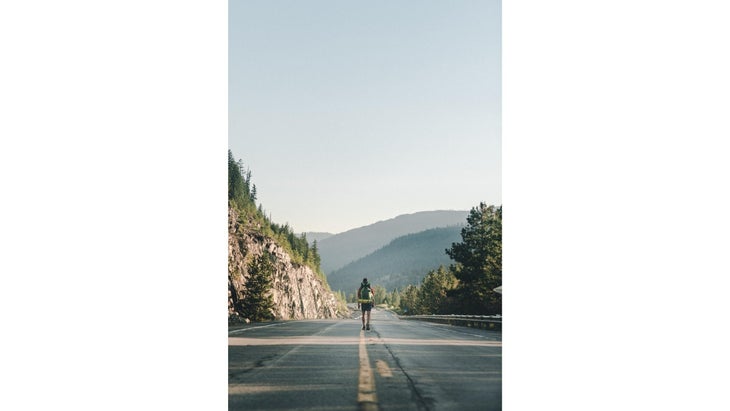 Loaded up with a few days of food, we yellow-blazed it along the official route of the trail toward our next resupply point. Unlike other National Scenic Trails in the U.S., the Pacific Northwest Trail is not finished, so about ⅓ of it utilizes a road of some sort.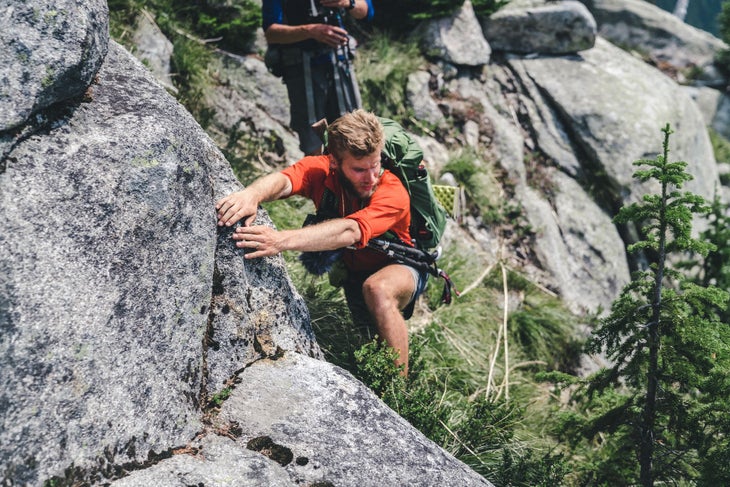 The Selkirks of Northern Idaho present a very palpable hurdle to thru-hikers. There are sections within this remote route that are trailless, and leave the route of the adventure up to you. Go high for the views. Go low for a potentially faster pace. On this day, we chose the high route, and navigating the mixed terrain of scrambling and cliffy bushwhack was slow going.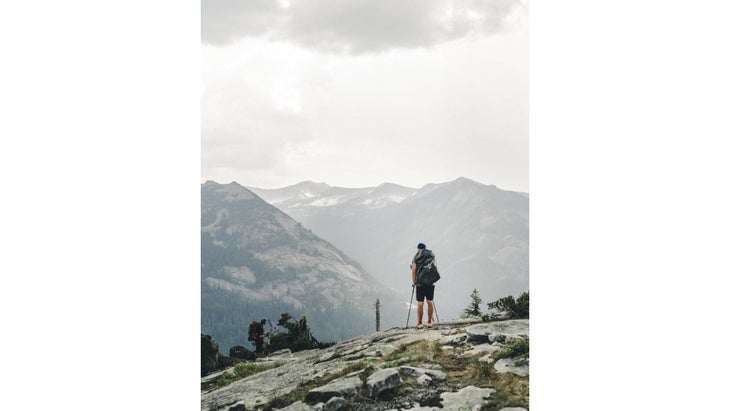 Between a scramble and bushwhack, we were trapped near the base of Lionshead Peak as lightning crackled and cliffs obscured a safe route down. The lack of agency in this moment was humbling. After all, it's not every day you're pinned down by forces greater than yourself. Though hair raising, this day, serves as one of the bright spots from the first half of our thru-hike.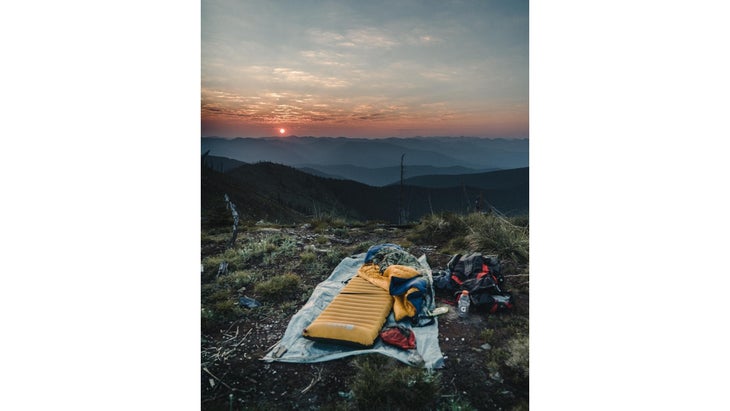 As Brennen Bartlett says in THRU, "Sometimes it takes several hundred miles before you get into a thru-hike. Then, you just become the hike." At this camp, atop a burned-out saddle, we watched the sun go down in Washington for the first time. This was it. Our crew was here, together.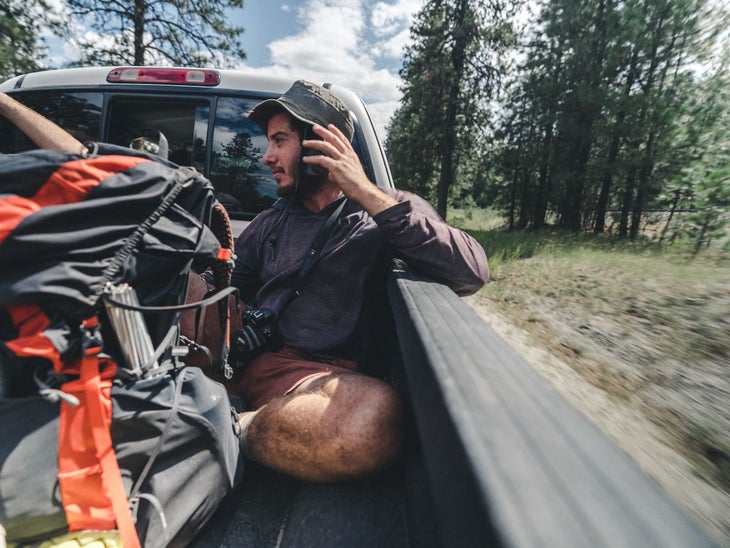 Why are we in the back of a stranger's pickup, flying down a byway? To get our resupply of course! Every 100 miles or so, the Pacific Northwest Trail crosses a paved road. And that paved road leads to town. In town, we buy food, drink beer, and catch up with loved ones back home. After the civilization binge, we hitch back to the trailhead we left from and continue on. While hitchhiking is a lost art in most of the U.S., it's a weekly part of thru-hiking. And, it's a whole lot of fun.
In Northport, Washington we provide residents with a full display of the hiker trash we'd become. To anybody outside the thru-hiking culture, hiker trash may seem like a negative label—after all we did smell like trash. But, within the thru-hiking culture, it's a revered term. To be hiker trash means that you've become one with the trail and that results in three main qualities—a slower pace, openness to the unknown and extreme hunger.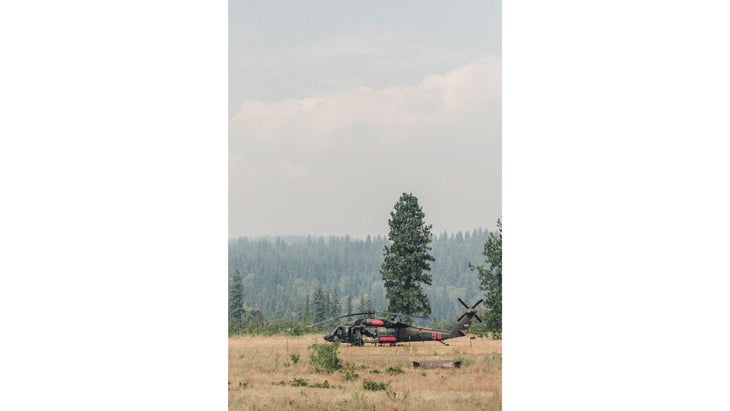 Our time in Northport, Washington wasn't just spent grocery shopping and pouring over maps. Nope. We also spent considerable time connecting with officials about the wildfire that now obscured our path. As we exited on the recommended detour, we passed a fire camp and snapped this picture of a pilot resting in his helo.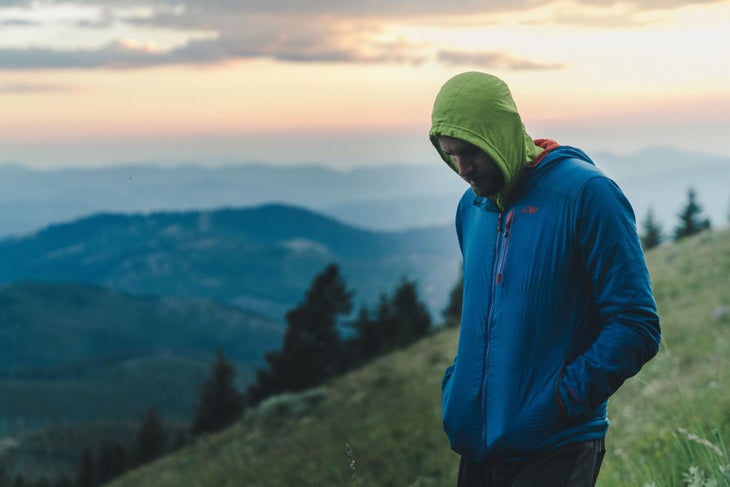 The Trail Family. Or Tramily. For many, this alone is the motivation to thru hike. It might sound strange, but even though we started this hike as strangers, it didn't take long to form unparalleled trust, camaraderie, and inside jokes. And this is common within thru-hiking culture. But, like any family, it's not all whip cream and cherries. This picture of Peter was taken just after we received a GPS message that Brennen had turned around and would not be joining us for the stretch into Republic, Washington.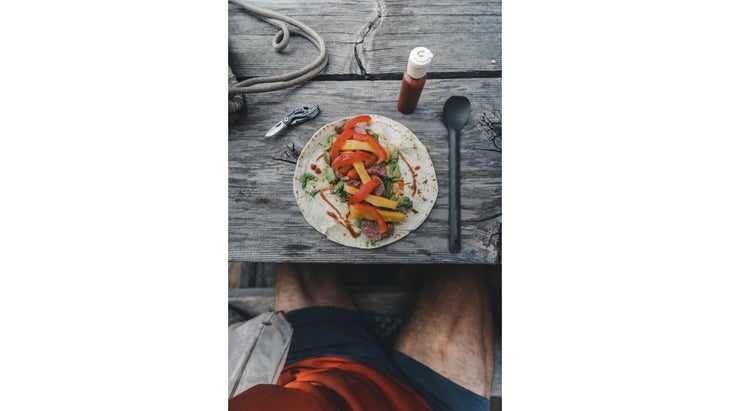 If you lower your expectations, everything seems like magic. And as our hunger grew with the miles, our standards dropped for what we considered gourmet. Pictured here is a tortilla stuffed with red pepper, cheddar, summer sausage, avocado, and sriracha. On trail, this gets five stars.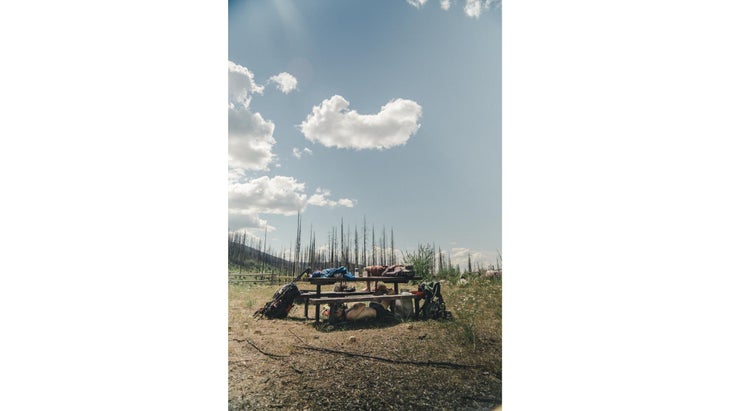 The year we hiked the Pacific Northwest Trail, Washington experienced its hottest summer to date. This meant backpacking for weeks in 90-plus degree temperatures. And that unprecedented heat was exacerbated by the lack of shade in stretches that cut thru Washington's burned-out forests. So, here I lay, underneath a trailhead picnic table's bench, taking advantage of the only patch of shade for miles.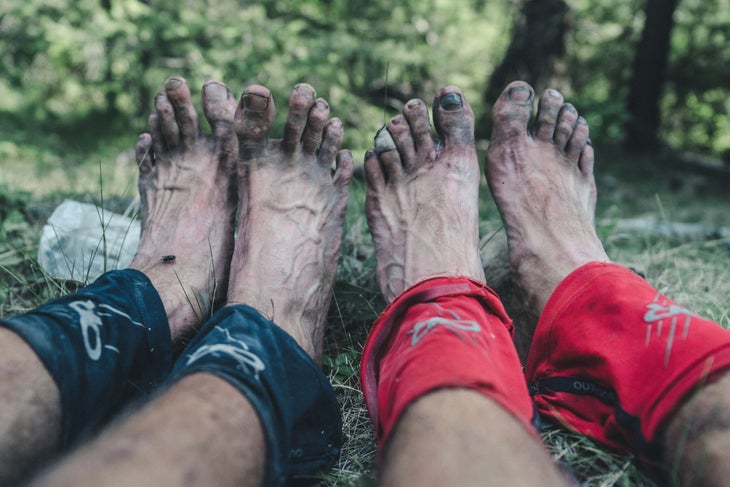 There is beauty in the gnarly. Or at least I think so. With a fly on my left foot, dirt between our toes, and Peter sporting several dead toe nails, this image might make you grimace, but for me, it's a memory of exactly where I wanted to be. Halfway through America's wildest National Scenic Trail.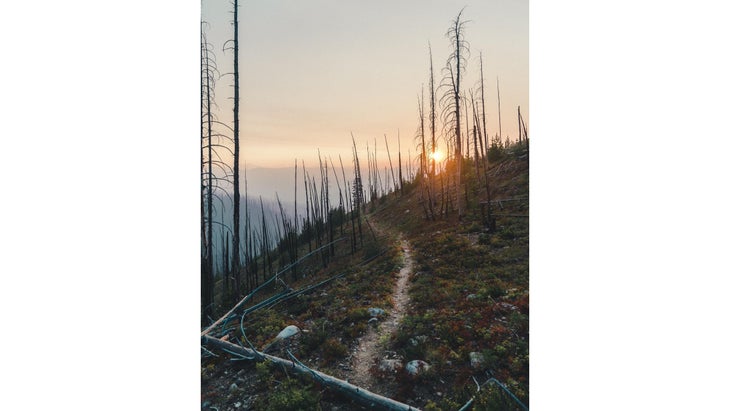 During Peter's halfway interview, filmed inside the Pasayten Wilderness, AKA the most remote part of Washington, he says, "We've reached halfway… nothing can stop us now." Well, Peter should've knocked on wood.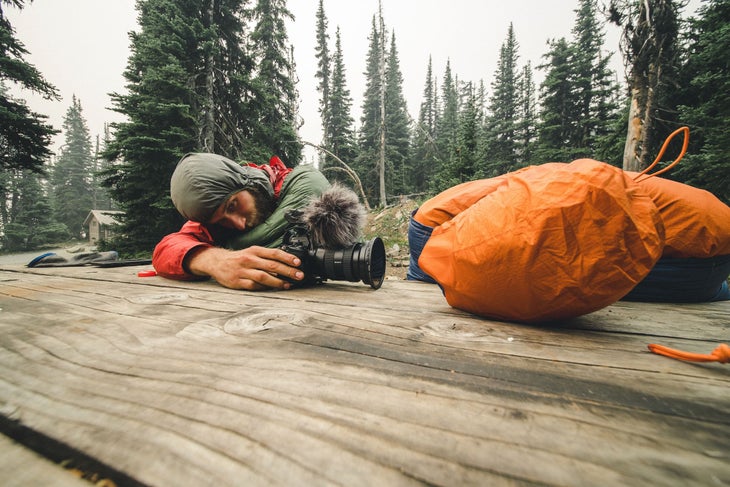 Here's a snapshot from a few days after that interview, as we lay exhausted with splitting headaches and burning lungs, waiting to be evacuated by the U.S. Forest Service. There's a richer story here, but you'll have to watch our series to discover it.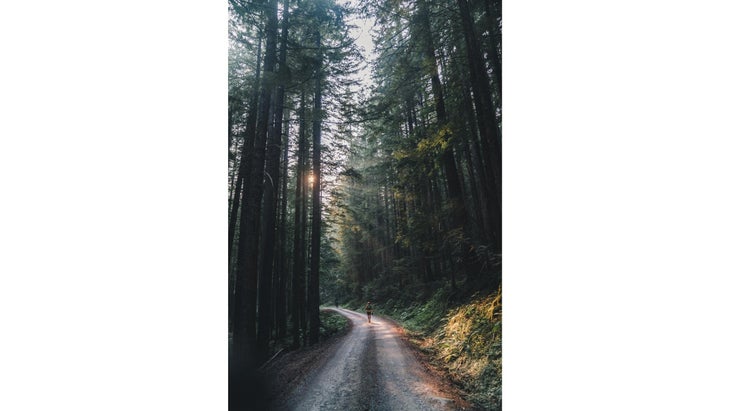 You might think of the Pacific Northwest as a wild place with a lot of rain, but that's only a half-truth. When storms roll in from the Pacific Ocean, the mountains that run north to south form a wall, or a rain shadow that blocks all that moisture from reaching Eastern Washington. Until this photo, we were on the dry side, but pictured here we were finally on the western flank of the Cascades, enjoying the very green and very wet ecosystem.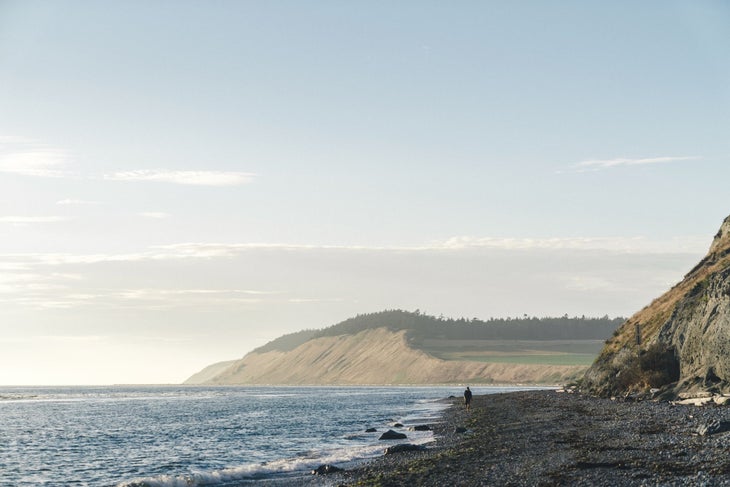 There is a point of every journey where you think it could go on forever. Where the singular focus of making miles is not a task, but a pleasure. It's akin to living in a state of constant flow. But, of course, the adventure must draw to a close, and rounding the bottom of Whidbey Island, we dipped our toes in Puget Sound and looked out at the Olympic Peninsula, the final mountains of our quest.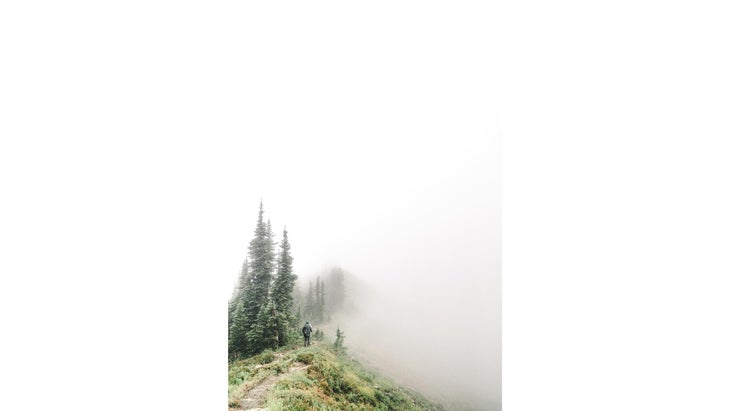 As we hiked from Olympic National Park's alpine zone down into the Bogachiel's temperate rainforest, our world became a blur of moisture. From the mist of exhaled breath to the low-hanging clouds we nearly swam thru, there was magic in those miles, albeit cold magic. And at this point of the trip, movement was our sole heat source, but we were running low on fuel.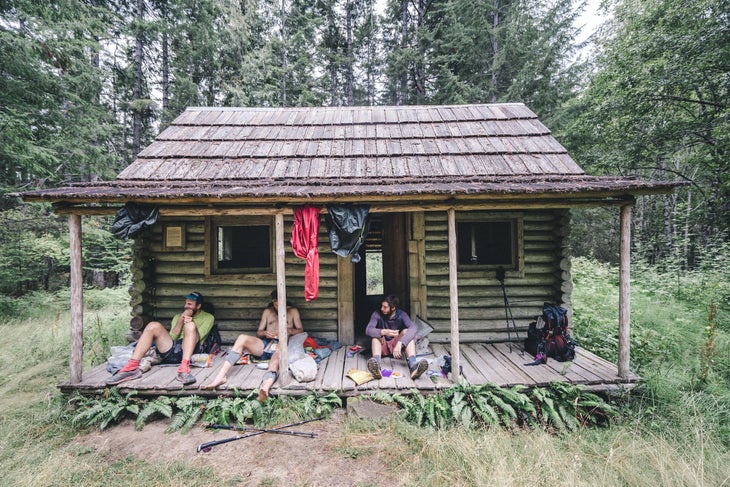 Thanks to the work of Olympic National Park's historic preservationists, backcountry shelters like this one are sprinkled throughout the mountains to aid Search and Rescue, provide a base for trail crews and help stinky hikers dry out their rain-soaked gear. Thanks Olympic!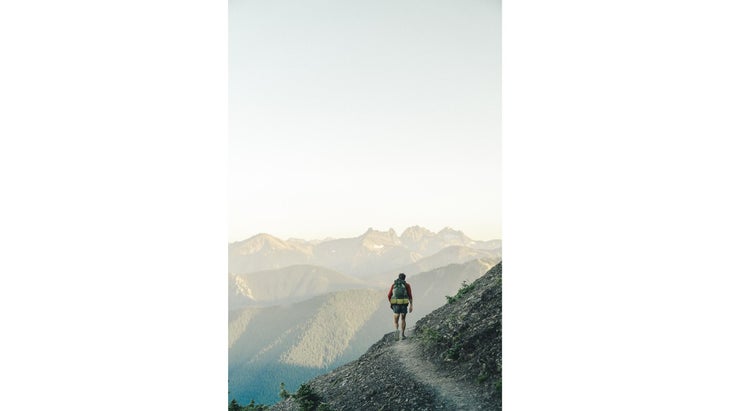 Looking west, just past those mountains, lies the Pacific Ocean. The western terminus of our hike. It's amazing to witness and square up with your final hurdle.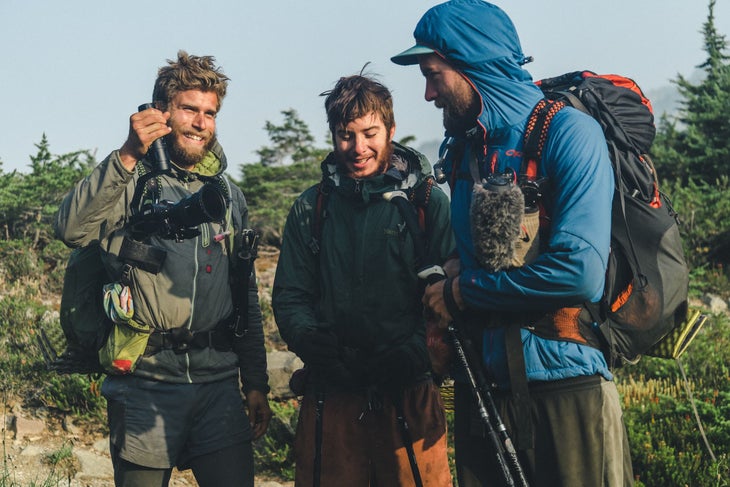 In a rare glimpse of sun, Brennen snapped this shot of the crew as we prepared to hike into the darkness to reach the Pacific Ocean. If happiness lies in anticipation, in this moment we'd cranked the dial to 11.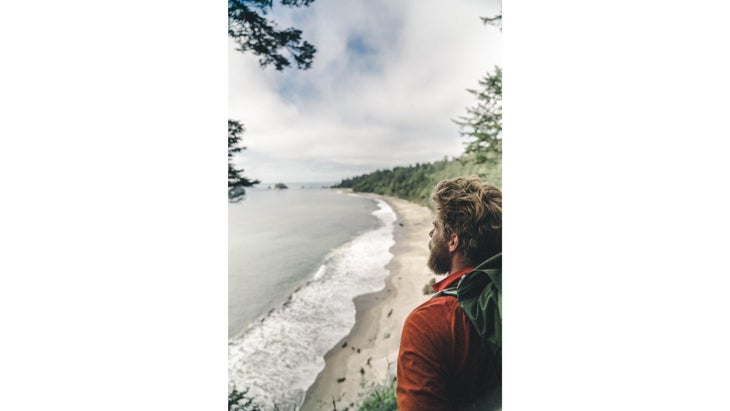 The old adage goes, 'You never cross the same river twice,' with the thought that the river is always changing, as are you. The nature of a thru-hike embodies that fleeting quality. Every day, you wake up in a different place and move thru wildernesses, towns, and strangers' worlds that you will likely never see again. This perpetual movement, inside an evolving space, forces you to not only slow down, but appreciate your experience without the need to attach to it. The goal of creating our series THRU | The Pacific Northwest was to capture and share one river crossing, one journey, to inspire the world to thru-hike. Because on a long hike you don't just get to know nature, you fall in love with it. And people protect what they love.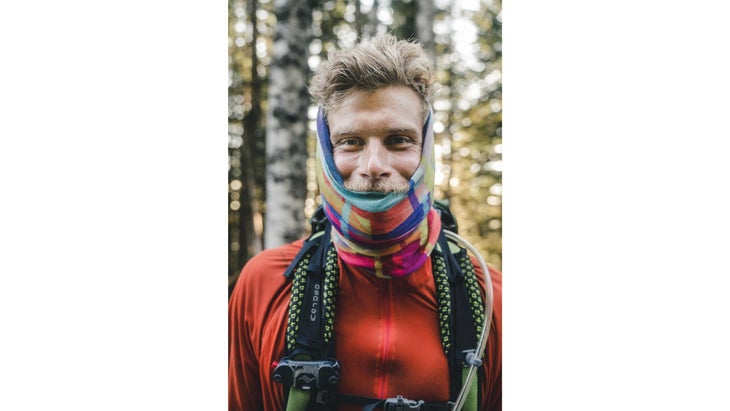 My birth certificate says I was born in Pennsylvania, but that's a damn lie. I was born hiking the Appalachian Trail. Since that thru-hike, I've trekked thousands more miles in search of compelling stories. From nature films to cultural documentaries, I've grown my experience as a director, writer, cinematographer, and editor by creating independent content for networks including Outside+, the Discovery Channel, PBS, National Geographic, BBC World News, Amazon Prime, and Hulu. Simply put, I love capturing and sharing real stories about humans, nature, and the space they meet.
Andy Laub is a thru-hiker and one of the creators behind THRU | The Pacific Northwest.