Yosemite Rescue Dogs: Could This Dog Save Your Life?
Kristin Bjornsen hikes into the Sierras to meet Gus, a new breed of highly trainedrescue professional that's already patrolling Yosemite for lost and injuredbackpackers.
Heading out the door? Read this article on the new Outside+ app available now on iOS devices for members! Download the app.
The 58-pound Australian shepherd is rappelling down a sheer cliff near 2,425-foot-tall Yosemite Falls. Actually, Gus's owner, Mike Bigelow, is doing the rappelling, while the dog–suited up in a chest harness that connects to Bigelow's waist harness by a loop of 8mm rope–dangles between Bigelow's legs. Gus had been fine at the top of the cliff, where Bigelow had clipped him in and then leaned out over the void. And the 3-year-old pup kept his cool as they zipped down the rope. But when I asked them to pause so I could snap photos, Gus started whining–a high-pitched whimper that startled hikers on the trails below.
Normally, a 250-foot rappel wouldn't faze Gus, a copper-mottled fluffball who'sequally comfortable hanging from helicopters, riding shotgun on snowmobiles, andcharging over knife-edge ridges. Gus is a member of YODOGS, the relatively new K-9 division of Yosemite's 41-year-old, world-class search-and-rescue (SAR) team. With 21 other canines, he participates in as many as 12 missions a year searching for missing hikers amidst Yosemite's wild, glacier-carved terrain. Over the past decade, in the park and surrounding counties, YODOGS teams have found nearly a dozen people, two bodies, and numerous clues and artifacts. They've also narrowed search zones by "clearing" areas–eliminating giant swaths of searchable terrain–in record time.
Dogs weren't always such an asset to searchers combing the Sierra high country, however. For years, Yosemite had relied on the California Rescue Dog Association (CARDA), the nation's largest search-dog group, with more than 125 teams. When called upon for a Yosemite search, CARDA would deploy whichever teams were closest–regardless of their mountaineering skills. But when the mostly urban search teams went into Yosemite's craggy, high-altitude backcountry, they often ended up doing more harm than good. Several times, "We had to rescue the rescuers," says Evan Jones, Yosemite's SAR and EMS manager during the late 1990s. In a few cases, the inclusion of such teams may even have contributed to the lost hiker remaining lost. In frustration, park officials reached out to enthusiasts like Bigelow. The SAR dog handler and criminal defense attorney from Sacramento helped establish YODOGS in 1998. The goal: create a wilderness-savvy canine team to assist with the three to four big searches that occur annually in Yosemite's 1,200 square miles–and be on call for the scores of small ones. Now in its 10th year, with 22 teams, YODOGS is one of the most tightly screened canine rescue groups in the nation and serves as a model for other parks and SAR agencies because of its strict criteria for fitness and self-sufficiency in the mountains. But the real story of YODOGS began 15 years ago, with a dog named Ranger and a hiker named Jerry Dragoo.
On Monday, August 1, 1994, Dragoo, a high-school superintendent from Taft, California, car-camped near Leavitt Lake trailhead just north of Yosemite. He planned to hike over three passes and rendezvous with his cousin at Bigelow Lake two days later. On Saturday, Dragoo's wife, Leslie, called his cousin to check in and discovered that Dragoo, 48, had never shown up.
On Sunday, a full-scale search ensued, but by Wednesday, August 10, helicopters and "ground pounders" still hadn't found Dragoo. Investigators questioned his wife, who shared a tragic bit of context: The previous May, the Dragoos' 18-year-old son, Mathew, had flipped his car and died. The family feared that, in the wilds of Yosemite–a place father and son both loved–the elder had sought an end to his grief.
As Wednesday dragged on, Leslie Dragoo's fear heightened. Standard procedure in the 1990s included searching intensively for a victim for three days and then scaling back to a body recovery. But Yosemite Search and Rescue wasn't ready to give up. A Black Hawk helicopter flew Bigelow, fellow dog handler Terry Butrym, and a 2-year-old Australian shepherd, Ranger, to Dorothy Lake, at 9,400 feet near Forsyth Peak. The trio ascended a buttress into a remote cirque below the peak, and kicked steps up a 40-degree snowfield to the saddle.
Ranger scouted 60 yards ahead, his nose twitching. Suddenly, his snout snapped downslope. He cocked his head, stood on hind legs, and chomped the air. Then he charged back down the snowfield, slipping in the mush. At an icy tarn, he disappeared behind elephant-size boulders.
Bigelow and Butrym didn't get their hopes up. If Ranger had found someone, he'd give his "alert"–an action such as sitting, barking, or jumping that search dogs do when they discover a target scent. But moments later, the dog ran back…and sat down. "Show me," Butrym commanded.
Ranger led them to a lichen-covered boulder, still damp from the morning drizzle. There, dressed only in a light rain jacket and hours from death, lay Jerry Dragoo.
Dragoo had suffered a shattered ankle, six broken ribs, a punctured lung, and a gash on his forehead in a headfirst, 25-foot tumble on Thursday, August 4. After failing to locate his cousin, Dragoo had scrambled atop a ridge to build a memorial for his son and tripped on talus. Too injured to descend to camp, he survived by drinking lake water, rationing his gorp, and huddling against the boulder for shelter. The search helicopters that passed overhead gave him hope, but Ranger gave him the greeting of his life: a cold spray of water from a vigorous shake of his shaggy coat.
Ranger's discovery of Dragoo had far-reaching effects, most notably causing California's Office of Emergency Services (OES) and other state SAR agencies to expand the typical intensive-search window from three to seven days. (At least three other people have been found alive in that extended period since then.) The search also highlighted the value of a certified dog team. What helicopters and more than 50 ground pounders hadn't found, a panting furface named Ranger had. In fact, one far-ranging dog and a competent handler can cover the same ground as quickly as 20 people.
Today's K-9 SAR teams must pass a gauntlet of tests to become certified. With CARDA, for example, dogs must find an unknown number of people (one to three) in a 100- to 200-acre area in less than four hours. Handlers test for scent theory, first aid, crime-scene preservation, and more. But as the Dragoo search demonstrated, mountain rescues require special skills. In places like Yosemite, the searchers also must be seasoned high-country explorers, comfortable with rugged terrain, mercurial weather, and altitude.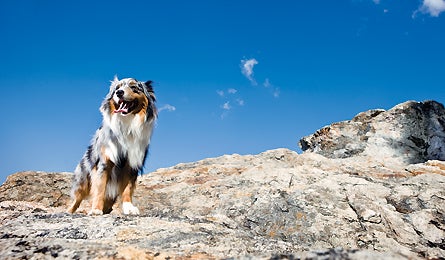 On a sunny morning in September, I join Bigelow and Butrym (a private investigator from Rocklin, California) for a training session at the Royal Gorge Cross Country Ski Resort, outside Truckee. We walk toward the pine-covered ridge of Mt. Disney.
Somewhere in this area hides another YODOGS member, Rick Strasser. Gus and Bigelow's job is to find him.
Six feet tall and 180 pounds, Bigelow has salt-and-pepper hair, rimmed glasses, and a baritone voice. He wears a yellow T-shirt that reads "Yosemite Search and Rescue" and sports a walkie-talkie on his hip. He radiates competence. So it surprises me when he suddenly says, in high-pitched baby-talk, "Are you gonna find him, Gus-Gus? Gonna work-work?" When Gus explodes into action, running ahead, ears perked up like periscopes, nose in the air, Bigelow confides: "It's hard at first for guys like me to get over the high-pitched voice. But what's important is that it gets the dogs to respond."
Bigelow bought Gus in 2006 from an Australian shepherd breeder in Albuquerque, New Mexico. He had wanted a pup that displayed the qualities of a good search dog: curious, playful, highly driven to track "prey" (a missing person), and neither the alpha nor the omega personality ("a dog willing to make decisions on his own but who would also listen," says Bigelow). At the breeder's house, Bigelow unsuccessfully tried to run obstacle courses with two other puppies. Then he tested seven-week-old Gus, who'd been curled up napping. "He was a ball of fire, relentlessly trying to get my toys," Bigelow says. Thirty minutes later, they were driving back to California, Gus asleep on Bigelow's lap. Twenty minutes after that, a carsick Gus was puking on Bigelow's jeans.
Fast-forward three years, and Gus seems to be living up to his puppy promise, sprinting through the grass, nose on the job. But as we walk along, one question bothers me. "Why didn't you give Gus one of Strasser's socks or T-shirts to sniff, like they do in crime movies?" I ask. Bigelow explains that only "trailing dogs"–which track the scent a person leaves on the ground when he or she walks through an area–need a whiff of clothing. That trail is composed of dead skin cells, called rafts, that fall off the human body at a rate of 40,000 per second. Trailing dogs track the cells to discover a victim's direction of travel.
Gus, on the other hand, is an "air-scent" dog, which means the skin rafts he targets emanate directly from the lost person, billowing off of them like steam from a sweaty body and creating a "scent cone." Air-scent dogs zero in on the source of the cone and work to detect any and all humans in the search area–which today means the hidden Strasser.
Bigelow, Gus, and I hike up the steep, forested slope to the ridgeline and traverse along it. As morning sun warms the ridge, cold air rises, giving Gus a whiff of the odors below. We travel west with no sign of Strasser. Bigelow works Gus in a grid pattern, moving him into the wind.
But whatever "Strasser skin cells" are floating in the air, Gus hasn't detected them yet. He yo-yos between Bigelow and a spot 50 yards ahead, and covertly nabs an unidentifiable black lump off the ground. "Gus, whatever you're eating, drop it," orders Bigelow. The lump plops from Gus's mouth; then he jumps into a muddy puddle, leaps out, and dives back in. "You're in a goof-off mood," Bigelow says.
"I'm not happy about that."
As we continue walking I worry that we're not going to find Strasser, and internally debate the most tactful response: Well, we all have our off days, don't we? Maybe Gus thought he was supposed to find that black lump? But suddenly Gus's head shoots up. He zigzags in a grid pattern, then beelines toward a clump of trees 250 yards distant. Moments later, he returns and sits in front of Bigelow. "Show me," says Bigelow, and the two race to where Strasser lies behind some boulders, camoflauged in netting. If I were standing 10 feet away, I wouldn't have seen him.
It took more than the successful Dragoo search to set the wheels in motion for YODOGS. That would require two unsuccessful searches: one for the backcountry ranger Randy Morgenson, in Kings Canyon National Park (a story BACKPACKER chronicled in the May and June 2006 issues), and one for a dayhiker named David Morrison, in Yosemite.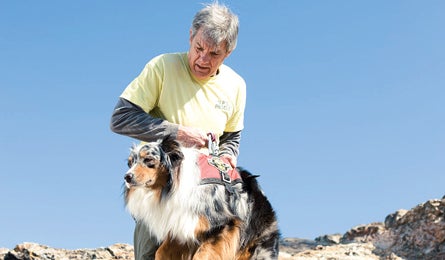 On July 24, 1996, after Morgenson, 54, had failed to radio park dispatch for four days, officials launched a search that grew to nearly 100 people, five helicopters, and eight dog teams (mostly CARDA). The latter unleashed numerous problems. Five teams, defeated by altitude and rugged terrain, were evacuated early, one just minutes after the helicopter dropped off owner and dog. Bigelow, who participated in the search, says several handlers–accustomed to rural, flatland searches and unfamiliar with wilderness travel–also brought 50-plus-pound packs, which rangers then had to help carry. One Rottweiler, trained as both a search dog and guard dog, even bit a ranger, apparently mistaking his green uniform and helmet for a bite suit.
One of the most significant events occurred on day seven. Handler Linda Lowry, her dog, Seeker, and ranger Rick Sanger were dispatched to the Window Peak Lake drainage, where Lowry developed altitude sickness. She persevered, and while the three descended the snow-filled basin, Seeker suddenly veered off. Before he could sniff around, though, he broke through the surface of a frozen pond. Seeker clawed his way out, but lacerated a paw. Lowry raced to her dog, then took a GPS reading to mark the spot that had interested him. The two were then evacuated by helicopter.
In her debriefing that night, Lowry recommended taking "another dog back to pt. where Seeker showed interest." Her suggestion was never heeded, however, underscoring another reason YODOGS was created: to foster good communication between K-9 teams and SAR officials.
Five years after the search, backpackers stumbled upon Morgenson's remains less than 150 feet from the spot Lowry had marked. Though the cause of his death remains a mystery, one leading theory is that Morgenson fell into the same frozen pond that Seeker did and was sucked under. The dog, it seems, was on to something.
Similar problems plagued the search for David Morrison in 1998. That May 25, the 28-year-old San Francisco man set out to dayhike Half Dome and never returned.
Nearly 250 people, 15 dog teams, and four helicopters scoured the area for five days, finding nothing. During the search, one Los Angeles–based dog handler, carrying a 65-pound pack, wrenched his back and demanded a helicopter flight out–shutting down the search for five hours in a critical area. Another handler found a likely footprint, didn't mark the spot, then got lost on the descent. "Other handlers weren't prepared for the cold weather and some didn't want to hike," says Evan Jones.
Jones, now chief ranger at Santa Monica Mountains National Recreation Area, realized then that Yosemite "needed dog resources it could depend on." He approached Bigelow and another dog handler, Michael Freeman, about creating Yosemite's own K-9 team.
Members would need to be certified as dog handlers for at least two years; pass the USFS Pack Test (hike three miles with a 45-pound pack in 45 minutes); and be self-sufficient in the backcountry for 72 hours.
At the time, such requirements were groundbreaking. Only a few organizations nationwide had anything similar. They also ruffled feathers. Some handlers felt (and still feel) the criteria unfairly excluded less wilderness-savvy searchers–as if YODOGS were an elitist clique with SWAT team hauteur. "People felt we were saying they weren't good enough to be back there," says Bigelow. "But it wasn't their search skills in question. It was their wilderness skills." Mark Herrick, a CARDA-certified, mission-ready handler who's not a member of YODOGS, agrees, adding it's a question of putting people in the right terrain. "I live at sea level," Herrick says. "I know that if I go up to altitude, I'm going to feel crappy, so I choose not to." But not everyone self-screens in this manner. "Yosemite is a sexy place to search," says Bigelow, and missions have an exciting, "I'll save the day!" appeal. This can lead handlers to overstate their abilities. So ruffled feathers or no, Bigelow says, YODOGS' stringent criteria stand.
Bigelow, Butrym, and I finish the mock search for Strasser and drive to Smokey's Kitchen in Truckee to meet other YODOGS members: Gordon, Mary, Lynn, Elise, and others, along with their dogs. Chocolate Labs, German shepherds, golden retrievers, and Aussies frolic in the parking lot. The handlers come from a variety of professions: lawyers, doctors, firefighters, scientists. But they all have a few things in common: extensive backpacking and mountaineering experience, an obsessive dedication to search and rescue, and a belief that their dog is the dog. "Is there friendly competition between YODOGS members?" I ask.
"There's nothing 'friendly' about it," jokes Bigelow. "But once we put the SAR shirts on, we're all on the same team."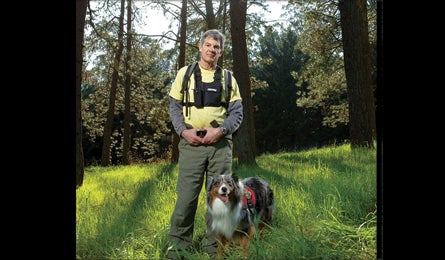 All volunteers, they easily rack up 15,000 miles a year driving to searches and training sessions. They practice multiple times a week and spend thousands on doggie gear and health care. Gordon's late dog, Hana, ruptured her ACL on a Yosemite search ($6,000), and Elise dropped $3,000 when her Lab, Moose, fell ill after "eating who knows what on a SAR," she says.
Because of these hazards, most of the handlers carry pet health insurance. Jokingly calling themselves "The $10,000 Dog Club," they also spend big bucks on Vibram-soled booties, Doggles (canine goggles), and harnesses.
Their dedication has paid off, with all the members having found (or helped find) missing persons, both in Yosemite and surrounding areas. Yet not all searches end happily. "Yosemite is vertical granite, sleek ravines, and a vast backcountry,"
Jones says. "We don't always find people, and when we do, we don't always find them alive."
Mary's German shepherd, Banshee, is a "cadaver detection" dog, trained to find bones, blood, and the smell of decay (caused by degraded proteins called cadaverine and putrescine). Along with body recovery, search dogs can specialize in avalanche, urban disaster, and water searches. The best can find victims submerged as much as 30 feet underwater by smelling skin cells that float to the surface.
Dogs accomplish such feats through their 150 to 220 million olfactory receptors–versus the 5 million humans have. They also have vomeronasal organs–fluid-filled sacs behind the upper incisors, which enable them to identify pheromones. Their extraordinary power of smell may be the reason they can distinguish between males, females, children (even twins); people's emotions; animals in estrus; and pre-seizure states in epileptics.
Three-year-old Gus still has a way to go before reaching that level of expertise.
In dog-rescue years, he's still a puppy, with all of a puppy's foibles: If he gets the frisbee during tug-of-war, he won't give it back, and he chronically steals Bigelow's socks. Last October, however, Gus got a chance to prove himself.
Hikers in Yosemite Valley had stumbled upon a backpack that belonged to Ruthanne Rupert, a 49-year-old woman who disappeared in 2000. With this new clue, searchers resumed the hunt for her remains, sending Gus, Bigelow, and about 20 searchers into a cliffy ravine.
Gus and Bigelow picked their way down mossy rocks, navigating around 10-foot drop-offs.
Partway down, "Gus pawed at the ground and looked at me quizzically," Bigelow says. He saw that Gus had unearthed a badly chewed boot, later believed to be Rupert's. It was Gus's first find. Though the searchers combed the ravine, they found nothing else. Most likely, Rupert got off trail and fell in the cliffy ravine.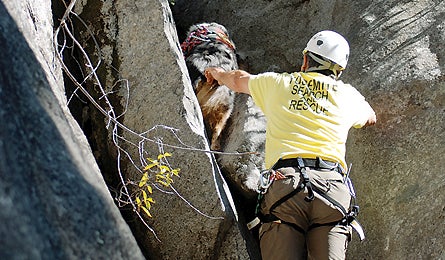 Animals would have scattered the pack and other remains.
From Smokey's Kitchen, Bigelow and I drive to Yosemite. We backpack up the Mist Trail on a preventive search, during which a YODOGS team scouts the trails for trouble. Bigelow talks to a steady stream of hikers, explaining what YOSAR does.
Looking around, I take note of Yosemite's deceptive nature. Yes, there are cobblestone trails and metal handrails, but the moment you step off-trail, real wilderness stretches as far as the eye can see.
Thanks to YODOGS' success, other parks are jumping on board. Lassen Volcanic National Park named its version of YODOGS the "Volcanines"; they face sulfurous mud pits and paw-shredding volcanic rock. Even CARDA joined the charge. In 2005–after heated debate–the organization adopted a classification system in which searchers must pass a physical fitness test (a 10-mile backpack above 7,000 feet, with a minimum 1,000 feet elevation gain) before participating in high-country missions.
Both dog and handler must be competent since searches can be so dangerous. The very first YODOG, Ranger, enjoyed his status for just two months. The night before Thanksgiving, 1998, Bigelow and Butrym were called to a search for a missing hunter.
Scouting the area, Ranger ran to a particular spot, and Bigelow saw a sudden flash.
Ranger had found the missing man. Strong winds had downed a power line; the man had tripped on it and been electrocuted. His body was still in contact with the line when Ranger put his paw on him. Butrym pulled Ranger's charred body from under the line, then raced to the car. Bigelow drove 95 miles per hour to the vet while Butrym gave Ranger CPR. "We knew he was gone," Bigelow says, choking up even now.
As Gus, Bigelow, and I continue up the Mist Trail, Gus prances along, blissfully unaware of the big paw prints he has to fill. Since YODOGS inception, teams have saved Boy Scouts and the elderly; a missing person on Castle Peak; a lost autistic 10-year-old in Tehema County; at least three octogenarians with Alzheimer's; and a man trapped for 36 hours in a large poison oak patch in Aqa Nuevo State Natural Reserve.
At the top of Vernal Fall, people lie beside the Emerald Pool, bathing in the day's last rays. We creep along because Gus is very popular. Almost every hiker stops to pet him and ask, What kind is he? Does he bite? Is someone missing? Gus soaks up the attention. If you let him, he tries to insert his entire 58-pound self into your lap.
One man tells Gus, "Remember what I smell like, buddy, in case I get lost." Since it's thought dogs remember the scent of every person they've met, Gus probably will. Later that night, we will set up our tent beneath Half Dome's shoulder, and Gus will hit the hay in his trademark position: on his back, feet straight in the air, occasionally sneezing himself awake. Come winter, Bigelow will start training him in avalanche search-and-rescue; he hopes to have Gus certified by 2010. Meanwhile, the hiking season is winding down, and luckily, on this day, no one is missing.
I look back over Yosemite Valley. Dusk gilds the granite domes, and the clouds blush pink and purple. It's too bad that Gus can't see the colors of the sunset.
But then again, maybe he can smell them.
Kristin Bjornsen lives in Boulder, Colorado, with her dog, Clyde, who's always searching for turkey sandwiches.