Why You Shouldn't Be Afraid of Mountain Lions
These silent stalkers are the stuff of solo hikers' nightmares—but you need not worry.
Heading out the door? Read this article on the new Outside+ app available now on iOS devices for members! Download the app.
Mountain lions. Cougars. Panthers. Pumas. No matter what you call them, they're one animal no hiker wants to find themselves face to face with on the trail. There's something about those big cat eyes, heavy paws, and silent stalk that strikes fear into the hearts of the bravest hikers.
But the truth is that mountain lion attacks, and even mere sightings, are extremely uncommon. Even in California where the large carnivores roam the hills (and occasionally neighborhoods) around major metropolitan areas, attacks are vanishingly rare. In fact, according to studies, you're more likely to be bitten by a New Yorker than a mountain lion.
The numbers tell the story: Over the last 100 years, mountain lions have killed only about 20 people in the United States. You're more likely to be killed by a cow, which happens about 20 times a year in the U.S. alone, or a bee sting, which claims about 100 lives annually. Even people are more likely to chomp down on you: More than 1,500 people are bitten by New Yorkers every year.
But fear isn't a rational thing, and numbers and statistics don't always assuage our paranoia, especially when we are alone in the woods. That fear may be a survival instinct, our subconscious brain reacting to a perceived threat. We know what a skilled hunter and adept carnivore a mountain lion is. And we know that they, like so many other predators, are uncontrollable and unpredictable. 
Our fear is partially cultural, too. "It's this psychology that's been ingrained in us, to fear predators" says Diana Boyle, a biologist at the Mountain Lion Foundation, a national nonprofit whose mission is to ensure that America's lions survive and flourish in the wild.
Boyle suggests it may have started with fairy tales like The Big Bad Wolf that painted carnivorous wildlife as terrifying and dangerous, but it was likely the sensationalism of infrequent encounters that cemented the fear: News stories, videos, and first-hand accounts of mountain lion attacks can make them seem pervasive, frequent, and terrifying. In reality, wild animal encounters simply receive more press than the farmers who get trampled by cattle every year or the hundreds of deer that cause fatal car crashes because they're so unusual.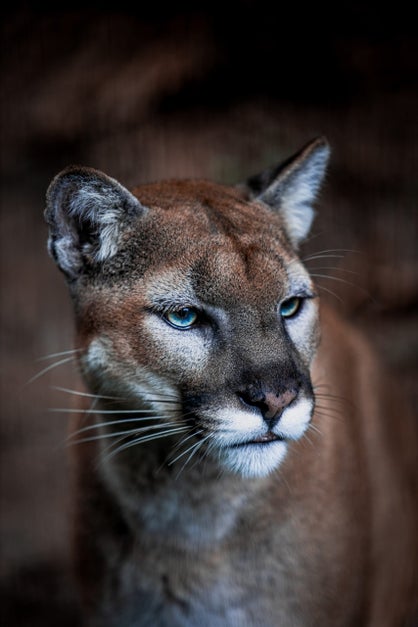 Perhaps the remedy for this fear is knowledge and understanding, both of the mountain lion itself and of how to react if you have the rotten luck to end up alone with one.
For starters, know when you're in mountain lion territory. They live all over North America, including in areas with steep, rocky canyons or mountainous terrain, in deserts and forests. In fact, they have the widest geographic range of any mammal on the continent, though they can be found in most concentrated numbers in western states. 
But rest assured that humans are not on cougars' preferred menus. Their diet consists primarily of ungulates, especially deer, but also coyotes, raccoons, and other small to mid-sized mammals.
As it goes with most wild animals, mountain lions are more afraid of you than you are of them. In fact, studies have shown that the human voice is enough to send the big cats fleeing—even if they're in the middle of dinner. "If they don't want you to see them, you probably won't," says Dr. Seth Riley, a wildlife ecologist at the National Park Service who studies and tracks mountain lions in and around Santa Monica Mountains National Recreation Area in California.
As for fatal attacks, the few that have occurred over the decades have often involved old, sick, or starving animals desperate enough for a meal that they were willing to go after something much larger and more aggressive than their usual prey. Rabies occasionally plays a part in reported attacks, but just as often it's because the animal is being protective, like when a mountain biker gets in between a mother and her kittens.
There are ways to avoid these occurrences. Boyle suggests talking aloud with companions to let potential predators know you're coming (mountain lion attacks on groups are almost non-existent) and give them time to vacate the area. Leave the headphones at home—they keep you from hearing any wildlife that might be nearby. 
If you find yourself staring at a puma anyway, don't turn and run. "It's probably your first instinct, but you want to be perceived as a person and not a deer," Riley says.
As for what to do next, Boyle and Riley say to make yourself look less like prey. Raise your hands, yell, swing your pack over your head, use the flaps of a jacket to appear larger. Do anything to look big and threatening, even throw rocks or sticks if the animal isn't leaving you alone. Back away slowly and maintain eye contact, but also check to make sure you're not in between a female and her cubs.
If hiking with children, pick them up or pull them close as their small size and quick movements make them more of a target. If you are attacked, fight like hell. You don't have to beat the lion, just send the message that you're not prey so it gives up and leaves you alone.
The most important thing to remember when it comes to encounters with mountain lions: "It's an extremely bizarre and anomalous event," Riley says. So don't let it deter you from lacing up your boots and hitting the trail.