Up Close and Personal With Grizzlies
After a 30-year career managing an Alaskan wildlife sanctuary, Larry Aumiller's advice for keeping bears and people safe seems unconventional: get used to each other. Can he convince a society that still sees itself as the top of the food chain?
Heading out the door? Read this article on the new Outside+ app available now on iOS devices for members! Download the app.
When a female brown bear decided to lie down on Larry Aumiller's foot, he didn't have the same reaction most people would.
"I thought, 'Well, this is awkward,'" he says.
He was seated in a camp chair with his legs outstretched, and was looking the other way when she adjusted positions—that's right, in the immediate vicinity of a bear and distracted—or he'd have moved his feet, he says. As it was, he stayed put until she moved on.
For 30 years, Aumiller oversaw the McNeil River State Game Sanctuary in Alaska, which covers about 200 square miles near the Cook Inlet. In July and August, dozens of bears crowd at one of the sanctuary's waterfalls to feast on calico-colored chum, or dog salmon, as groups of tourists huddle nearby to snap pictures.
Aumiller and the biologist who first brought him to the McNeil River, Jim Faro, largely made up their own rules for how to coexist with these bears when they arrived in the early 1970s. Faro had realized the river's ability to draw bears, and then people to watch those bears, spelled danger. People were scattering campsites and abandoning garbage, and officials had already shot a couple of bears. So Faro originated a permit system to limit daily visitors, and restricted campsites.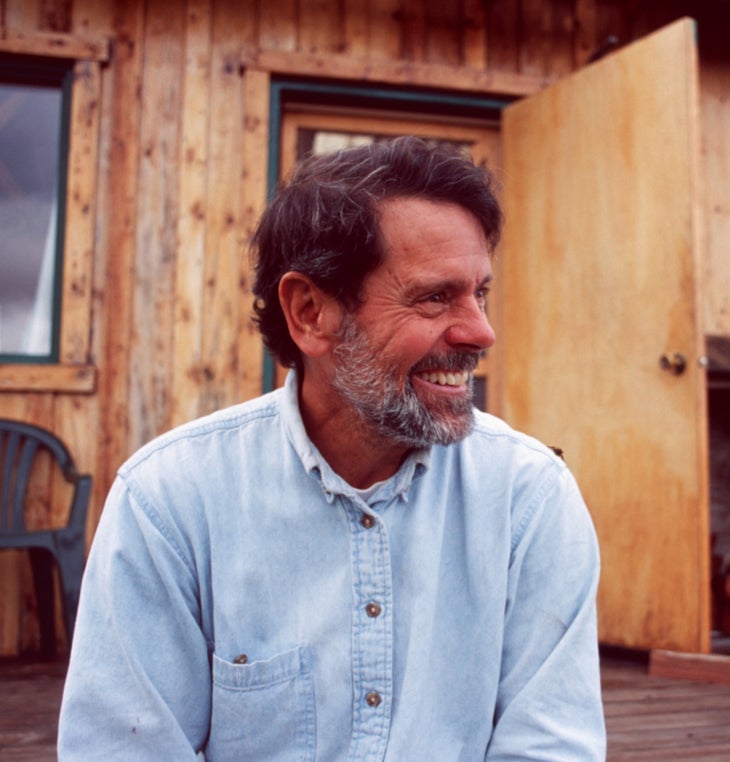 "We didn't know how to do it, to tell you the truth, so we just did what we thought was safe, and even then we had some situations arise that are not for publication," Aumiller says.
For years, Aumiller led tourist groups, his never-used shotgun in hand. He coached them to stay close together, at the same site they visited daily, and make no sudden movements.
"Everything that's controllable is the same as you can make it, and then let the bears make a choice for how close they want to come," he says. "They are incredibly tolerant, and I'll say predictable and trustworthy, if you're doing the right thing and let them make that choice." Hence the moments like when a female and her cubs were close enough to him that he could hear the noise like purring the cubs make while nursing.
More than 40 years later, the program runs just as it did in 1975: Despite close proximity to one another, no tourists have been injured, and no bears killed.
The practice ran counter to accepted bear wisdom. Most experts assumed that bears accustomed to people would be more dangerous, not less. But Aumiller insists behavior is everything. For people, it's a question of moderating response to the bear. If it calmly wanders off into the woods, hikers can and should calmly go on their way as well. Bear advice has largely caught up to this, suggesting that backcountry hikers needn't react until a bear gets aggressive.
"I still hear, 'Don't look them in the eye,' but if you think about it, why wouldn't you? And how can you not?" Aumiller says with a laugh. "If you look at the statistics, the danger from bears is incredibly low. Almost anything is more dangerous: lightning strikes, bee stings, slipping in the bathtub. Almost anything is going to get you before a bear does."
Coexisting with habituated bears isn't an approach that works in all circumstances, though. Aumiller retired from his job managing the sanctuary in 2005 amid conversations about opening up land adjacent to the McNeil River to bear hunting; he objected to allowing sportsmen and women to shoot bears that had learned to see people as benign.
Now, his challenge to translate pieces of that wisdom to the rural communities and mountain towns where people exist alongside bears. If they're habituated—accustomed to people, but not food-conditioned, which raises its own problems—they could pass through the neighborhood without issue. It just takes a little risk tolerance says Aumiller, who has documented 14 serious bear charges in 30 years.
"You have to figure out a way to educate all those people about what to do with their food and garage, and if a bear walks by, to just not get too excited," he says. "That second part is a toughy. We're not built to accept apex predators in our backyard, I guess."
Currently, Aumiller serves as an advisor to the Montana-based nonprofit Vital Ground, which looks to purchase land or secure conservation easements to connect grizzly populations and reduce encounters with humans in problematic areas from subdivisions to highways. Aumiller also continues to volunteer at the sanctuary and will be back this summer for six weeks, leading tours. Clearly, he's had a tough time quitting the charismatic megafauna.
"I like to see them because it reminds me that we're not the kings of the world. It's a good thing to know and it's a good thing to feel," he says. "Being in bear country and not being in bear country are like two different planets, and I mean it in a good way. Sometimes things happen, where you're like, 'I'm glad that's over!' and I'm not just talking about cheap thrills. I'm talking about connection to where you're at."