Trapped on a Mountainside with A Broken Neck
Ruth Woroniecki, 40, slipped on an ice-plated trail in December of 2022. She fell more than 200 feet, tearing ligaments and cracking three vertebrae in her neck.
Heading out the door? Read this article on the new Outside+ app available now on iOS devices for members! Download the app.
It was Christmas Eve, and I told my family that my hike would be a short one. When I left the house that morning, I promised them I'd be back before noon. I don't think it occurred to any of us just how wrong things could go. 
I was in Los Angeles at the time, and it was characteristically gorgeous out: Picture blue skies and highs hovering around 70°F. Christmas Eve has always been an important time for my family, but I knew I had a few hours before the Cowboys were due to play the Eagles, and I had to be on the couch beside my dad to cheer them on. So, I grabbed a pack and a pair of trekking poles and rode my mountain bike to the Middle Fork Trailhead. My goal was only to hike as far as I could go in about three hours. If the trail was clear enough to move quickly, I'd consider going for the summit of 8,859-foot Cucamonga Peak. The full out-and-back (including the summit) would be just shy of 17 miles.  
At the time, I wasn't worried about the distance. I was in the midst of training for a triathlon, and I'd worked up to about 50 miles a week. The terrain shouldn't have been an issue, either: I'd grown up in Colorado at the foot of the Rocky Mountains and had been hiking and trail running all my life. With more than 4,000 feet of elevation gain, this route would be tough. But I'd done plenty tougher. 
I hit the trail at first light. For the first few miles, it was easy going. I switched between hiking and running, doing whatever felt good in the moment. I remember the scent of the pines against the chill morning and the sparkle of the sun's rays on the snow higher up. 
For me, the outdoors has always felt like home. I spend a lot of time working with people experiencing homelessness and incarceration. When you work with so much sadness, being outside in God's country is a great way to recharge. I'm not affiliated with any particular church; for me, God is everywhere; the outdoors is my church. And the light this morning was better than anything I'd ever seen through stained glass.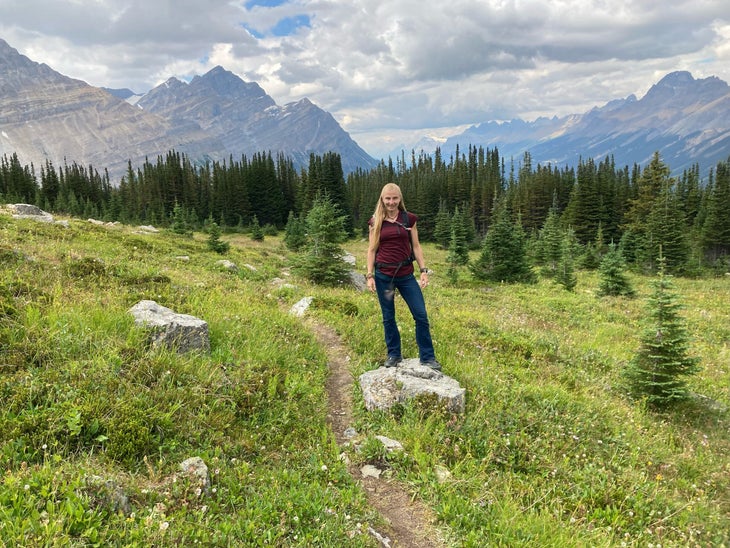 I got to the saddle beneath Cucamonga after just a few hours. I had plenty of energy, and the conditions were good—solid, firm snow and only a gentle breeze. I could feel the peak drawing me onward. So, I texted my mom to let her know the plan, and headed up. 
I touched the summit right around 9:30 a.m. The view swept all across the San Gabriel Mountains, blanketed in white and crisp against the bright sun. I snapped a few photos, then turned back the way I'd come. By now, it was about 10 a.m. I was right on time to be home by kickoff. 
On the descent, I passed another hiker. I wished him a Merry Christmas and scooted on by. Soon, I was past the saddle, following the trail as it ducked back into the trees. 
Once I was in the shade, the temperature dropped. The snow had been almost slushy on the way up. Now, it had turned to glass. 
I slowed my pace and tried to still my hammering heart. Oh, this is slippery, I thought. I put my headphones away and zipped my phone into a pocket to help me focus. Then, I gripped my trekking poles a little tighter, and I took a step. That's the last thing I remember. 
When I came to, the first thing I saw was blood, a splash of brilliant red against the white of the snow. I wiped my eyes and saw a smear of it come away on my hand. My head was throbbing. My ankle was resting against a fallen log. I didn't know how long I'd been out. 
I turned my head to look at my watch. 1:30. Have I really been unconscious for three hours? I heard voices and looked around again. There were four hikers surrounding me. One was the guy I'd passed on my descent earlier. He ran off to go get cell service, leaving the others to stand vigil. That's when one of the remaining hikers told me a helicopter was on its way. He'd triggered the SOS on his personal locator beacon, he explained. Rescuers would be here soon.
I frowned. Helicopter? I didn't need a helicopter. "I can't afford this," I mumbled. I wanted them to call it off. My neck hurt, and my head was throbbing, but I hoped it was just whiplash. I'd dealt with plenty of injuries in my years as an athlete. Surely all I had now were scrapes and bruises.

Then I caught sight of their faces. 
"Is it bad?" I asked. One of the hikers nodded, grimacing at the cut on my head.
"It's real bad," he said. "It's down to the skull. I can see the bone." 
That's when I realized it wasn't just a cut. My scalp had been sliced open in a semicircle, leaving a flap hanging. Suddenly, I felt dizzy. One of the other hikers, an older woman, pulled the beanie off her own head and gently tugged it over mine, trying to use it to hold the loose flap in place. 
"You're going to be OK," she murmured. "Don't worry. You're going to be OK." 
I alternated between praying and pressing fistfuls of snow against the beanie to try to ease the pain. It wasn't until later that I realized exactly how far I'd fallen: the distance between two massive switchbacks, more than 200 feet. The ankle-snagging log was the only thing that kept me from falling to the next switchback—another 200 feet. 
For the next two hours, we waited as the temperatures dropped and my head poured blood into the snow. Then we heard the chopper blades beating against the thin mountain air. 
One rescuer rappelled out of the helicopter and hiked over to us. He assessed my foot, which had arrested my fall when it hit the log, and helped me support my neck. 
The helicopter lingered overhead, but by then it was 2 p.m., and the winds were kicking up, the rescuer explained. If my neck was broken—and it was—then moving could make it worse. But the only way to get me off the mountain was to leave right now, even if that meant walking. 
So, I did the only thing I could do: I stood up, and I slowly hobbled 200 feet, broken neck and all, to the opening where the helicopter could reach us. I stepped into a harness, hooked it into the chopper's hoist cable, and felt it whisk me off the mountain just as our weather window was closing. Once I was in the belly of the aircraft, I texted my family. I got 40 stitches in my head and face and after that, I thought I was in the clear—but God had other plans.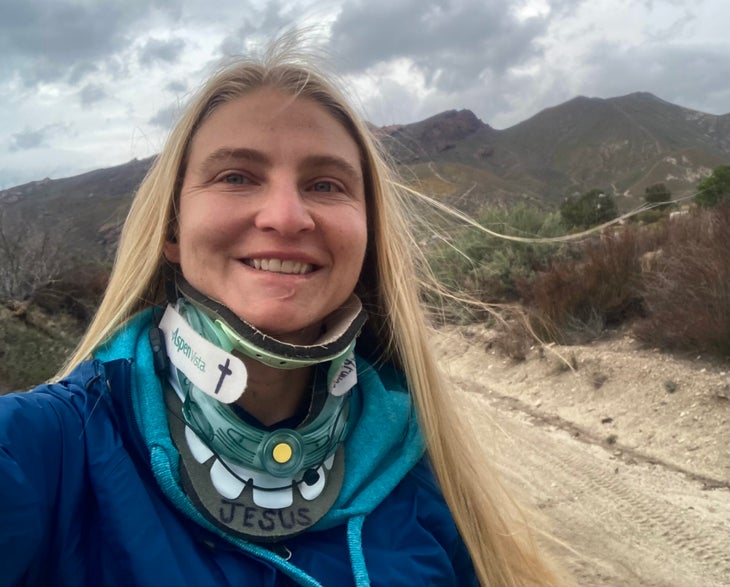 In the hospital, I learned that I'd cracked three vertebrae in my neck—and the pieces had already moved. I needed emergency surgery, but they couldn't get me into the operating room for two more days. If my vertebrae shifted any more during that time, I might never walk again. 
I spent those days lying flat on my back in a hospital bed. I'm alive. I'm here. I'm breathing. I repeated this mantra again and again, trying to focus on the present instead of the uncertain future. All that time, the reality hit me in waves. I could have died, I kept thinking. Shortly after my fall, another hiker slipped nearby. She didn't make it. My rescuers texted me the news a week later. It's a miracle you're alive, they said. It was hard to wrap my head around. 
I prayed a lot during that time, both before the surgery and after. When I woke up from the anesthesia, the pain in my neck was unbearable. For days, it hurt too much to move. I could sit up, but I wasn't yet sure if I would be able to walk. 
Then, after five days in the ICU, a physical therapist came around and helped me out of bed. 
I remember my feet touching the floor, and feeling the sensation of the cold linoleum on my toes. I put weight on my legs—and I felt them hold steady. Gratitude and joy flooded over me. Thank you, Jesus, I thought. 
I didn't yet know if I'd be able to hike or run hard again, but I could walk, I could talk, and I could pray. After everything I'd gone through, that was enough.