Trapped in a Canyon With a Broken Leg
Brigham Holladay, 26, fell while trying to escape a slot canyon near Utah's Goblin Valley State Park in March 2018.
Heading out the door? Read this article on the new Outside+ app available now on iOS devices for members! Download the app.
The last of the light drained from the narrow gash of sky above me. I heard my cries for help bounce away through the canyon walls, but they received no answer. I was stuck, my leg was throbbing, and the temperature was dropping fast.
When I'd started the loop connecting central Utah's Ding and Dang Canyons in the clear sunshine five hours earlier, I expected to be on my way home by nightfall.
I'm the manager of a small movie theatre in Nephi, Utah, and I don't often have weekends off, which makes finding canyoneering partners tricky. But I didn't mind—ever since I'd bought a car a year earlier, I'd been exploring every hiking trail I could find within a day's drive of home. I was used to going alone as I expanded my hiking résumé, building my skill level slowly to account for my solo status.
I'd done Little Wild Horse Canyon and Bell Canyon, two beginner-friendly slots, the week before, and they'd gone smoothly. I was ready for a little challenge, and I set off that morning to explore the sinuous, rose-gold passages of Happy Canyon, which seemed like a doable next step up.
But when the rutted dirt road proved too rough for my sedan, I had to turn to my plan B (worried about the drive in, I'd made one before leaving home). The 5.7-mile loop connecting Ding and Dang Canyons was nearby, and according to the trip reports I'd read, it was supposed to be pretty easy. But as I was about to learn, "easy" is relative.
There was only one other car at the trailhead when I pulled in. I called to tell my mom about the change of itinerary and started hiking under blue skies. I was wearing shorts and a T-shirt. There was nothing but sun in the forecast, but I packed a hoodie, plenty of food and water, and a handline in case things got trickier than expected. It was 2:30 p.m.—I had more than enough daylight for what I estimated would be a three-hour hike.
I had the route all to myself. After a mile, it dove into Ding Canyon, weaving through V-shaped narrows and pocketed sandstone. I crawled over potholes and stemmed through notches, and by the time I reached the open ridge dividing the two canyons, it was 4:30 and I was tired. Still, I was halfway through the loop and only a bit behind schedule, so I headed into Dang Canyon.
I reached the first drop in less than a mile. Wasn't expecting that, I thought as I picked my way down the smooth, 10-foot ramp. The walls closed in the farther I hiked, and before long they rose several hundred feet above my head.
I turned a corner and found myself at the edge of another drop, this time 16 feet. I spotted a rappelling anchor bolted into the rock, threaded my rope through, and used the handline to lower myself down the dryfall. I'd been craving a challenge, and this one still felt well within my ability. Only a couple miles left to go.
I wound through passageways barely wider than my wingspan, but it was already 6 p.m. I needed to pick up the pace.
Just then, the trail fell away in front of me. The drop was only 12 feet, but this time steeper than before. I scanned the rock for an anchor. Nothing. At the bottom, footprints led away through the sand, vanishing down the other end of the canyon, so I knew it was possible. Other hikers must have downclimbed. I just couldn't figure out how.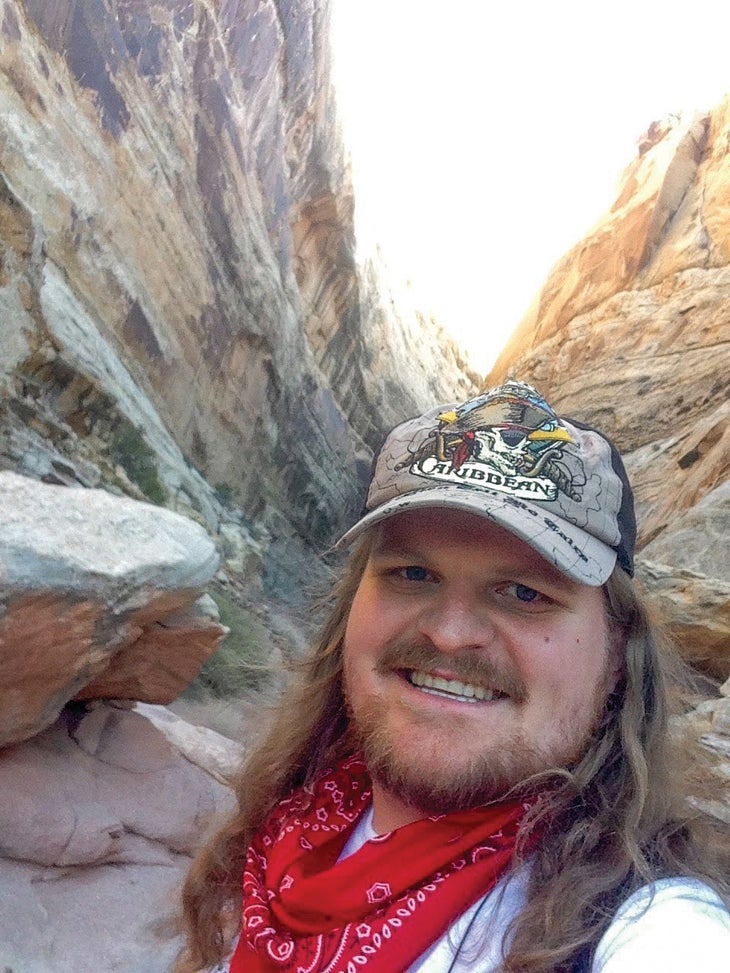 I tried to hammer one of my Powerade bottles into a crack to create a chockstone to hold my rope, but it didn't feel secure enough. And after feeling around for cracks and dimples in the rock, I decided I wasn't comfortable with downclimbing.
Still, I couldn't turn around. The last 16-footer would be impossible to climb—at least for me. Here, the canyon walls were too sheer to ascend and too wide to chimney. I had no cell service—and no options.
It was 7 p.m., and I needed to do something. There were a few footholds about 4 feet down from the lip. If I could work my way to that stance, the drop to the bottom would be about 8 feet—not insignificant, but better. I figured I had a pretty good chance of making it without getting hurt—I just needed to amp myself up. I tossed my pack down to free myself up for easier climbing. No going back now.
I climbed down to the stance and wavered there for a second, heart pounding. And then I pulled myself together, gritted my teeth, and jumped.
I heard the snap before I felt it. My left leg buckled beneath me as I fell to the ground and let out a string of curses. I couldn't see the break (I'd fractured my fibula, I later learned), but I felt the dull pain through my adrenaline like a toothache through Novocaine.
I stopped a moment to breathe, then wobbled to stand. I could still walk. With that drop behind me, I was one step closer to the end of the trail.
I limped along for a few minutes before I reached the next obstacle—a wide, wedge-shaped chockstone.
I hoisted myself up between the walls of the slot, stemming with my hands and good leg to avoid weighting the broken bone. When I pulled over the stone I saw water—a long, dark pool snaking down the canyon. I splashed in, calf-deep, and staggered on.
And then I was at the lip of another drop: a 12-footer with water at the bottom. I couldn't gauge the depth, but I knew better than to push my luck twice; this time I was really stuck.
I yelled for help but it didn't take long to realize I was alone in the canyon. So I sat down and leaned back against the stone wall, switched my useless phone to battery-saving mode, and put in my headphones to drown out my thoughts.
As darkness gathered and temps sank near freezing, my wet feet grew numb, so I peeled off my socks and shoes and put my feet in my backpack.
My parents were expecting me by 10:30 p.m., and they knew where I'd gone. Even if they didn't call soon,
I was sure other hikers would come through the next day—it was a popular hike. Someone would find me. It was just a question of when.
As I'd prepared to leap off that drop, I'd accepted that I might be in over my head. Now, I tried to be patient, at peace with the fact that I'd made a mistake; beating myself up wouldn't change the outcome.
I burrowed deeper into my hoodie, but soon I was shaking with cold.
I knew my family would be anxious—my mom, worried about flash floods, had told me to avoid slot canyons. Around 11 p.m., I pictured her pacing the house. I tried not to think about it.
Around 4:30 a.m. I heard voices and yelled. A man stemmed over the frigid water, moving toward me—the local rescue team had arrived. I could barely feel my face, but I grinned with relief as more rangers and volunteers showed up. As they loaded me onto a backboard and passed me hand-over-hand above the pool, I noticed it was beginning to snow.  
Key Skills: Stay Safe in the Slots
Do your research.
Check the weather (change plans if there's any rain forecast over the canyon's drainage) and read multiple trip reports before you go. Nathan Martinez, Goblin Valley State Park assistant manager and the first on the scene of Holladay's rescue, recommends perusing online forums like candition.com for recent conditions reports.
Leave a note. Cell service is scarce in canyons. Devices that use satellites can be better, but the safest option is to leave your itinerary with a reliable friend.
Pack the essentials. Bring a handline (50 feet of 7mm cordelette or 1-inch tubular webbing) for short drops (check local LNT ethics before leaving lines behind). Wear grippy shoes, and pack layers in a drybag.
Get unstuck. Need to climb slickrock? If you can, buddy up: A partner assist—like a leg-up or an extra hand—can often provide a sufficient boost, Martinez says. Not enough? Tie a heavy pack (or several) to a cord and throw it up over the lip of the drop. The weight and friction can provide enough counterforce to let you haul yourself up the rope.