Tested: Bear Sprays
Bear spray in the backcountry is a must. We tested two powerful brands.
Heading out the door? Read this article on the new Outside+ app available now on iOS devices for members! Download the app.
Bear spray is an essential item for anyone who spends time hiking or camping in bear country. In the unfortunate event of an encounter with an aggressive bear, bear spray can literally mean the difference between life and death. We tested two—hopefully you never have to.  
UDAP GrizGuard Bear Spray with Holster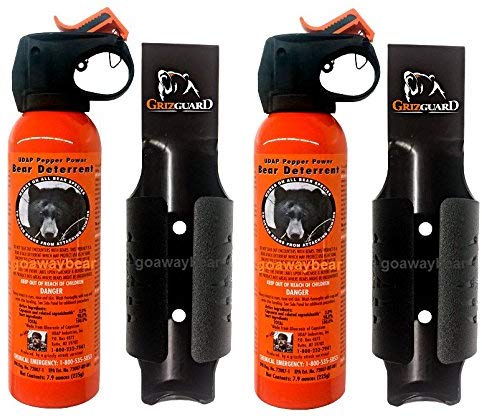 The UDAP GrizGuard Bear Spray boasts a 30-foot spray cloud, which we found to be accurate. Because the trigger on top of the canister is so easy to depress, we appreciated the plastic safety clip, which can be removed simply with one finger, facilitating single-handed operation. Like most sprays, the UDAP GrizGuard features a large finger loop near the top of the canister making it easy to draw it from the sturdy-yet-light holster. The large (260 g) container fully empties in about 5.4 seconds, allowing ample time to give a charging bear a good dousing of nose-and-eye irritating spray. 
While the open hook on the holster makes it easy to attach the spray to a belt or backpack waist belt, some may appreciate a closed loop belt attachment to further prevent the holster from falling off if forcefully bumped. For those who prefer a soft holster, instead of the hard plastic one, consider Counter Assault's Magnum 290 Grizzly Tough Bear Spray (reviewed below). Overall, we found this spray to be intuitive and easy to use – both essential attributes when preparing to ward off an aggressive bear. Lastly, we found the GrizGuard to be competitively priced compared with most other bear spray products. Buy UDAP GrizGuard Bear Spray now for $70
Counter Assault Grizzly Tough Magnum 290 Bear Spray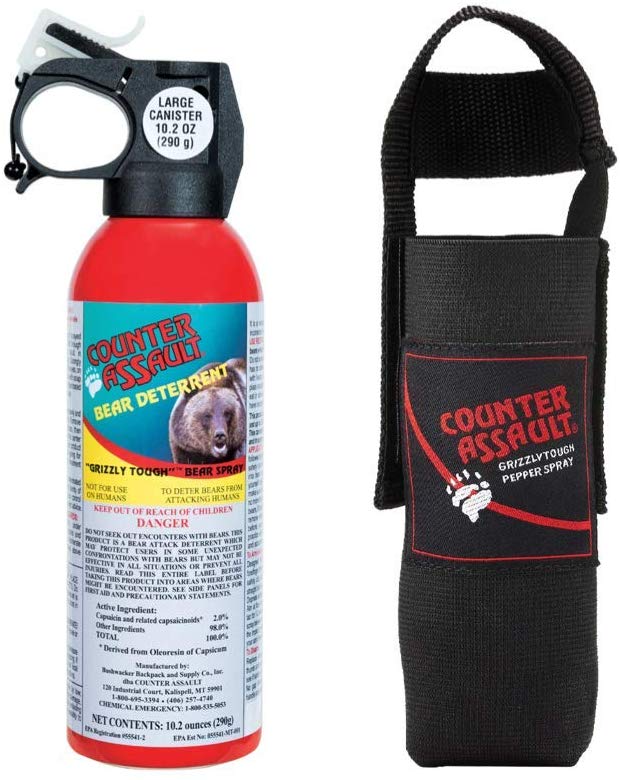 The most attractive feature of this product is the 40-foot spray cloud with a full eight seconds of spray time, which is an additional 10 feet and 2.5 more seconds than other bear sprays that we evaluated. Also, the glow in the dark safety wedge, which keep the spray from accidentally deploying, is a nice feature if the spray is needed in low-light conditions. This spray is intuitive and simple to use, with features such as the finger loop on top of the canister, and easily removed safety wedge. 
While the soft-fabric holster comes with a closed loop to secure it to a belt or backpack waist band, the fabric seems to be lighter and less durable than we prefer to see. When we carry this spray in the backcountry, we will likely wrap an extra strap or piece of webbing on the outside of the holster just to be sure that the spray doesn't accidentally fall out. For those who value a more durable holster design, consider the UDAP GrizGuard spray (reviewed above), which comes with a more durable plastic holster. Buy Counter Assault Bear Spray now starting at $43