Surviving a Grizzly Attack in Glacier National Park
On August 25, 2005, Johan Otter and his 18-year-old daughter, Jenna, hiked right into the worst nightmare of any Glacier National Park backpacker: a 300-pound mother grizzly protecting two cubs. Here, in his own words, the 45-year-old physical therapist from Escondido, CA, shares the incredible story of their life-and-death struggle.
Heading out the door? Read this article on the new Outside+ app available now on iOS devices for members! Download the app.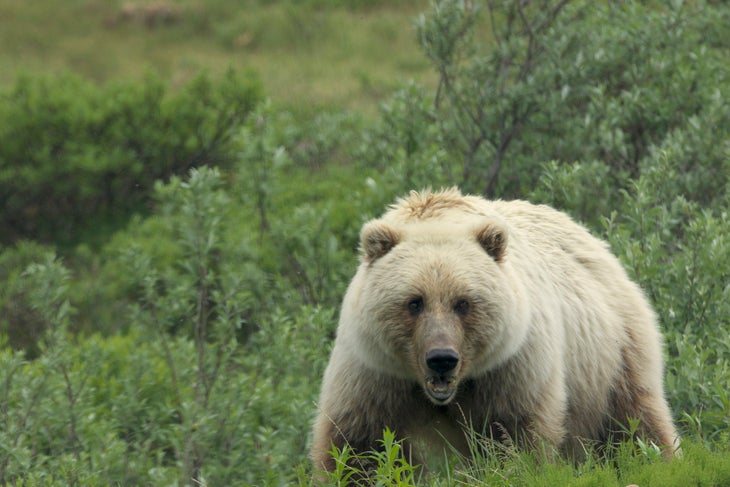 Jenna saw the grizzly a second or two before I did. We were on the Grinnell Glacier Trail, and there was a 20-foot-tall boulder sticking out. Jenna was about to walk around it when the bear turned the corner.
She could've reached out and touched its snout. It was within 5 feet of her, and she could see that it had two cubs. Jenna's first response was to run away. She took about two steps back toward me. I was still walking up, unaware of what was happening–until she shouted, "Oh no!"
The first thing I saw was this big furry thing. It was running straight at me. I remember the fangs and the claws. I never even saw the cubs.
I instinctively stepped in front of Jenna. My response was just to stand my ground and not move.
The bear immediately went for my left thigh: whomp, bite. It mouthed right in. I looked down at what was happening; it was just surreal. At first I thought, what is that: a big badger? Then I thought: No, it's a bear. Some weird thoughts were running through my mind. Like that the bear was not as big as I might have imagined. Then it bit me again in the leg.
We had driven to Glacier from Escondido to celebrate Jenna's high school graduation. She was getting ready to go off to the University of California at Irvine in a few weeks.
The two of us were pretty serious hikers. We'd often do 10-milers with my wife and younger daughter, then Jenna and I'd go a bit farther. She danced and was really fit, and I was a marathoner. Our goal for this trip was to really go for it.
This day, we decided to hike to Grinnell Glacier; it's about 11 miles round-trip. We got to the trailhead around 7 a.m. I had wanted to start earlier but my daughter said no, you need to keep business hours when you're in grizzly country.
There was only one car in the parking lot, but we got the feeling it was a popular trail. We knew we needed to get moving before larger groups started rolling in. The trail starts out as a nature path–the type where you pick up a brochure to learn about the plants around you. We wound through a grove of trees, past Lake Josephine, and started up some switchbacks that took us above treeline. The trail got rocky. We were on a slope, and there were just a few shrubs around. There had been a snowstorm the day before, but skies had cleared and there were just high clouds. It was good hiking weather; I'd guess the temperature was in the 60s after a couple of hours on the trail.
We were talking loud. I'd been taking my time filming a golden eagle, but Jenna kept nudging me to keep on pace. We were hoping to hike to Iceberg Lake later that afternoon.
Right before the attack happened, we were debating how much farther we had to go before the turnaround. It was right around 9 a.m. Jenna was a few steps in front of me.
After the bear bit me, I didn't fight back. I couldn't. There wasn't half a second. It was just impact. Plus, I got thrown off my feet. I knew the smartest tactic was to get into the fetal position, but there was no time. And then I thought: Shoot, my vital organs are totally exposed.
The bear was throwing me around. I looked down the trail and decided the best thing to do was to get myself off the slope. And that's what I did. I ripped my body free from its jaws and then rolled down a steep embankment over rocks and bushes. I tumbled about 20 feet.
I came to a stop and took a breath. Then the realization came: OK, I'm here. There's no bear, there's no Jenna. Those two are together. That's not good.
I was carrying a daypack with a camera, water, and snacks. There had been bear spray in the loose mesh side pocket, but it was knocked out of my pack when the grizzly first struck.
Later I learned that Jenna had seen the bear spray on the trail and picked it up. She didn't know she had to release the safety lever before she sprayed. While she was looking at it–we're talking just one or two seconds–the bear started running at her.
She's pretty sure she fainted at that point. It was the shock of I can't get this thing to work as fast as I want it to and this bear is running at me. She passed out and fell about 50 feet off-trail in a different direction from me. She woke up halfway through the fall and hit her butt and head on rocks. That woke her up. That's also when she broke her back. It wasn't a bad break, thank god.
I yelled, "Jenna, come down here! It's safe!" She never heard me. But the bear did. The minute I yelled, I saw the bear looking down. It started running right at me.
It's unbelievable how fast grizzlies barrel up and down slopes. I went into a fetal position, and the bear latched onto my pack, lifting me up and down like I weighed nothing. I'm 6 foot 1 and 185 pounds.
All I could think was: This is bizarre. But Jenna later told me I was screaming. Then I remember thinking, Jenna doesn't have a backpack. If this happens to her, she's dead. That's when the realization set in: I needed to keep this bear with me. I can protect myself, but Jenna doesn't have this extra protection. I think my screaming kept it on me.
When a grizzly attacks, it doesn't bite, hold on, then shake back and forth like a dog. It bites and pulls away, bites and pulls away. When I recently saw the new King Kong movie, I must've gasped during the scene where the dinosaur and Kong are fighting, because my wife looked over asked what was wrong. I just stared at the screen, thinking to myself, that was just what it was like.
Half the time I was in its mouth, and I could see what it was doing, that it was pulling my flesh, but there was no pain. I could also see blood, though, and I knew it was bad.
I decided to throw myself away from it again, and I fell another 30 feet. I didn't time my fall–I just jerked away. I landed face-up, which wasn't ideal, but you can't plan these things. The bear got right back on top of me, so I grabbed it by the throat. I was facing it. Holding onto it. It was one big block of muscle that I knew I couldn't control. This animal was incredibly strong.
I grabbed a rock because I recalled hearing that if you hit a bear's nose, sometimes it will back off. At this point, I still didn't know there were cubs. Grizzlies aren't usually interested in people as food. This reaction was not hunger. This was: I need to take you out, you are a threat to my young.
My plan to hit it didn't work. The rock I grabbed was that slate stuff that just crumbles. And it was in my left hand–I'm right-handed–and suddenly I thought: If I hit it, I'm just going to piss it off even more.
So I curled back into protective mode, but this time it got more aggressive, gnawing and scratching my head. It felt like a dog digging for a bone. It was also biting my right arm.
I was face-to-face with the grizzly for about 3 to 5 minutes, but I don't remember what it smelled like. I don't recall any sounds, any grunting or growling. In fact, I never felt afraid. I was focused on survival and getting it away from Jenna.
The turning point was when I felt a tooth going into the bottom of my skull at the nape of my neck. When it went in, I heard a cracking sound and felt a lot of pressure. Then it hit me: Yes, I'm keeping this thing with me, but I'm going to be dead soon. So I thought, I need to get out of this situation. I launched myself downhill again and fell another 20 feet. I stopped in a rock chute on the edge of a cliff. My feet were strongly planted on rocks, my back into the mountain, and there were two rock outcroppings above me. Below me, there was a drop of several hundred feet.
The bear came down and just looked at me. I didn't move or make a sound. Maybe it thought I was dead. I was sitting there preparing to kick it off the mountain if it came after me again. I wasn't in a vulnerable position, even though I was really banged up. Honestly, I don't know if I could ever kick a bear off a mountain, but I was prepared to try. Instead it looked down at me and walked away. I never saw it again.
Then I heard Jenna scream. That was the worst sound I've ever heard.
The bear had gone back to Jenna. When it lunged at her, she extended her hands and grabbed it around the throat. I think that was when Jenna realized she needed to play dead instead. She quickly curled up in the fetal position. The bear bit her face and then her shoulder. She didn't flinch. It finally gave up and left, probably to retrieve its cubs.
After her initial scream, I didn't hear anything more, so I figured the bear wasn't on her. But I didn't make a sound myself for fear that it would turn back to me. At this point, I couldn't do anything to help Jenna, because I was pretty beaten up. I assessed my wounds. I didn't see any arterial bleeds, but when I touched the top of my head, I felt nothing but bone. I covered my left eye to find out if I could see anything out of my right eye, which had been clawed, and I managed to make out Grinnell Lake.
I waited a little longer, then I yelled for Jenna. She called back immediately. And her voice was strong. That was the best sound I've ever heard.
After Jenna fell, she had crawled under some bushes and next to a rock for some protection. We were about 30 feet apart. The first thing I asked when I called to her was how her eyes were. Fine, she said, but she had wounds on her face and her shoulder.
I crawled to a ledge, leaving my backpack and a trail of blood behind. I pulled the hood of my jacket over my head, just to cover up my scalp so people wouldn't have to see me. A ranger told me afterwards that I actually created a seal to stop the bleeding.
Jenna and I were only 30 feet apart, but we were too weak to get to each other. And later, when the rescuers came, they didn't want to move us. So I didn't see Jenna until after my surgery more than a week later. But that was a good thing. When I saw pictures of how I looked, it was bad. I was covered in blood, and you could see my skull.
For the next 45 minutes, we yelled for help.
I don't remember much until a guy came sliding down the mountain with his eyes wide open. His wife ran back down the trail and eventually found a ranger-led group on its way to the glacier. That ranger radioed for help.
It was a long 2 hours before medical personnel reached us. During the wait, more hikers stopped. Two boys retrieved my backpack and camera. Others covered us up with their jackets. We were bloody, but they didn't care.
When the rangers arrived, they started treatment, but it was another 4 hours until a helicopter arrived to lift us out.
My blood pressure dropped to 80/30, and I lost about half of my blood. An artery going through my scalp was torn. But pain was not an issue. Yes, I was hurting, but it wasn't something I concentrated on. I was just so happy to see people.
I was taken to Kalispell Regional Medical Center, where x-rays revealed I'd broken my neck in three places and needed to be kept still. An hour later, I was flown to Harborview Medical Center in Seattle and went right into 7 hours of surgery. Jenna stayed in Kalispell, where a physician who's world-renowned for treating bear bites worked on her. There are exotic parasites that live in a bear's mouth that could have killed us. Somehow, neither of us got an infection.
My list of injuries was long. About 60 percent of my head was "de-gloved"–the bear essentially took my scalp off. Its claw fractured my right eye socket and disrupted an eye muscle. One bite snapped my right wrist. I also broke my nose and two vertebrae; I had a compound fracture of my second cervical vertebra; I had bite wounds all over; I ruptured my left biceps; and I had lacerations on my thighs and shins.
Jenna broke her back in two places, but they were stable fractures–meaning they were in place and wouldn't easily move. She had two big bites. One was from the corner of her mouth to the top of her head, and the other was on her right shoulder. She also lacerated her ankle nearly down to the Achilles tendon when she fell.
People have asked me how I feel about bears after the attack. Well, I don't find them as cute as I used to. They can kill. But I realize they are an animal we need to have around. And grizzlies are a sign of true America. They are a symbol of wilderness at its purest–and of an ecosystem that is intact. You need to be really respectful of that, and the dangers that go with it.
Since the attack, I have been in and out of surgery. Doctors took a muscle from my side and put it on my scalp. I've had three surgeries on my eye. I can see fine when I look straight ahead, but I get double vision when I'm sitting at my keyboard. My neck gets stiff, but I'm getting physical therapy. I'm the director of physical, speech, and occupational therapy at Scripps Memorial Hospital in San Diego, so I know the importance of therapeutic follow-through.
Jenna has recovered very well. She is now dancing at Cal-Irvine.
At some point, I decided I needed to run another marathon. And so I entered the Rock 'n' Roll Marathon in San Diego in June.
There was extra pressure because the media were there to report on my race, but after mile four or five, I didn't care. I just wanted to finish. Then at mile 20, I thought, I don't want to go through this. My left leg isn't as strong as my right because of the injury, and the hat I wear to protect my scalp traps the heat in. I've been through enough pain in the past year.
Perhaps my struggle was simply recognizing that I'm not 100 percent yet.
But I finished in 3:39. My PR is 3:13, and I still hope to qualify for the Boston Marathon before the end of this year. Running the marathon was mental healing, and I know the mental toughness I had from being a runner saved my life. Those last couple of miles of a marathon are not fun. You have to push yourself through it, and that was a trait I needed that day in Glacier. It also helped that my blood pressure is low and my heart is strong.
Finishing the marathon was a barrier I had to overcome. I needed to know that I was myself again physically.
My other unfinished business is that hike. I plan to go back to the specific spot of the attack with the rangers that helped us and continue on to Grinnell Glacier. I am not fearful of going back into the wilderness–it's just one of those things I have to do.
Park officials closed all area trails after the attack and searched, to no avail, for the Otters' grizzly. However, rangers had determined that the bear was acting defensively and shouldn't be destroyed if found. As this issue went to press, the Grinnell Glacier Trail had seen no encounters since the incident.
You know how to hike smart in grizzly country. You travel in groups and carry pepper spray. You make noise and keep a clean camp. "But you need to be extra cautious if you encounter certain situations," warns zoologist and renowned bruin expert Stephen Herrero, author of Bear Attacks: Their Causes and Avoidance.
Warning Signs

5 bear-country scenarios that call for extra vigilance
1 You're near a rushing stream "A bear has difficulty hearing you above this noise, so you're more likely to surprise it," says Herrero. The water also makes it tough for you to hear a bear snorting. When hiking in bear habitat that's noisy, keep up the chatter, stay alert, and stop occasionally to scan for bears, advises Herrero.
2 There's a headwind A bear's #1 sense is smell. A tailwind will carry your odor to bears down-trail. "Most bears will decide to avoid you," says Herrero. When the wind is in your face, that advantage diminishes. "Bears don't like surprises. If all of a sudden it finds a person 25 meters away, it may just run on auto-pilot." Changing course may be impractical, but you can still make your presence known; again, talk or sing loudly. And this is a good time to be sure the bear spray on your hip is ready to fire.
3 You come upon a cluster of overturned rocks If you're hiking in Yellowstone or Glacier, the work was likely done by grizzlies looking for army cutworm moths. "Ninety percent of the time, bears are going to be where their food is," says Herrero. If there are also signs of fresh digging, a grizzly is probably nearby. Move swiftly by, and keep your bear antenna up.
4 You're on bear turf Grizzlies have learned to expect people on trails, not off them. You don't want to catch a bear off guard, like when you're bushwhacking in tall grass. Switchbacks can be a concern if you don't have a good line of sight. "Ideally, you want to be able to see 50 meters ahead," says Herrero. When hiking in low-visibility areas or off-trail, let out your best yodel as often as every 10 seconds. Also, scan the ground for fresh bear scat. If beetles or larvae are in it, it's not fresh. If not, be extremely alert.
5 A raven is circling "Some of the worst attacks have been when a grizzly was feeding on a carcass," says Herrero. If you spot a scavenger such as a coyote or crow, assume there's a carcass–and a grizzly–nearby. Make a wide detour around the area or back away completely.–J.C.