It Was Supposed to Be the Hike of Their Lives. Then, the Volcano Erupted.
When we awoke in the blizzard of ash, we were ready to run for our lives. Was the ash toxic? Would slag soon fall from the sky like meteorites?
Heading out the door? Read this article on the new Outside+ app available now on iOS devices for members! Download the app.
This hair-raising survival story is just a taste of what you get when you sign up for Outside+. Members get access to our full archive of tales from the trail, reviews, skills tutorials, hike reports, and more, plus access to our sibling titles like Yoga Journal, Climbing, and Outside, a premium Gaia GPS membership, and much, much more. Sign up today!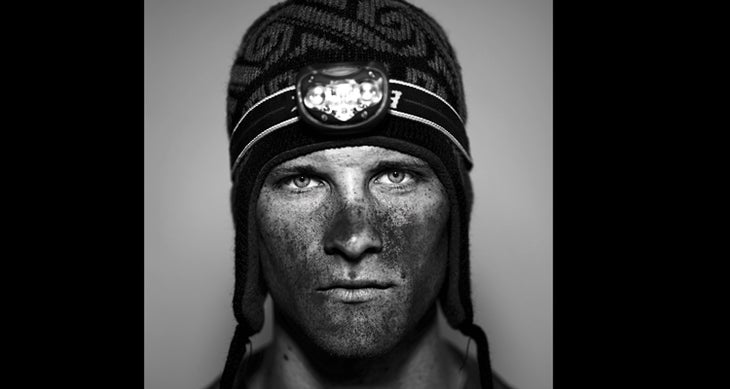 When we awoke, the world was too quiet. Too quiet and too dark. It was 8:30 a.m., but the sun hadn't risen. I flicked on my headlamp, unzipped the tent, and a half inch of ash dumped off the rainfly. My beam of light illuminated ash falling from the sky like a fine snow. It looked like all the color had been sucked out of the world. Gone were the orange and red leaves, golden grasses, and sparkling blue lakes, and in their place a depthless, dull gray. The lake next to our campsite looked like sludge. My headlamp cut only 5 feet through the haze, and when I turned it off—total blackness.
We had no idea how long this ash would fall or when the rivers might run clear again, and we had less than a day's worth of water.
Two days earlier, my new traveling companion, Aviv Bromberg, 24, and I had set out on the 32-mile Villarrica Traverse, a few hundred miles north of Patagonia, in Chile's lakes region. We hiked in the predawn darkness with an orange plume of smoke glowing 6 miles in the distance. I had a foreboding feeling as I gazed up at Villarrica, an active volcano that had erupted a month earlier. Employees at the park service office told us the park was closed; recent snow would make the trail hard to follow. But the weather forecast called for sun, and we'd come all the way out here for the legendary journey that weaves through the volcanic, snow-capped Andes. This was our only chance to experience this remote wilderness, and we'd have to do it without the blessing, or knowledge, of the park service.
The first stretch of trail brought wild variation in scenery. We ascended past bamboo and alien trees called monkey puzzles. We weaved through a mossy forest, crossed a ridge brightened with orange and red leaves, and traversed black volcanic hills. We reached the snowline of a volcano and saw no footprints—we were all alone out here. On the second day, we cut a track through ancient lava fields, barren plains, and ascended to a view of mountain peaks and red forests below. By the end of day two, we had hiked 25 miles and the once-distant Lanín Volcano now stood 8,000 feet above us. After setting up camp, we hiked a few miles to swim in a nearby lake, feeling nothing but lucky. Around sunset, I heard a distant boom, but wrote it off as rockfall.
When we awoke in the blizzard of ash, we were ready to run for our lives. Was the ash toxic? Would slag soon fall from the sky like meteorites? "What a beautiful day for a hike!" I exclaimed, trying not to let fear overwhelm us. I wasn't sure what the blast range was for molten rock, but it was time to evacuate.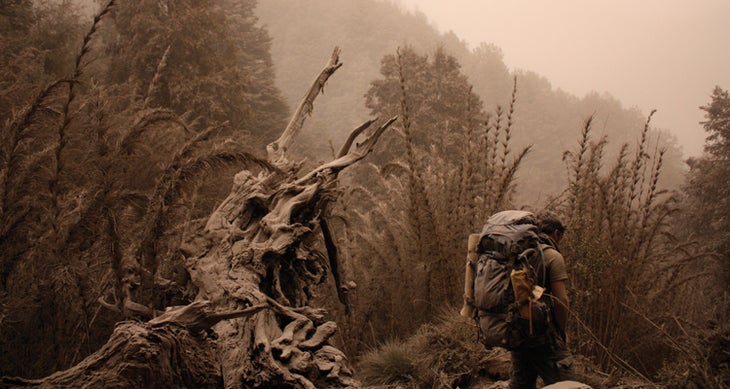 Even with headlamps, we could barely see the ground, let alone the trail markers. We made ninja masks out of shirts to keep the ash out of our lungs. Squinting through the gray blizzard, we set out in the direction of the last trail marker we had seen. We guessed it was 200 feet away. Aviv's headlamp was too weak to cut through the gloom, so he stayed right behind me in our tiny pocket of light.
The red, 3-foot-tall metal posts we'd followed to get here were nowhere to be found. We tripped our way across a field. A wall of bushes appeared in front of us, forcing us to double back. In the gloom, we lost track of where we had come from and ran into more dead ends. As we circled, I felt a rising panic. We might be wandering farther and farther from the trail. Then, Aviv remembered he had a compass on his phone. After 20 minutes, we found the first trail marker. Six miles to go.
We began to stumble down what we thought was the trail, comparing the compass direction to our map. I knocked into branches that appeared out of the darkness, dumping blinding clouds of ash over our heads. Every new trail marker was a beacon of hope. We lost the trail again and again, but my tracking skills steadily improved. I started noticing broken branches, worn logs, and faint footprints, which were now as good as trail markers. In the forest, we made good progress, but the open areas were blank, with no trail to follow and no indications of which way to go.
All we saw was ash continuing to sleet through our little sphere of light.
The blackness seemed to close in around us, and with it, the fear that every step we took was in the wrong direction. But as a Wilderness First Responder, I was trained to approach emergency backcountry situations calmly and methodically. We stopped to think. I remembered a strategy for finding your way out of a maze or a cave system: Follow a wall. If you keep one hand along a wall and never break contact, you'll eventually find the exit. We used the same logic to cross the empty clearing. We stuck to the edge of the forest, ruling out every possibility of where the trail might continue. When a trail marker appeared at last, we cheered with relief.
At 10:30 a.m., the world was still pitch black. We entered another patch of forest, and a shadow shot past my headlamp. A minute later, another dark shape swooped through the light, like something in a horror movie. In a third burst of ash, something came out of the bushes and flew into my face. It was a small bird attracted to the first light it had seen all day. The next one stayed with me for a while, swooping back and forth at my headlamp, harrying me until it crashed into the back of my head.
Around noon, the ashfall began to dissipate. We could see patches of dim orange sky and faint outlines of trees. Woozy from lack of food, we stopped for some uncooked oatmeal flavored with dulce de leche and ash. It was dry and gritty but amazingly good—the kind of satisfaction you only experience after miles on the trail. The sky slowly turned yellow, and through it we saw a faint blue orb—the sun. When the ash stopped falling, it revealed a strangely beautiful world of gray, like walking in a dream.
Finally, we reached the road. Covered in ash, we looked like apocalypse survivors. A bus appeared out of the haze and we flagged it down frantically. It was headed back to Pucón. We had escaped.
Aviv and I later learned that Villarrica had not erupted again. It was Volcán Calbuco, 130 miles away, that had blasted a plume of ash 6 miles high. We had been directly downwind of it. Back in Pucón, everyone was watching the eruption on the news. I headed for the shower.