How To Survive Anything in the Woods With Only a Knife
Where there's a blade, there's a way. Use these techniques to carve, chop, scrape, and signal your way out of trouble.
Heading out the door? Read this article on the new Outside+ app available now on iOS devices for members! Download the app.
Backpacker wants to be your guide to the wilderness: Join Outside+ today and get access to all of our skills stories, gear reviews, hike reports, and much more. 
Knives aren't necessarily the first survival tools that backpackers reach for in an emergency—if your only aim is to outlast the elements until help comes, a survival blanket or a camp stove is likely to be your best friend. But when things get genuinely serious and you need to fend for yourself for an extended period of time, a solid blade is a must-have. What makes knives so useful is that they're the key to creating almost anything you need to survive, from a lean-to to a fire to a set of fishing gear. Pack the right one and learn to make use of it, and you'll be taking a big step towards keeping yourself safe through whatever Mother Nature throws your way.
How to Pick a Survival Knife
Knife nerds can (and will) wax poetic about the benefits of sheepsfoot versus wharncliffe blades, but to find a decent knife for your pack, you just need to know the basics. If you're a backpacker looking for an everyday carry, a small folding knife is your best bet; a quality 3-inch blade will do almost anything except process firewood. Multitools are heavier, but you may appreciate the included screwdrivers and pliers for in-the-field gear repair. If you're planning on practicing serious bushcraft, go for a fixed-blade knife with a full tang, but be aware the weight may be more than you want to carry on an average trip.
For most backpackers, a stainless steel knife will be a better option than high-carbon steel: While it's less durable and doesn't sharpen to a razor edge as easily as high-carbon steel, it also doesn't rust or chip as readily. Whatever you choose, look for one with a drop point, the most common blade silhouette, which is stronger than a Bowie-style clip point and more practical than an angular tanto.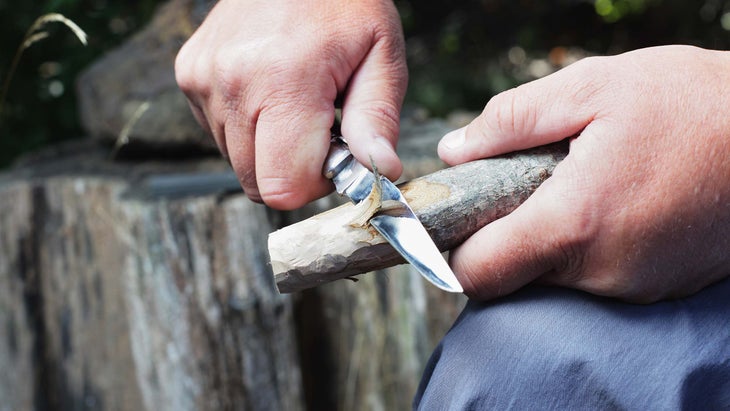 What to Do With Your Knife
From cleaning fish to cutting kindling, the list of survival skills you can use a good knife for is almost endless. Here are a few common (and not so common) examples.
Increasing a stick's surface area helps it grow a small flame. Snap a dead, thumb-thick branch off a downed tree. Listen for a cracking sound, which signals the branch is dry (touch the broken end to your lips to confirm). Starting from the bottom, carve in at 30 to 35 degrees to peel back shavings of wood, creating an umbrella effect. Continue until the entire stick is fuzzed.
Make a bow
If you're stranded for a long period of time, a bow can help you hunt small game. To make a primitive bow strong, you must follow a single growth ring for the entire length. (Crossing the wood grain weakens the bow.) For that you need a planing technique. Try this: Hammer a plug of wood onto the point of a fixed-blade knife. Using both hands, draw the knife toward you carefully at a 90-degree angle to the wood to refine imperfect branches into bows, arrows, or snowshoes.
Scrape out a bowl
No pot? No problem. A simple bowl can help you collect and boil water the old-school way. Use hot coals to burn a bowl out of a log. Hold your blade at 90 degrees to the work surface and scrape out the char to finish your vessel. Fill with water and drop in heated rocks (not river rocks, which can explode) to simmer.
Process firewood
For this one, you'll need to use a full-tang fixed blade—one where the metal extends through the handle. Place the knife atop a log and, using a softwood mallet, hammer the knife's spine near the tip to bisect the wood. Avoid pitch-hardened knots, which can chip your blade. (Only have a folding knife? Collecting dried sticks will be a better—and more eco-friendly—option.)
Signal help
Spit-shine your blade as clean as you can and buff it until it gleams. To aim, create a V with the fingers of your outstretched, non-dominant hand and center your target (aircraft, ground searchers) in the V. Hold the knife close to your chest, playing with angles until you catch the sun. Now, flash the target in the V of your fingers (the V gives you visual confirmation that your effort is working).
Maintaining Your Survival Knife
Keep it clean. Get grit out of your knife's folding mechanism using compressed air and clean the blade with rubbing alcohol and cotton swabs. Every once in a while, you'll want to disassemble your knife (most use tiny Torx screws) to give it a thorough cleaning. Use a lubricant like mineral oil on the hinge to help it fold smoothly and ward off rust; avoid WD-40, which can attract dust.
Keep it sharp. There are many methods for bringing your knife's edge back, ranging from low-tech ones like a whetstone to powered tools like the Work Sharp Ken Onion Edition Knife and Tool Sharpener. Most people will be happy with something in the middle, like the Lansky C-Sharp, which is light enough to tote and doesn't need to be plugged in, but doesn't have much of a learning curve either.