This Study Predicts Who Is Most Likely to Get Hurt in the Wilderness
A survey of more than 700 John Muir Trail thru-hikers gave researchers insight into what makes a hiker more likely to get injured or ill while backpacking.
Photo: StefaNikolic / E+ via Getty
Heading out the door? Read this article on the new Outside+ app available now on iOS devices for members! Download the app.
A long trail is just that—long—and a lot can happen on it. Hikers can twist their ankles, slowing them down or stranding them. They can contract waterborne illnesses, leaving them shuttling between their tent and the privy (or a cathole if they're unlucky). A run of bad luck might leave them limping; really bad luck could end their hike. Suffer a serious accident, and a person might end up on an express flight to the emergency room—or worse.
Backpackers come in all shapes and sizes, and with a variety of backgrounds and physical situations comes a variety of different risks. Thanks to a 2018 survey of more than 700 hikers on the John Muir Trail, we have an idea of how some of those factors play into who is most likely to get hurt or sick or needs to be evacuated on the trail, and how we can reduce—or at least prepare for—those risks. 
First off, the study didn't find sex to be a determinant of getting hurt or sick on the trail. While other authors have pointed out that men are more prone to taking risks, all sexes, it seems, were equally susceptible to mishaps on the JMT.
So what characteristics do make a person more likely to suffer medical events on the trail? The study singles out three factors that were correlated with injury and illness. The first was age, and not in the way you might think: Older hikers reported fewer adverse events on the JMT. One explanation for this might be that they have more years of experience on the trail and are better equipped to identify and avoid risky situations. A study on search and rescue missions in the Polish Tatra mountains also revealed that younger tourists were more likely to need help due to inexperience and lack of equipment. 
When Dr. Sue Spano, the lead author of the JMT survey paper, associate professor of clinical emergency medicine, and program director of the Wilderness Medicine Fellowship at University of California, San Francisco, first saw the results showing that age was a protective factor against injury, she says she didn't know what to make of them.
Given that the majority of reported injuries were to the feet and legs, Spano suggests that because older backpackers tend to use trekking poles—which are correlated with a reduced rate of lower extremity injuries—they might be more protected.
"Hiking pole use is good for preventing strain and reducing injury to lower extremities," Spano says. "And I don't know a lot of younger people out there hiking with poles; they just don't feel they need them."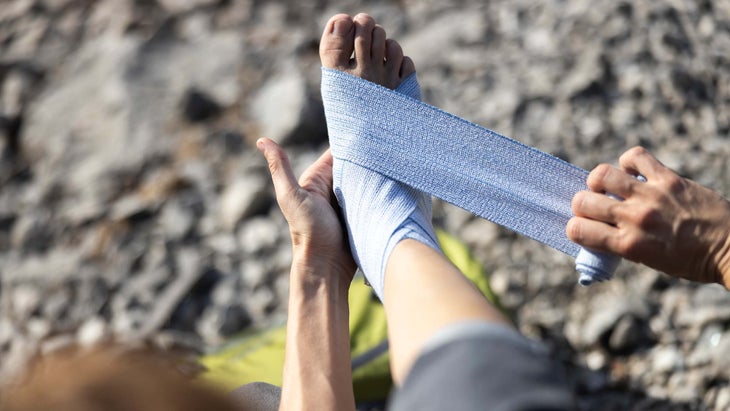 The second factor that the team found that correlated with risk of injury was body mass index. Often abbreviated as BMI, body mass index is a measure of the size of the human body, calculated by dividing a person's weight in kilograms dividing by the square of their height in meters. While it's often used to categorize people as healthy, underweight, overweight, or obese, the measurement doesn't directly address body fat, composition, or physical health. Spano and her fellow researchers found that hikers with higher BMI were, in general, more likely to suffer injuries or need evacuation from the trail. Perhaps surprisingly, Spano and her coauthors did not find that how much a hiker trained for the JMT in advance of their trip significantly affected their likelihood of injury or illness, though it did affect how hard they perceived their trip to be.
Finally, there's pack weight. The study's authors found that base pack weight correlated with an increased risk of illness and injury; the heavier the pack, the greater the likelihood of morbidity. The authors theorize that the increasing popularity of lightweight backpacking may be responsible for decreasing rates of injury in the backpacking community. Forty-five percent of the JMT respondents carried packs with a base weight of 20 pounds or less, but only 4.5 percent had an "ultralight" base weight of 10 pounds or less. (A single respondent reported a "superultralight" base weight of less than 5 pounds, though it's worth mentioning that someone carrying that little gear likely exposes themselves to increased environmental risk.)
"I personally think [with the caveat that there are not] definitive data, having lighter-weight gear is going to lessen common types of accidents that you see, or the impact of those accidents," Spano says. "If you have a fall on the trail and you have a 15-pound bag, it's a lot different than if you have a 50-pound bag."
So on the JMT, there appear to be three factors that correlate with increased risk of injury (younger age, higher BMI, and higher BPW), and one of the three that correlates with increased risk of evacuation (BMI). One of these factors is non-modifiable—you can't change your age, at least not on command. BMI and base weight are both modifiable risk factors to some extent, though cutting base weight costs money and reducing your own weight can come with a different set of hazards and is best done in consultation with a medical professional. 
Still, hikers who are young, old, big, and small have successfully completed long trails, and hiking involves more risk that's unrelated to those physical factors. Dr. Miles McDonough, who is an emergency medicine resident at UCSF Fresno, commented on education being another way to reduce risk in general. "I would direct readers to local educational resources (such as hiking and mountaineering clubs) as well as wilderness first aid courses," he said. In the end, the more of your own safety you can take charge of, the better.