When It's OK to Help Find Missing Hikers, According to a Search and Rescue Expert
And what to do when you see an injured hiker on the trail.
Heading out the door? Read this article on the new Outside+ app available now on iOS devices for members! Download the app.
Ultrarunner Jeremy Humphrey knows every wrinkle and crevice of the mountains near his home in McCall, Idaho. He directs a 100-mile foot race through those mountains and also goes on regular training runs there himself. So in July 2020, when Humphrey heard about a search that was underway for a missing hiker named Laura who had last been seen at a local trailhead, he decided to spend his planned training run looking for the missing hiker. He checked in with rescue officials and hit the trails with binoculars, his cell phone, and Garmin InReach.
You can hear the full story from Humphrey's perspective, along with what happened next, on Backpacker's Out Alive podcast.
Thanks to his knowledge of the land and competence with moving in the mountains, Humphrey was "one of the most prepared volunteers that have called into our center and asked if they could help," according to Valley County Sgt. Kelly Copperi. But should the average hiker join in on rescue efforts? Drew Hildner, public information officer of Rocky Mountain Rescue Group, weighs in on how hikers can be prepared to help in case of an emergency, and when it's best to let the trained rescue personnel do their thing.
Backpacker: Is there a universal safety tool that every backpacker should have in their pack?
Drew Hildner: A satellite communication device or personal locator beacon (PLB). Both satellite communicators and PLBs work when there is no cell service and have a function that transmits your GPS location to relevant rescue agencies. These are by no means mandatory—people have safely backpacked for decades without them—but they will shave hours and even days off the speed of a rescue.
Speaking of a universal tool, that's a useful way of thinking about all of your gear, including first aid items and repair tools; how many roles can one item fill? For example, duct tape can be used for repairs, splinting, blister care, and even to improvise glacier glasses. The best universal tool, however, is your brain. The more knowledge, training, experience, and planning you have, the better you will be at solving whatever problem arises.
What should you do if you're hiking and stumble upon someone who is injured?
If you run across someone with a disabling injury or medical issue, or if someone in your group is affected, the first best thing to do is evaluate the severity of their condition. Is their physical situation severe, unstable, or trending worse? Based on your level of concern for the injured person's survival, you can decide to treat and monitor or to treat and request rescue. For example, a closed-skin upper extremity fracture [like a broken wrist], while painful and unfortunate, does not need rescue and can be helped to walk out after improvising a splint.
In the wilderness, stick to KISS (keep it simple, stupid) principles: if the person is wet, dry them; if they're hot, cool them down; if they're cold, warm them up; if something's out of alignment, gently put it back into alignment; if they're bleeding, stop it. If someone does need rescue, whoever is tasked with contacting the authorities needs to have as much information as possible before requesting help: location, sex and approximate age, short description of the event, what the injury or symptoms are, any important medical history the patient has, and a clothing or tent description.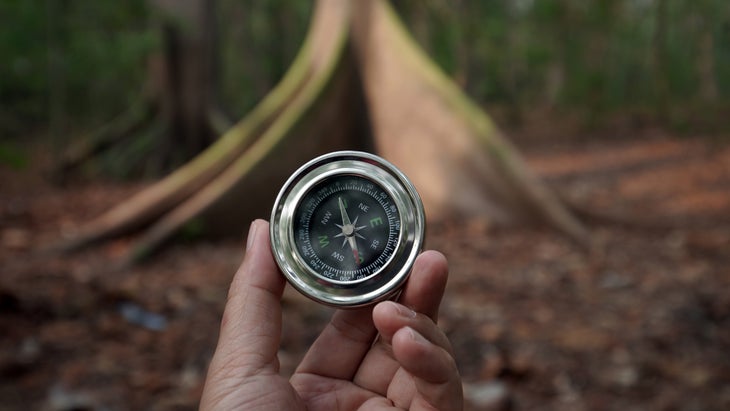 When is it necessary for civilians to help a rescue crew find a missing person?
It is never necessary for civilians to help with a search or rescue, and in fact SAR teams prefer to work without utilizing citizen-responders because they are wildcards, unknown to the SAR agency, and don't have SAR training or experience. To my knowledge, civilians have no legal duty to respond to someone in need while out on the trails, though morally you'd be a pretty crappy person if you just walked on by a fellow backpacker in distress without seeing if you can help. From a professional SAR standpoint, the most helpful thing a person can do for us is provide us thorough location and medical condition information. We also often have someone meet us at the trailhead to hike us back in so we don't get delayed by having to search first.
It is also worth mentioning that there's no easy way out if you get into trouble on the trails. Helicopters won't swoop in from the sky minutes after calling for help. With very rare exceptions, SAR is a ground-based response, and rescues will take hours to days to complete. You should be prepared to self-rescue or at least self-care for several hours.
What is the most common reason people need to be rescued?
The most common reason for rescue from a medical standpoint is usually an ankle injury. It is always surprising how quickly things change in an outdoors setting when people are unable to walk. When it's not a medical reason, we find it's usually a lack of preparation, either not having proper equipment or not researching their route or paying attention to trails and signs. Cell phone navigation apps are great, but also come with physical maps (and know how to use them). People don't plan to get injured or to be unprepared, but a little thought and preparation are worth a lot when things go sideways.
What should people do if they are especially suited to help look for a missing person based on the circumstances, such as an expert on the area? Is it possible to help without impeding organized rescue efforts?
Think of spectators at a NASCAR or Formula 1 race offering to help a team with their pit stops because they are familiar with cars and have changed their own tires before. Although technically those spectators have relevant skills, they do not have the specific training or knowledge or familiarity with the organization or processes to be an effective resource, even if they are a mechanic or a race car driver.
There are so many behind-the-scenes moving parts to SAR, especially a search, and someone without experience who self-deploys into an active search area is problematic for many reasons, safety being the first. Our group has performed a few rescues and near-rescues of civilian searchers who got injured as they searched on their own. Self-deploying can also decrease the likelihood of finding the lost subject. Entering an active search area on your own affects scent (SAR dogs), tracking, and aerial search modalities. SAR groups like ours will rarely incorporate civilian searchers; sometimes family members and friends of the missing person. What we will often do is station members at trailheads with flyers that have descriptive information and a photo and ask recreationists heading out to keep an eye out, and interview those returning from their hikes or rides if they saw anything.
It is noble to want to help others in need, but if an outdoors enthusiast is especially suited to help in a search and rescue capacity and has the interest, it would be great if they joined their local team—mountain and backcountry search and rescue is done by all-volunteer teams.
Out Alive is a podcast about real people who survived the unsurvivable. Check out more seasons and episodes here.