Survival: Lost with…Only a Bottle of Whiskey
Put that hooch to good use with these tips for starting a fire, treating water, and even signaling for help.
Heading out the door? Read this article on the new Outside+ app available now on iOS devices for members! Download the app.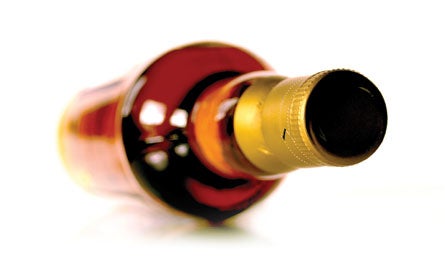 Use that bottle of whiskey to save your life!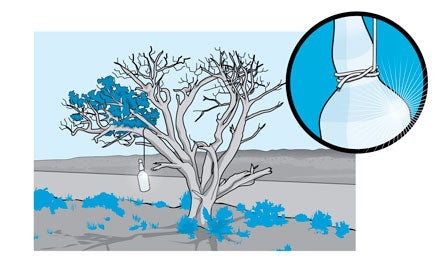 A whiskey bottle can hung from a tree to signal for help.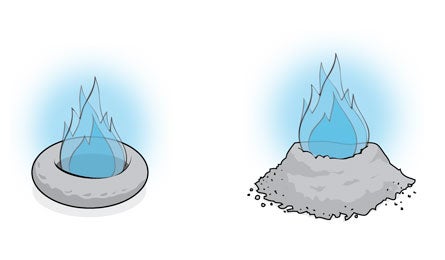 Start a fire using whiskey.
So you've zigzagged into the woods to drink your sad self into oblivion with a fifth of Johnnie Walker Red, hoping night freezes away life's pain. Then a bluebird alights on your shoulder, chirps a sweet song of hope, and you realize life is possibly worth living. But now you're lost! Crikey—what next? Well, friend, dry those tears and put that hooch to good use.
Signal For Help
Survival guru Tony Nester suggests tying a bandana or shoelace around the bottle's neck, then hanging the bottle somewhere elevated, like a tree branch. The key is to get it off the ground, so you expose more surface area and maximize glint. This passive signaling method also frees you up to perform key tasks like shelter-building. Any shiny object will work: bottles, mirrors, space blankets, hubcaps, bike parts, even a machete.
Start a Fire
To make wood more flammable, whiskey-soak it to the core, then wait a few minutes so the vapors disperse, reducing the risk of a fireball. In damp conditions, resinous woods (pine, spruce, fir, mesquite)—which have a lower ignition point—work best; avoid oaks and maples.
Nester also suggests filling a small can (like a tuna or Altoids can) with whiskey and lighting it. Or you can build a sand fire by scooping a cupful of dirt into a mound; it must be a dry substrate like sand, or clay formed into a small clay pinch pot. Then pour in a quart of whiskey. It should burn 10 to 30 minutes; as the flame dies, use a stirring stick to bring fuel back to the surface and add a few minutes of life. Although your sand fire won't be hot enough to boil water, it can provide warmth, heat food, or help light a signal fire. For the latter, feed in twigs, then transfer the burning twigs to a fire pit. (Beware of wildfire hazard in dry backcountry areas.)
If you don't have a lighter, pour out the whiskey, fill the bottle with water, and start a fire magnifying-glass style. With the sun at its zenith (11 a.m. to 2 p.m.), focus the sun's beams onto some rotten, punky wood, dry cow pies, or elk droppings until you get a glowing ember. Nestle this in grass or dry bark, then blow it into a flame. If the bottle has broken, try a shard: Add one or two beads of liquid, then lie flat with your forearms supported, focusing the beam as per above, with the water-droplet side facing the sun. You must let the pinpoint of light concentrate for 20 to 30 seconds on the tinder before it will ignite, so keep still and be patient.
Care for Cuts
Now imagine you're injured—does the old cowboy "whiskey in the wound" method work? Modern liquor, including bourbon, clocks in at 40 percent alcohol, only half the punch of the Wild West moonshines, but it still kills topical germs, Tilton says. It might also kill healthy cells, however, and it burns like hell, making clean water a better option. Whiskey does work to sterilize instruments and to blunt pain—drinking two ounces of 90-proof George Dickel reduces pain roughly 50 percent for two hours.
Treat Iffy Water
Early settlers in Canada's Red River area who mixed a little whiskey into their drinking water had fewer incidences of waterborne illness than their counterparts, reports BACKPACKER columnist and wilderness-medicine expert Buck Tilton. Add a shot to your liter of water, then wait 20 minutes. You want dead—not drunk—giardia.