Survival Lab: Vital Signs
When you're lost or injured, you need a foolproof way to get your rescuers' attention. Ted's testing team tried more than 25 devices—here are their ratings of 9 top tools.
Heading out the door? Read this article on the new Outside+ app available now on iOS devices for members! Download the app.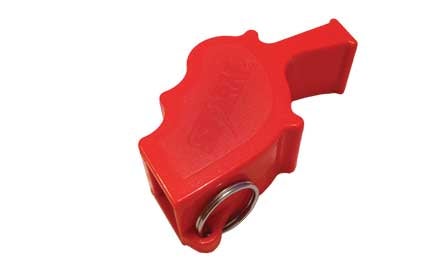 Safety Wistle (Courtesy Photo)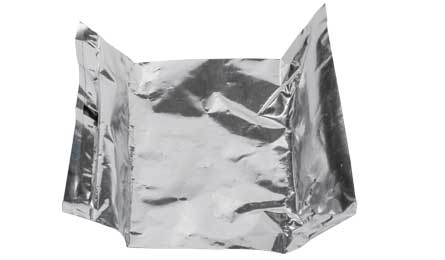 Refective Wrapper (Courtest Photo)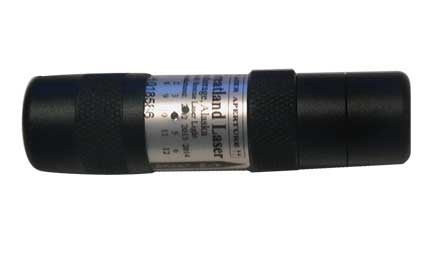 Laser Light (Courtesy Photo)
SOUND
Purpose-Built
LOUDEST The Storm Safety Whistle ($6; .7 oz.; stormwhistles.com) lives up to its billing as the "world's
loudest." Our testing fave registered 107 decibels (comparable to a car horn) and the tone carried a third of a mile on a blustery day. Bonus: Weak puffs produce shrieks—a plus
for injured hikers.
Survival Stand-in
BEST BUY Cheap and light whistles like Fox 40's Classic Safety ($4; .5 oz.; fox40world.com) are as loud as a power
mower up close (103 dbs) and audible up to a quarter-mile. The pea-less design works when waterlogged. Warning: Loud alerts require full lung capacity.
DIY
HANDS ON A practiced talent can easily reach the upper-90-db range with a two-fingered wolf whistle. (The record is an air-horn-like 125 dbs.) Practice it: Tuck your lips
over your teeth, insert two fingers into your mouth (angled inwards), position your tongue behind your lower teeth, and exhale sharply.
REFLECTION
Purpose-Built
FLASHIEST Coghlan's 3-by-2-inch glass mirror ($12; 2.2 oz.; coghlans.com) flashed spotters from 2.5 miles away and
survivalists say it's visible from 20 miles in good conditions. The glass is scratch resistant and the sight enables pinpoint aiming. Ounce counters: Try AMK's Sol Rescue Flash
Mirror ($10; .4 oz.; adventuremedicalkits.com).
Survival Stand-in
BUZZ WORTHY Cell phone screens are reflective enough to shine a signal. Large screens work best, but even a broken clamshell alerted spotters from a mile and a half. Aiming is tricky
(see below). Unscratched screens bounce light most effectively; use a screen protector, but peel it off when signaling.
DIY
LAST-DITCH No mirror? When buffed with a little spit, the shiny inside of a snack wrapper caught enough rays to alert spotters over a mile and a half away. Aiming is hard; pull
the wrapper tight and wave it overhead like crazy. Repeat.
LIGHT
Purpose-Built
BRIGHTEST Greatland Rescue's Laser Light ($75-$99; 2.3 oz; greatlandlaser.com) is a shotgun slug-size signaling
bazooka. The beam sweeps a fan of light (easier to aim than a pinpoint) that caught spotters' eyes like lightning from 7 miles away in our tests (the manufacturer claims a
20-plus-mile range).
Survival Stand-in
MULTI-USE An ordinary 35-lumen LED headlamp outperformed a flare and survival strobe—with zero extra ounces or cost. Spotters saw an SOS clearly from two miles, and the strobe lit
up a tester's position (in tree cover) from a mile. The diffuse beam blunts accuracy; go to a clearing for maximum reach. AAA-power averages 60 to 80 hours.
DIY
SURPRISE SUCCESS Brought your camera, but no light? A pop-up DSLR flash effectively signaled spotters from two miles. Triggering an SOS could be impossible, but three successive
flashes followed by several minutes of darkness still signals an alert. Reserve for when rescuers are searching and you can spot them; flashing drains battery power.
Cell Phone Smarts
Lost with nothing but your phone? Use it to get rescued.>> Text your last known location, condition, and SOS to your entire address book.
>> Call 911. Emergency calls will go through if detected by any network.
>> Preserve batteries. Turn your phone on for five minutes a day to seek reception.
>> Flash a signal with the screen. Hold your fingers in a V-shape at arm's length, pointed at your target. Tilt the phone until the screen reflects light at the V; rotate it so the
light alternates between your fingers, flashing your target (see right).
>> Ignite a fire. Learn how to spark a removable three-pin battery (common in flip phones) at backpacker.com/cellfire.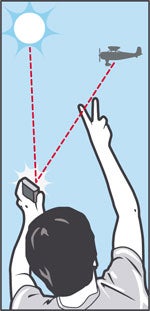 How Far Will It Go?
Know your signal's best-case distance—and what will reduce it.
Max range: +50 miles
Mirrors Bright, sunny days are best. Cloud cover, rain, fog, and nightfall may cut signal range by 80 percent or more.
Max range: 20 miles
Lasers Night offers the best conditions for an SOS (daylight visibility drops to 3 miles). You must hit your target spot-on to flash it.
Max range: 3/4 mile
Whistles Blowing over water or packed snow amplifies sound; sand, slot canyons, wind, and forests dampen it.
Better Than Screaming No signaling device? Try this: In an open area, lay three large, bright items 50 feet apart in a triangle shape or line.

HEY! OVER HERE!Click Here To learn how to wolf whistle, aim your signaling device, and survive the backcountry
a little longer with Ted's instructional and gear-test videos.