Backpacker Reviews "Stranded With a Million Dollars": Week 2
In which our millennial heroes lose their shoes and spend $5,000 on a pizza
Heading out the door? Read this article on the new Outside+ app available now on iOS devices for members! Download the app.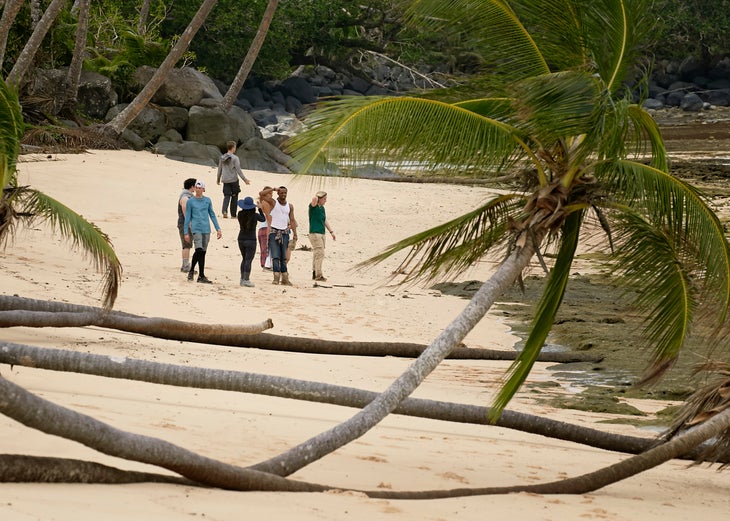 Welcome back, wannabe survivalists (aka, two of Caleigh's volleyball teammates and the one and only Cody, our biggest fan). Let's dive in to Week 2 of Stranded With A Million Dollars. (If you missed our Week 1 recap, please catch up here, and if you haven't watched episode 2 yet, be warned that there are spoilers ahead.) OK, let's begin.
Last week, we said a tearful goodbye to our rotten-coconut-eating friend, Bria, and then the group was set for a fastpacking adventure across the island: All 9 contestants need to make it to the campsite in less than 3.5 hours or no $100,000 to add to the purse. Thus far, they've accumulated $85,000 (out of a possible 1M) for the prize pool—remember, our friends Gina and Michael spent $15,000 of it on a burger gorge-fest.
The episode begins on a solid note: We meet Ashley (no airtime in episode 1), and she regales us with the tale of her DUI and how she's out here to earn back some pride. We're dubious, but people have set out to thru-hike the AT and PCT for odder reasons. (Which reminds us: Take this quiz to find out which thru-hike is right for you!)
Meanwhile, Michael is trying to break open a coconut and Gina calls out, "Smash it! Pretend it's someone's head!" We side-eye each other here in Boulder, and MTV quickly moves on to a scene of Gina talking one-on-one to a camera: "I'm super surprised I'm still out here," she confesses. "Like, my makeup's messed up, my eyebrows are gone, I smell bad, but I'm just so glad I got some food in my system. If I didn't have that Temptation with Michael, I would have left." Yikes.
We learn that the group must travel 3.8 kilometers (or 2.4 miles) to the second camp. An average off-trail pace is roughly 1 or 1.5 mph, so this shouldn't be too hard to do with the given time constraints, but MTV alerts us to the grave terrain they'll be facing: "steep downhill," "mangrove," "grasslands," and "bamboo thicket." 
It seems too easy to be true, but, then again, we're skeptical of the navigation prowess among this lot. A map and compass does not a satellite image on an iPad make. (Read up here on BACKPACKER's method, aka the right method, for off-trail travel.)
But wait. Drone footage shows the contestants on a snaking trail. We are suddenly way less impressed. If the group can't walk 2.4 miles of easy singletrack (carrying no weight) in 3.5 hours, we give up on life. But, sure enough, the bickering commences and Alex and Alonzo, unofficial trip leaders, are left herding a squad of nine cats. 
The contestants somehow miraculously make it to a sweeping ridgeline above the "steep downhill," which doesn't disappoint. It's a pretty sheer ravine wall, blanketed in greenery, and the contestants start downclimbing, aka tumbling, to the gorge below. But it's even better: The contestants who gave up their shoelaces in the failed attempt to make fire last episode lose their shoes, and such, they must hike Cheryl Strayed-style, except sans duct tape.
Our friends next reach the mangrove, which makes for stellar TV, as it's basically a mud puddle. Anyone who's ever paddled the Everglades knows what we're talking about. But, it's kinda sad, too. Ashley (the DUI revenant), Michael (the burger-eating Eagle Scout), and Chris (the construction worker who's allies with Cody) all confess to seriously hurting. We start to play our tiny violins in their honor. But then, one by one, they all start describing their immense foot pain, and every hiker in the history of the world suddenly knows the feeling.
Makani, as is her style, pipes up randomly to tell Ashley, one of the ones with foot pain, to pick up the pace. We're suddenly reminded, first, of the ire felt toward unsupportive trip partners, and second, that Makani is somehow still the front-runner in this competition. Girl is just skipping through this swamp as though it was the neighborhood bike path. 
Not Ashley. Ashley is down and out and, just like that, bang goes the flare gun, and another ones bites the dust. Oops, sorry, we're millennials: …bang goes the flare gun, and we're like, say you won't let go!
Ashley survived 3 days and 5 hours. We take a selfie in her honor.
After the mangrove, the crew makes it to the grassland with 1 kilometer, or .6 mile, to go and 49 minutes on the clock. It seems manageable, except for the fact that Michael has ditched his shoelace-less shoes and is walking, well, inching along barefoot. And, as any self-respecting barefoot hiker should know: You can't go from 0 to 60. And then we barely have time to process what's happening when bang goes the flare gun because Michael doesn't wanna live forever cuz he knows he'll be living in pain.
Michael survived 3 days and 6 hours, and we take our second selfie of the day in his honor. (OK, let's be real, we've taken way more selfies than that today.)
The remaining 7 contestants now have .4 kilometer, or a quarter of a mile, to go in 21 minutes. Doable, especially when they show the bamboo thicket, which looks more like a recent burn zone. No surprise: They make it in time.
Our lovable Cody takes the time to tell us that after he looked around and saw all of his fellow survivalists laying on their backs from exhaustion, he—"for the first time in this game"—believed that he could be standing by himself at the end with the prize money, which is kinda funny if you've watched any minutes of any of the previous episode, in which all Cody does is tell the camera that he's going to win. But, anyway… WE LOVE YOU, CODY!!
Night falls and only Makani (front-runner!) has built a shelter. We smile to ourselves because, as we know from last week, the comedic relief is upon us. Eilish (the momma bear) and Gina (the Temptation-taking burger-eater) lay on the ground and drape a palm frond across themselves, which provides little, OK, no help when the deluge begins. One contestant laments that "now our clothes are not going to dry." Chris announces that, "There's a part of me that wants to quit, but I don't want to be a b****." But no flares are fired—yet.
Our favorite tablet dings (side note: how are they getting WiFi?), and it's a doozy as the cast learns that Gina and Michael spent $15,000 on burgers. There's lots of cursing and lots of finger-pointing, but ultimately the drama fizzles because the contestants must decide if they're going to place an order for supplies (and dip into their $185,000 prize pool). Alliances are quickly drawn: Alex, Alonzo, Eilish, and Gina are Team Spend Money; Cody and Chris are Team Don't Spend Money; and Makani runs into the woods to "take a bath."
Admittedly, we used to be on Team Hatchet, the original alliance that was outvoted in the first supply-buying instance. But things have escalated. Team Spend Money, a splinter off Team Hatchet, suddenly wants to spend ALL the money. And on dumb stuff, too. Since they have majority, without contest, they buy: a $15,000 stockpot, a $30,000 two-person tent, a $10,000 machete, a $10,000 backpack, a $35,000 firestarter, and, best part, a $5,000 pizza. Five days into the 40 total, the crew spends $105,000, more than half of their purse, proving, once and for all, that we millennials shouldn't have credit cards.
Cody and Chris are beside themselves with anger, and, while we think they're jerks, we kinda feel for them. Their prize pool has instantaneously dropped by more than half, thanks to a group of hangry millennials. Cody heads out to the river to console Makani/ persuade her to join his alliance. "Make Team Don't Spend Money great again," he coos into her ear. Or something like that, anyway. (Of note, Makani does say, "I love nature. I could stay out here forever." Front-runner!)
A package falls from the sky, and Alex and Alonzo sprint to it like it's worth $100,000. Oh, wait… Pizza consumption ensues, and the tablet dings to announce the second Temptation. This time it's Chris, the mangled-foot guy who hasn't quit like a little b**** yet, who selects his ally, Cody, to join him in enjoying $15,000 worth of clothes, sports drinks, soda, and hor d'oeuvres, the latter of which they call "hor-deo-zers." And so Team Don't Spend Money suddenly drops $15K like they have stacks on deck. But they wind up with quick-dry shirts, convertible pants, ponchos, and hats, which seems like a better use of money than burgers, pizza, et al.
The two dudes have no shame in flaunting their spoils to the other survivalists, and the episode ends as Makani officially joins their alliance.
Millennials, lift up your fellow millennials in this tough time. A week 'til episode 3.
Current rankings
(reminder: the scale is 1-10, where 1 is "just barely surviving" and 10 is "totally sur-thriving"):
Alex: 5 (He's gone overboard with the spending, but still remains in relatively good spirits. We're concerned about his obsession with the machete.)
Alonzo: 5 (He and Alex are basically the same person thus far.)
Ashley: 0
Bria: 0
Chris: 6 (He acquired better gear, but his feet are in bad shape, and he's been complaining a lot, so he drops 1 point from last week.)
Cody: 8 (We dispute most of the drivel from his mouth, but the kid is relentless. He never complains and and now he has both the best sur-thrivalist on his team and quick-drying gear.)
Eilish: 4 (She just goes with the flow, which is usually good, but she seems to have aligned with the wrong group. But she doesn't complain, so that's nice.)
Gina: 2 (Girl is on the verge of cracking.)
Michael: 0
Natalie "Makani": 9 (Front-runner!)
Tune in next week; the third episode will air on Tuesday night at 10 p.m ET/PT. Follow up on our Stranded With a Million Dollars review page to read our next recap on Wednesday.