Lost in the Wilderness? Don't Change Your Voicemail.
A post making its way through several social media channels has misleading advice, according to SAR officials.
Heading out the door? Read this article on the new Outside+ app available now on iOS devices for members! Download the app.
If you get lost during a hike and your phone battery is dying or you can't get service, you should update your voicemail with your location, the time, and an explanation of your situation: So says a viral post about wilderness safety that has been making its way through Facebook, Twitter, Instagram, and TikTok this week.
"The best part of this is that even if your cell phone dies or stops working, voicemail still works, so anyone calling your phone looking for you will hear the message and know where to find you or where to send help," the post says.
This seems like a convenient solution, but according to search and rescue officials, this is reckless and not that helpful. Halifax Search and Rescue wrote on Facebook: "To be blunt. Wasting time changing your voicemail could be the last thing you do. If you don't call for help, and you didn't leave a trip plan, NOBODY IS COMING TO GET YOU."
You shouldn't be wasting more phone battery trying to keep your friends and family updated. (You should, however, pick up if you get a call from an unknown number—it could be emergency services trying to locate you.) Instead, you should spend it contacting search and rescue teams. Even if you don't have a cell signal, you might have enough reception on another network to call 911. (By federal law, all providers must carry emergency calls.) Most phones won't let you change your voicemail if you don't have service anyway.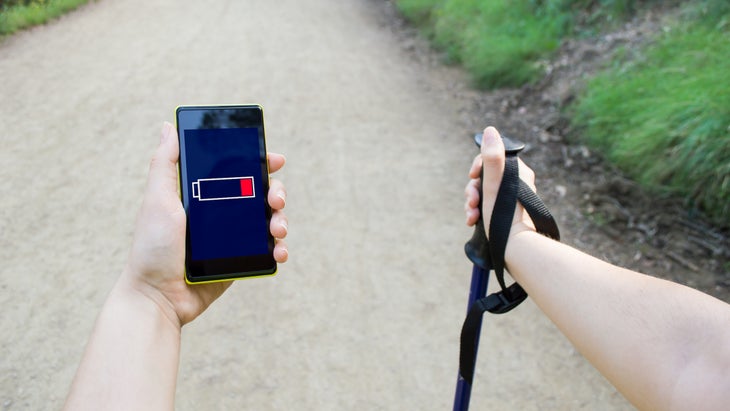 This post also advises that you update your voicemail with which direction or town you are heading toward. That makes it even less likely that teams will find you, as locating a moving target is more difficult than locating a still one.
"It is really hard to reset your voicemail without good service," Mikki Lee Hastings, the president of the National Association for Search and Rescue wrote on Facebook in response to this viral post. "I am all about people doing everything possible to help us find you. Search is hard."
In general, trust the experts. Sometimes viral information is just bad, and sometimes it's downright dangerous. Using the phone battery you have left to contact the correct authorities is a much more proactive way to get to safety sooner.
"We all love the wilderness; that's why we're in Search and Rescue," Halifax Search and Rescue commented on its Facebook post. "We want you to explore all that it has to offer, just do it safely."
If you change your phone voicemail, you are depending on someone else to call you first, then stay on the phone long enough to hear your voicemail. (You're also making a big assumption that anyone will call you in the first place: This method might not work if your friends are millennials or younger.) If you find yourself stranded with a dwindling phone battery, do this instead.
Call 911.
If you need to call someone, only use your phone battery to call 911. Make the call quick to preserve your phone battery. Text anyone else. If a SAR team knows you have a low phone battery, it will use text to contact you because they take much much less battery to transmit than a phone call does. After you call 911, stay put; emergency services may be able to locate you by your phone's signal.
Protect your phone's battery.
One of the most important things you need to do if you are stranded is to conserve your phone battery. There are many simple ways to do this and keep yourself connected to SAR for just a few more minutes. Close out of all the apps on your phone. Turn off push notifications for all apps. Keep your phone warm because cold temperatures make your phone battery drop faster. Set your phone to Low Power Mode. Turn off WiFi and Bluetooth, too. Before you leave for your hike, make sure your phone is fully updated. If you're going out for a while, it wouldn't hurt to bring a power pack with you on the trails, either.
Go back to the basics.
Bring a compass and paper map with you, and make sure you know how to use them. That can help prevent you getting stranded to begin with. It can also help you get back on the trail if you make a mistake. Take this class to make sure you are familiar with wilderness first aid basics, too.
Make a plan before you go.
Before you go on your adventure, tell someone your trip plan. One of the best things you can do is plan a route and share the general location and estimated return time with them. No matter how tempting other trails can be, stick to your plan: That way, SAR will actually know where to look if you don't contact your designated person after your estimated return.
Don't change your voicemail before you hike.
Some responded to refutes about the viral post and said they change their voicemail before they go on a trip, notifying people where they plan to be and for how long. If you are going through that effort, then you might as well leave your trip plan with a designated person who can proactively initiate a search instead of announcing it to a voicemail void.