Protect Your Vision in the Backcountry
Here's how to prevent–and treat–three common backcountry eye problems.
Heading out the door? Read this article on the new Outside+ app available now on iOS devices for members! Download the app.
Dirt In Your Eye | Scraped Eye | Red and Itchy

Problem A gust blows abrasive specks of dirt and grit into your eye.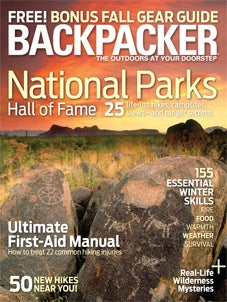 Treatment Resist the urge to rub the eye–you could scratch the cornea. Immediately try to flush the grit out by applying a few drops of artificial tears (such as Bausch & Lomb lubricant eye drops; stash a small bottle in your first-aid kit). No luck? Have a friend gently pull your eyelids out to check for particles; to see the upper lid, fold it over a small (clean!) stick or cotton swab. Carefully remove any specks with a moistened piece of gauze–if it doesn't come away easily, or if the speck is stuck to the eyeball itself, lie on your back and have your buddy gently pour potable water into your open eye. Assess after a few minutes and repeat until vision returns to normal. Still feel irritated? The eye could be scratched.
Prevention Wear sunglasses, of course, especially in arid or sandy areas.
Dirt In Your Eye | Scraped Eye | Red and Itchy
Problem A branch whacks you in the face, scraping your eye and causing pain, blurry vision, and even bleeding.
Treatment Rinse a scratched eye with potable water for several minutes. If it's still irritated, loosely bandage shut with tape and a folded piece of gauze. If the irritation gets more painful or doesn't disappear within about six hours, hike out to an eye doctor.
Prevention Again, wear shades. Also, when hiking a wooded route with others, keep a safe distance between you and the person ahead to avoid rebounding branches.
Dirt In Your Eye | Scraped Eye | Red and Itchy
Problem Two days into a trip, your eye turns red, itchy, and starts discharging pus.
Treatment If symptoms are merely irritating–not painful–it's okay to finish your trip and check with a doctor when you return. Just be careful not to spread the infection; disinfect hands frequently, and don't share snacks. But if you experience vision changes, thick discharge, swelling, fever, and/or chills, hike out and see a doctor; you might have a more serious infection, such as bacterial conjunctivitis.
Prevention Simple camp hygiene protects from most illnesses, including eye infections: Always clean hands with soap or an antibacterial gel before cooking and after toilet stops. Contact wearers should remove lenses every night and store them in fresh cleaning solution. In the morning, let contact cases air-dry thoroughly. Even easier: Opt for extended-wear contacts, which can be left in for up to seven days and nights in a pinch.