Profiles In (Dis)Courage: Melissa McQueen
Broken, but not beaten, four backcountry travelers tap unexpected reserves to overcome horrific injuries.
Heading out the door? Read this article on the new Outside+ app available now on iOS devices for members! Download the app.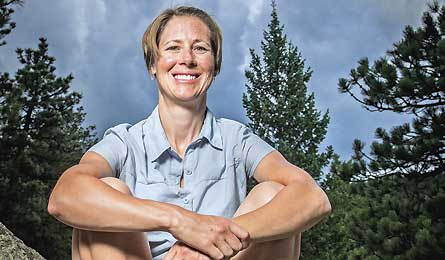 Melissa McQueen (photo by Ben Fullerton)
X-ray of McQueen's Feet
Melissa McQueen, 37
Accident Lost in a snow storm

Injury Severe frostbite
Fifteen hours after setting out for the 14,265-foot summit of Colorado's Mt. Evans in May 2001, fifth-grade teacher Melissa McQueen was huddled under a tree, not sure whether she'd make it off the mountain alive.
A spring blizzard had forced the Denver resident and her husband, father-in-law, and dog off the summit, and they'd lost the trail in the whiteout. That's when McQueen punched through the snow into a stream, soaking her feet. "My toes turned into frozen blocks, and we all had hypothermia," she says. "It was sort of a blessing because we weren't aware enough to be as terrified as we should have been."
The next morning, the storm cleared, allowing them to escape alive. Thawing frostbite "is the worst pain you can imagine," reports McQueen, whose feet soon blistered and turned black. "It's as if sharp shards of glass have ripped your flesh apart." The extensive tissue damage cost her eight toes—and threatened to rob her of her identity as an outdoor adventurer. But less than six months later, McQueen attempted Mt. Bierstadt, another Colorado Fourteener.
She's since attempted the summits of Mt. Rainier and Grand Teton, and stood triumphant atop Kilimanjaro. "After the surgery, I spent months in a wheelchair, but walking again was surprisingly easy. I use inserts to cushion the balls of my feet and trekking poles to brake on downhills," McQueen says. "And these days, I go weeks without even thinking about that day on Mt. Evans."