Profiles In (Dis)Courage: Justin Harris
Broken, but not beaten, four backcountry travelers tap unexpected reserves to overcome horrific injuries.
Heading out the door? Read this article on the new Outside+ app available now on iOS devices for members! Download the app.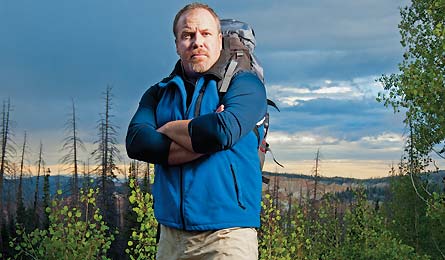 Justin Harris (photo by Mike Schirf)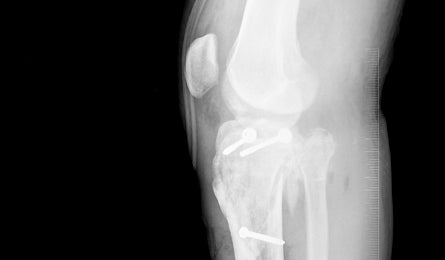 Side x-ray of Harris' leg
Justin Harris, 40



Accident Canyoneering fall

Injuries Spiral tibia fracture and compartment syndrome
Justin Harris and his younger brother Jeremy were prepared for the 80-foot rappels and chest-high pools they'd encounter on the seven-hour descent of Chute Canyon in Utah's San Rafael Swell. But when the Parowan, Utah, resident slipped on a straightforward 12-foot drop and shattered his left leg below the knee, everything changed. "I didn't know if I'd ever get out of that canyon," he says, recalling the 2003 incident.
Temperatures plunged to 9°F overnight as Jeremy hiked alone to summon help, a five-hour trip that took more than 22 because he missed a turn. Rescuers didn't reach Harris until a day and a half after the accident. By that time, his kidneys were shutting down, and swelling in his leg had cut off circulation to his foot. "I was mentally prepared for another day [in the canyon], but things with my body were serious. I wasn't sure I'd live until I heard the rescuers' voices," recalls Harris.
Six weeks later, he and his doctors decided to amputate. His left tibia had broken in so many places that he couldn't overcome the swelling and infection. After a long, uncertain, and painful wait, "it was a relief to let my leg go and start healing," says Harris. Seven months after surgery, he returned to coaching his son's football team atop a $22,000 titanium and carbon fiber prosthetic. He has since skied, hiked, and even scrambled to the top of Zion's Angels Landing. "I have a greater respect for the outdoors," he says. "I've scaled back on the extremes, but my injury has challenged me to do more and stay strong."