Out Alive: Trapped by Rising Water
Five hikers fight a raging river before attempting a dangerous bushwhack to safety.
Heading out the door? Read this article on the new Outside+ app available now on iOS devices for members! Download the app.
The Victims
Bonney Freeman Hughes, her husband, and three friends risked their lives crossing Porvenir Creek in New Mexico's Pecos Wilderness on July 25, 2010.
The water roared through the steep, granite walls of Porvenir Canyon, and I screamed for my husband Hank to stop walking. He was waist-deep amid a frothing current, and he took a
slippery misstep before steadying himself and struggling back to shore. It was 3 p.m. on a rainy summer Sunday, our third and final day in the Pecos Wilderness—or so we thought.
On Friday, two days before, our group of five—Hank and I along with our friend, Scott, and his son and nephew—had hiked up the canyon, but lightning forced us to abandon our summit
attempt on 10,260-foot Hermit Peak. We'd known about the rainy outlook, but hadn't checked NOAA forecasts for flood warnings because we didn't consider the lingering rain a threat.
That was our first mistake.
After striking camp Sunday morning, we started downstream, soaking our boots in the first of the canyon trail's two-dozen water crossings. We sloshed on, shuffling our feet and
using trekking poles as support. It wasn't until the canyon steepened that the gentle stream became a muddy torrent that soaked our knees, then thighs. We'd hiked the canyon many
times, but this was the first time we'd seen the creek look any more dangerous than a bathtub. By midday, we were bushwhacking around the hip-high flow, but soon the steepening
walls eliminated all off-trail alternatives leading downcanyon. On about the 17th crossing, Hank turned back after his scary midstream slip. We dropped our packs on the bank and
grouped up to discuss our options.
Precipitation from sudden downpours or from storm cells within slow-moving systems—like the one that hovered over us—can raise canyon water levels 30 feet or more without warning,
and within minutes. The surprise can be especially deadly downstream of wildfire burn areas and rocky or already-saturated soils, which repel instead of absorb water. This stream
was rising slowly, but both the up- and downstream escapes were impassable.
We decided to bushwhack toward a higher-ground trail on Hermit Peak's flank, which would also return us to the trailhead. By dusk we were soaked and hadn't made much progress
on the cliffy slopes, so we settled in for an unexpected night out. By morning, the rain had stopped, but the river showed no signs of receding. With our panic rising and provisions
nearly depleted, we felt compelled to make some kind—any kind—of progress. Moving in either direction meant we'd still have to cross the creek a dozen times, so we chose the safer,
upstream route. We were willing to take big risks to move on, even though we knew rescue help would come if the flood kept us trapped much longer.
For the first few crossings, we decided to string a safety line across the creek. Hank tied one end around his waist and the other to a shoreline tree, thinking that the rope would
prevent him from getting dragged downstream and ease our rescue efforts if he slipped. In fact, if he had fallen, the rope would have held him underwater. He would have been safer
holding the rope—not tying it to his body. Fortunately, he made it across the hip-deep current.
There were other sketchy crossings before we were out of the canyon, but we eventually reached the junction with the higher trail, bypassed the flooded route, and stumbled over
Hermit Peak to reach our car. Later, we learned that a metered stream nearby hit peak flow—150 times higher than normal—between the time we started our outbound trek on Sunday
and Monday morning, when we decided to risk the escape. Translation: If we had waited for the water to recede, we would have likely been able to descend without risking our lives.
We made some poor decisions, but thankfully we also made it out of the canyon alive.
Key Skill Assess River Crossings

Rule of thumb Don't ford rivers more than knee deep. Gauge depth by using a trekking pole as a dipstick or lobbing a fist-size rock—a hollow "ker-plop" sound indicates deep water.
See rocks rolling along the bottom? The current may be too strong to cross safely. Scout up- and downstream for safe crossing zones: braided areas (1) or wide shallows (2).
Unsafe areas: bends (3), narrow (fast-moving) channels (4), and upstream of hazards like strainers (5).
Never Forget Water may continue rising long after the rain stops. Precipitation higher in the watershed or runoff upstream can cause rivers to continue rising for two to 24 hours
after rain ceases. Resist endangering yourself with a bushwhack or unsafe ford; find a safe spot and wait until the river returns to normal levels.
Cross Safely
Wear shoes, unbuckle your pack, angle downstream, and use partners for better balance.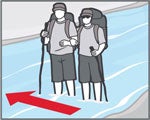 2-person
>> Link arms, side-by-side
>> Strongest in front
>> Use one pole each
>> Shuffle sideways
>> Face upstream, lean into the current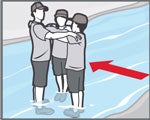 3-person
>> Form a tripod
>> Tallest person upstream
>> Shuffle short distances, one at a time
Swept Away? Ditch your pack, turn feet-first downstream, keep your toes up, and fight your way to shore. Avoid reaching for logjams or other debris.