Out Alive: Alone with a Compound Fracture
Gregg Hein, 33, of Fresno, California, survived six days on remote Mt. Goddard in Kings Canyon National Park in July 2014.
Heading out the door? Read this article on the new Outside+ app available now on iOS devices for members! Download the app.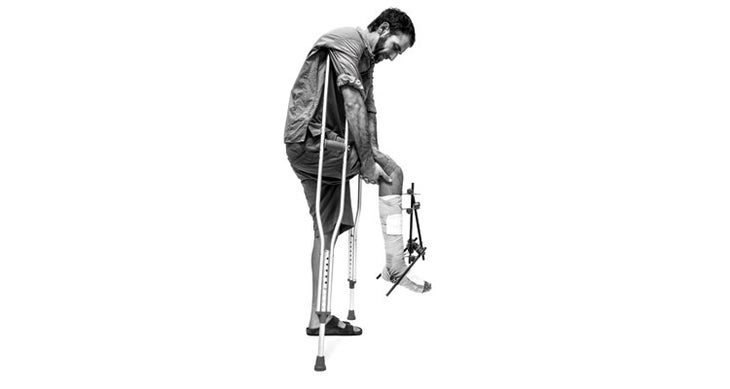 Greg Hein (Photo by Michael Darter)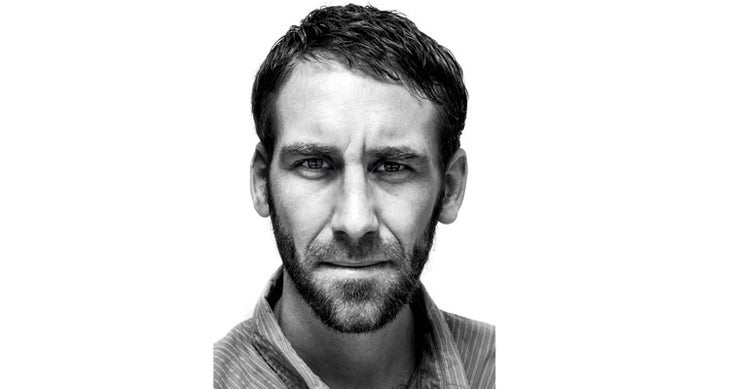 Greg Hein, 33 (Photo by Michael Darter)
I'm not much of a peakbagger. Although I'd hiked a lot in the past, I had gone two years without getting out much because of work and school. But i'd just gotten my bachelor's degree and it was time to reconnect with the mountains. I planned to do a three- or four-day loop encompassing 13,563-foot Mt. Goddard in Kings Canyon National Park, beginning and ending with a dip in Blaney Hot Springs. Before I left on thursday, I told my dad where I was going and to expect me back on Monday. I've been hiking by myself for 15 years.
I left Florence Lake trailhead at 8:20 p.m. on Thursday night and walked to its namesake. I like night-hiking and the midsummer weather was perfect.
The next morning, after a soak in Blaney Hot Springs, I headed for Mt. Goddard, reaching the top by 11 a.m. Only two other people had signed the summit register this year. My plan was to head off-trail to Evolution Basin. The south of Goddard Divide is a huge boulderfield and sidehilling through that looked bad. Instead, I made my way along the ridge looking for a couloir I could descend.
I scrambled down to the bottom of a gully and a narrow spot just above a snowfield. As I was looking for a handhold, I pulled out a little rock that I was able to palm. I tried to wedge it back beneath the boulder but it wouldn't go in. That's when I saw the boulder shift. It was maybe 2 feet diameter and 125 or 150 pounds. It slid and rotated, but I wasn't able to get out of the way in time. It landed on my right calf, snapping my tibia above the ankle and knocking me onto the steep snow chute. I shot downhill.
I landed upright with my backpack on the snowfield providing some stability. That's when I saw the trail of blood out of the corner of my eye. The snowfield had sun pockets and my right foot went into one. Like a fish out of water, my ankle started flapping and the bones ground on each other. All this extra blood came out. I hit another sun pocket. It was the most intense pain I ever felt, but I couldn't dwell on it; I was rocketing down the snowfield and needed to self-arrest before I racked myself on some exposed rocks that were coming up. I dug my left heel and palm into the snow and it was enough.
When I looked down I could see my tibia sticking 3 or 4 inches out of the flesh above my right ankle. Gruesome.
I knew I had to get off the snow; I didn't want to get stuck there if I went into shock from blood loss. I moved onto the rocks and tried to calm down and let my first-aid training kick in. It didn't seem like I would bleed out right away, but I knew the injury was severe enough that I could lose my leg. That seemed like a good trade, life for leg. I used my Therm-a-Rest to wrap the leg and pulled my long johns over the top to hold it in place. I took the belt out of my shorts and wrapped it around the top two thirds of my trekking poles, which I'd placed around the leg to splint it. It was tight enough to stop the bleeding.
There was no way I could crawl to safety with all my gear. I left my food, since I figured I wouldn't starve before rescue, and I grabbed my bivy sack, poncho, Leatherman, balaclava, beanie, and whistle, which I cannibalized from my pack's sternum strap and tied to my shirt's top buttonhole with a piece of string. I grabbed the multitool because if I needed to, I'd use the blade to cut off the leg. I crawled 100 yards to the edge of a moraine, where I found a sheltered spot with a good view of the valley so I could comfortably await rescue. I had no problem sleeping.
A full day after the injury (Saturday), I started to smell a bit of funk but figured it was the blood that leaked into the bottom of my bivy sack. I brought the leg close to my nose and got a good whiff. Son of a bitch, I thought. This is infected already. (Still not painful, though; my brain seemed to block the pain.) I crawled over to the nearest snow patch. Using a rock shaped like an adze, I scraped off the top layer of snow and used ice crystals to scour the wound. I then filled it with snow to flush it out.
The infection made the wound sticky, so when it started to ooze out it would glob on the bone. I'd dip the blade in there and pull the goop out. I massaged my foot, ankle, and calf and tried to keep my toes moving to maintain blood flow. This, and the wound cleanings, became my routine for the next three days. I knew rescuers would be looking for me when I didn't check in on Monday, so I stayed calm and busy.
On Tuesday afternoon it rained. I got wet but, by luck, dried out before nightfall. The coldest it got was about 40ºF. That night my leg locked up. I couldn't straighten it out and my foot was stuck in place. I regained movement, but I was still concerned. Also, I'd been melting water in the hood of my poncho, but felt like I wasn't getting enough. It was time to relocate to a better spot—I went for Davis Lake, 1.6 miles away over snow and rock.
I made a sling for my leg, put it out straight in front of me, and scooted ahead. I gave myself goals: I'd count 20 scoots then take a break. Halfway between the last boulderfield and Davis Lake I saw a cricket jump ahead of me. I thought I should try to eat it, but wasn't going to put too much effort into it since I didn't feel hungry. A second one came up and I made a half-assed stab to grab it and actually caught it. I knew to take off the back two legs and the wings (so they don't get caught in your throat) and I ate it and thought it was pretty good. I ended up eating everything that would let me catch it: two crickets, five or six moths, eight or ten large ants, and three or four water bugs. I scooted 1.6 miles in 4 hours.
I found a sheltered spot near Davis Lake just wide enough for my shoulders and just long enough for my body. It was an amazing spot. I heard helicopters toward the end of that day (Wednesday), five days after I broke my leg. They flew within 100 yards of me five or six times. I was next to a big boulder, flapping my canary-yellow bivy sack, but they didn't see me. Once, the helicopter passed less than 200 feet from me. On the next pass, the pilot looked out the window and we made eye contact. I watched a team of five or six SAR guys unload from the helicopter.
When they came over, they told me they'd never seen someone in such good shape after being out so long with an injury this bad. They made a chair by grabbing each other's arms and wanted to carry me to the helicopter. I said, "Guys, really, you don't have to carry me. I can crawl."
They carried me anyway.
[Key Skill]
Wound Care
1. Use pressure to stop the bleeding. If it won't stop, tie a tourniquet. See best practices at bit.ly/BPtourniquet.
2. Cleanse the wound with the cleanest water available (preferably sterilized). Put water in a zip-top bag, clip off a corner, and squeeze the bag to pressure wash the wound. Ensure you flush out all debris.
3. Dab on antibiotic and wrap in a sterile bandage.
4. Flush the wound if it gets dirty and change the dressing daily.