The 10 Most Dangerous Hikes in America: Bright Angel Trail, AZ
Baked or broiled?
Heading out the door? Read this article on the new Outside+ app available now on iOS devices for members! Download the app.
The Hike
Trekking from rim to river (and back) is one of the planet's iconic journeys, an achievement nearly every Grand Canyon visitor longs to notch. Trouble is, canyon temps routinely top 110°F in summer, and that hellish heat–combined with the exertion of climbing 4,380 vertical feet over 9.5 miles–results in about 200 heat-related rescues in the park each year, most of them on the Bright Angel Trail. In fact, a spate of deaths prompted the creation of PSAR (Preventative Search and Rescue) in 1997, a team of rangers that patrols the trail, assessing individual hikers, dispensing water to the suffering, and urging the unprepared to seek safety.
Death on the Bright Angel Trail
At 120°F, brain cells burst like tiny egg sacks, spilling their thick, salty fluid in thousands of deadly hemorrhages. Before that happened, 28-year-old Avik Chakravarty–who died here in July 2005–would have experienced cramps, scorching thirst, and hallucinations. His error: climbing up in the midafternoon heat. It's one that's easy to make on the Bright Angel Trail, which departs from the South Rim's commercial cluster. That convenience attracts scores of impulsive hikers who find that going down is easy–but climbing up is torturous. "The death zone is between the river and Indian Gardens, about halfway up," says Michael Ghiglieri, a Colorado River guide and co-author of Over the Edge: Death in Grand Canyon. The dark grey schist at lower elevations absorbs and radiates heat like a cast-iron frying pan, so when thermometers read 110°F in the shade at Phantom Ranch, hikers endure 130°F ground temps on the trail. Most people try to escape the inferno by hurrying along, which exacerbates heat illness. Explains Ghiglieri, "People feel so hideous they keep going to get it over with, instead of resting."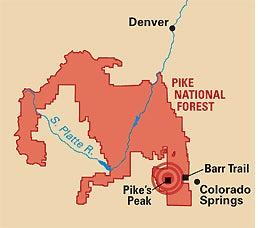 Bright Angel Survival Plan
Start hiking down in the mild temps before dawn. At the bottom, cool off in the creek. Carry lots of water–Ghiglieri recommends drinking five to six liters on the round-trip–and pace yourself on the ascent. "Don't just go steadily until you drop dead," he warns. "Rest for 15 minutes of every hour you climb." Even better, delay your return until evening, and finish your hike by headlamp.