Does Your GPS Navigation App Give you Wildfire and Air Quality Maps? This One Does.
These new map overlays will help you safely plan your hikes around fire season.
Photo: milehightraveler/ E+ via Getty Images
Heading out the door? Read this article on the new Outside+ app available now on iOS devices for members! Download the app.
Climate experts who predicted that persistent hotter temperatures and drought would lead to more wildfires than normal this year didn't have to wait long to be proven correct. From California—where the Dixie fire is now the second largest in state history—to Michigan's remote Isle Royale National Park—where hundreds of acres are burning after a recent lightning strike—wildfires are so pervasive that resulting air quality issues have reached as far as New York City.
As the idea of a fire "season" becomes increasingly outdated, hikers in regions where wildfires are common now have to consider their risks more frequently. And hikers in regions that aren't threatened by flames now find themselves contending with air quality issues that create their own set of risks. It's a new era of access issues and safety wrinkles for all of us.
Luckily, the folks at Gaia GPS are some of us. They just released a collection of real-time wildfire, smoke, and air-quality map layers, which use satellite and heat detection technology to display information on the location of burns and the resulting impacts in the air across North America and the globe. These maps are free with a Gaia GPS account and include the following features: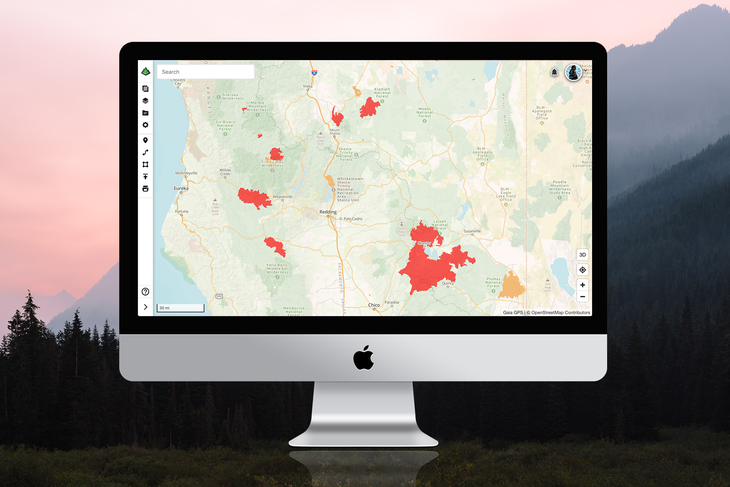 Wildfires (Current): This map layer shows where fires are currently burning in the U.S. and in Canada. National organizations such as Alberta Wildfire and the U.S. National Interagency Fire Center provide daily updates on fire names, sizes, and perimeters.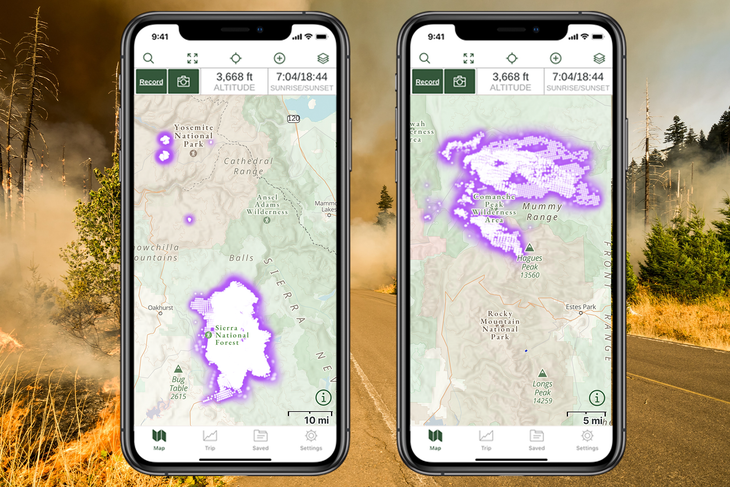 Wildfires (Satellite Detection): This map uses heat technology to detect fires all around the world. That means this layer can detect not only fire, but also lava and geothermal activity. You can tap on the map's purple shading to learn more about the heat source, and data updates come from NASA several times each day. This layer will also reveal new wildfires that may not yet be in the Wildfires (Current) layer.
Smoke (Current, 24h, 48h): Wildfires, even several states away, can blow particulates your way and affect your lung health. This map layer uses data from the National Oceanic and Atmospheric Administration to give you current smoke conditions and forecast what is coming in the next 24 to 48 hours.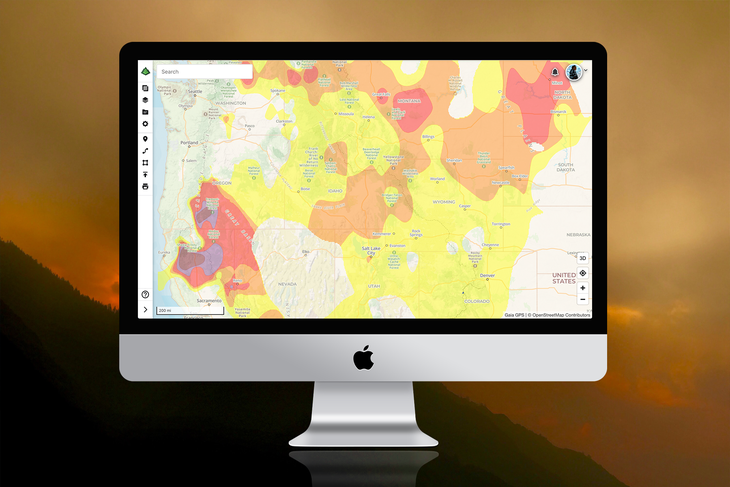 Air Quality (Current, Tomorrow): Smoke is not the only detectable air pollutant. Color codes on this map layer show how much ozone (smog), particle pollution, carbon monoxide, sulfur dioxide, and nitrogen dioxide is in the air. These Air Quality Index numbers are updated daily, and you can view today's index or tomorrow's projected air quality. According to the Environmental Protection Agency, if the AQI is above 150, you should consider staying home or avoiding strenuous outdoor activity. Hikers with immunocompromised respiratory systems should consider staying indoors with an AQI above 100.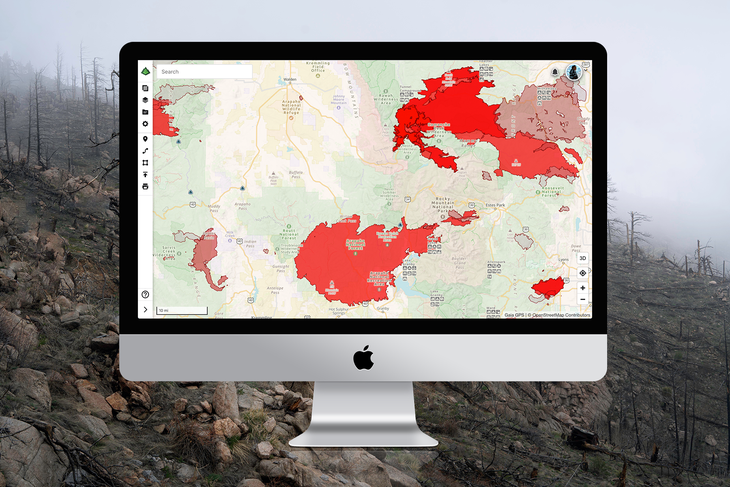 Wildfires (Historical): Wildfires can yield edible and medicinal plants, so foragers hunt down historical burn zones to collect the best mushrooms and echinacea. This map layer can show historical data about the area, such as the name, burn dates, and the acreage affected. This layer is only available with Gaia GPS Premium.
Downloading these maps
Within your Gaia GPS account, go to the map layers icon on the dashboard. Click on the "Add Map Layers" button and select "Weather Feature Overlays." Select which map layers you want to view. With the Gaia GPS premium membership, you can select several maps at one time and layer them to understand the full scope of smoke, air pollution, and burning fires near you. Hikers and backpackers have to plan for all weather conditions. Add this data to your gear arsenal to safely embark on this weekend's hike.
Download Gaia GPS for free to access all of these wildfire maps and navigate in the backcountry. Backpacker and Gaia GPS are both owned by Outside.