My First Mountain Lion
A wild cougar makes a big impression, especially when you're alone.
Heading out the door? Read this article on the new Outside+ app available now on iOS devices for members! Download the app.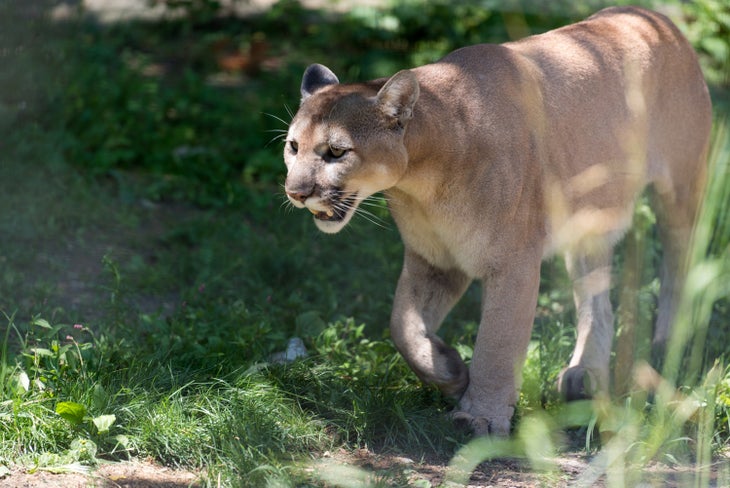 Like most hikers who frequent mountain lion territory, I know the basics of how to react if I encounter one. But that doesn't mean I ever really think about it when I'm on the trail. The cats are just too elusive, sightings too rare. So cougars were not on my mind when I was hiking alone above the Teanaway Valley in Washington's Cascade Mountains last fall. I was traversing a ridge that was peppered with monolithic rocks that jutted skyward. Negotiating the vertical stones, I squeezed around a sharp edge and came face-to-face with a mountain lion.
The full-grown cougar was right in front of me, but I was mostly surprised by what it wasn't doing. It wasn't crouched, ready to pounce. It wasn't padding toward me or away from me, and it wasn't startled. It was sprawled on the ground in the shade of a rock, like a homeowner relaxing after mowing the lawn on a summer day. It looked like it had just woken up from a nap. Its ears stood straight up and pointed toward me. Its huge paws—at least size 12s—were less than 20 feet from my boot laces.
The mountain lion didn't move. It just watched me with wide, alert eyes. I'll never forget the intensity of its stare.
Finally, my mind caught up with what my eyes were seeing and fear kicked in. When you see an adult cougar in the wild, one thing is immediately apparent: If it's hungry, you're lunch.
I ticked off what I'd learned:
—Don't run or make rapid movements. I had been frozen the whole time. Check.
—Try to appear larger than the mountain lion. I slowly raised my arms and hands above my head. Check.
—Do not take your eyes off the animal or turn your back. I continued to match its stare. Check.
—Slowly back away while talking to it. Weird to be saying, "Good to meet ya, nice kitty," but check.
— Pick up something to throw at the mountain lion if it attacks. I reached down and grabbed an arm-size stick. Just in case.
I continued to back away and the cat kept staring at me, motionless. Time slowed and I noticed details I hadn't registered yet: its thick coat, the light-yellow fur, the rib cage expanding and contracting, the oddly furrowed brow, like it was confused.
Once I was out of sight, I wondered: Would it stalk me? I blew my whistle and was comforted by the piercing sound. I blew it again. Then I remembered another tip—get to higher ground. Feeling like a lunatic, I scrambled up one of the rock monoliths, blowing my whistle and holding my stick high above my head all the while. On top, I could see all around me. No mountain lion could sneak up on me here. I remained there an embarrassingly long time.