How to Do Everything: The Intrepid Explorer
Travel confidently across any type of landscape.
Heading out the door? Read this article on the new Outside+ app available now on iOS devices for members! Download the app.
Scramble Up Steep Rock
Time to tap into your Spidey senses. First, take deep belly breaths to calm your mind for exposed climbing. Then test each hold by knocking on it (a hollow thump signals looseness) and pulling on it. With handholds, save strength by locking off (hands in a completed chinup position) or locking out (straight arm so that your bones, not your muscles, are holding your mass). Focus on finding good footholds or (on smooth slabs) smearing your entire foot on the rock for greater friction. Always maintain three points of contact. Though people always say, "Keep your hips in," you actually want your weight over your feet. Unless the cliff is vertical, this will mean sticking your butt out a bit.
Surf Scree
"No matter how big the rocks in a boulder field, test them before skipping across," says Rocky Mountain Editor Steve Howe ("When Disaster Strikes!," 10/08), a tip gleaned from famed Tetons climbing ranger Renny Jackson. "If the wrong one shifts, you could break your leg." To ascend, zigzag up; gather your group at the end of each switchback in case of rockfall. Kick your toe into dirt or side-edge into the slope. Descending, plunge-step with your heels.
Bushwhack Through Dense Forest
Get to a highpoint and plot your course through the least-vegetated area (e.g., game trails, ridges, a south-facing slope). Wear durable, full-coverage clothes and sunglasses (pointy branches tend to zero-in on vulnerable eyeballs). "If you have to punch through an occasional wall of brush, back through pack-first to save your face," advises John Harlin in his June 2001 "Bushwhacking" guide. Cinch down all pack straps and store any dangling items inside, to prevent snags. Another tip: Sometimes splashing along a mellow creek is easier than battling dense thickets.
Go High
To avoid altitude sickness, average 1,500 feet of net elevation gain per day. The motto: Hike high, sleep low. Drink and eat often, and pressure breathe: Exhale as if blowing out a candle. Descend if headaches or nausea develop.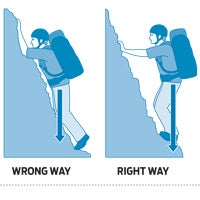 "When mounting virgin 20,000-foot peaks, I'll take every lift I can get."
—John Harlin (6/02), on Viagra's aid with altitude acclimatization
Explore Off-trail
Match Longs Peak's contour lines with the features in the photo (answers at the bottom of page). Also, visit backpacker.com/navigation101 for a routefinding tutorial.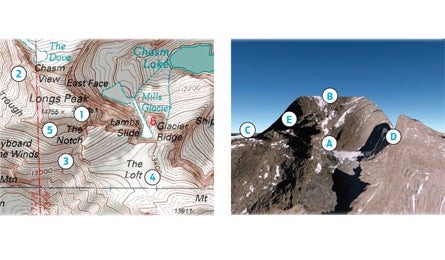 Ford a Stream
Uh-oh: The anemic creek described in the guidebook has swollen to a robust river. If the water is below your butt and not churning with rapids, scout a wide (slower-moving) section; avoid deeper, faster river bends. As you cross, face upstream, but angle downstream. Use a pole and sidestep across for extra stability. Keep your boots and pack on, but remove your socks and unbuckle your hipbelt and sternum strap in case of a fall. Contributing editor Tracy Ross learned this the hard way in 1998, while wading the McKinley River, in Denali NP, with a 60-pound pack. "Suddenly, I'm being dragged backward down the McKinley," she recalls, "heading for a swift, deep bend that was going to suck me under." Ross fought to undo her buckles, and when she finally succeeded, she "exploded out of the water."
Sashay Up
snowfields Go in the early a.m. to avoid postholing. Kick your toe into the slope, swinging your lower leg for momentum and creating a half-foot-deep platform. Switchbacking is more efficient, unless the boot-kicking is difficult (like with hardpack); then just beeline. Plunge-step down. Beware of avalanche risk on 25-plus-degree slopes—a change from the past 30-degree warning.
Hike a Slot
Check the watershed's forecast at weather.gov and water.usgs.gov/waterwatch. Recent rains saturate soil and fill reservoirs, raising flood risk. Mark exits or highpoints on the map, and note water lines or debris on the canyon walls, which signals flood areas. If a creek starts running faster, deeper, or muddier, get to high ground ASAP.
Routefinding answers: 1. B. Summits from concentric circles (innermost is the highest). 2. C. Ridges; contour lines form Vs. 3. A. Gullies; lines form inverted Vs. 4. D. Pass; an hourglass with the "waist" sides lower than the two other sides. 5. E. Cliffs; lines almost touch.

Quick Betty, Cover Junior's Eyes!
From 2002 to 2003, we seemed to have sex on the brain. Some high (or low) lights:
» To promote "proper care of the family jewels," "Healthy Hiking for Men" (5/02) delves into unsavory topics such as rashes, testicular torsion, and chafing. For the latter, it introduces the (drumroll, please) Bandanna Harness: "Fold a bandanna into a band, hook the middle under your genitals, lift up, and tuck ends into the front of your waistband." Our deepest regrets.
» In our "6 Steps to Better Outdoor Sex" (12/03), our advice ranged from the obvious ("Pack a pad for whoever's on bottom.") to the graphic ("Have fleece handy to protect whoever's leaning against the tree. Bark leaves a mean burn.") to the leave-more-trace-ish ("Grease up: Before swimming, apply something unscented, clear, waterbased, and glycerin-free.").
» Even readers got into the act: "My wife's concerned I might meet a hot chick on the trail and have a wild affair," wrote Tom (8/02). "I try to reassure her that it would never happen." Not while you're wearing the Bandanna Harness, Tom! But rest easy, Mrs. Tom: In a followup poll, a mere one in 10 BACKPACKER readers reported having sex with a stranger on the trail.
Cross a Hot Desert
Start acclimatizing to heat one month before your trip. Exercise midday, slowly building the workout's length and intensity. Plan for eight liters of fluid a day; bring sports-drink powder to replace electrolytes. Cover skin with light-colored clothing, and wear a brimmed hat. Your goal: Avoid dehydration or heatstroke.
Illustrations by Bryon Thompson