Here's How to Avoid Heat Exhaustion on a Hike
Summer is hot. The desert is hotter. Hiking unprepared could cost you your life.
Heading out the door? Read this article on the new Outside+ app available now on iOS devices for members! Download the app.
As hiking grows in popularity, rescue crews across the hottest parts of the country have been busy all summer assisting hikers who venture into the desert unprepared.  On August 2, a woman died near a Phoenix trail from heat-related illness. And she wasn't the only one: According to an emergency services report, a fifth of the fatalities in Grand Canyon National Park in 2018 were heat-related. Last month, the city of Phoenix, AZ, mandated that certain trails close during extreme heat events after rescue crews became strained responding to heat-related incidents.
While hot weather can exacerbate existing health issues, most heat-related deaths stem from a failure to prepare.
"Often, hikers who are not accustomed to desert climates and are from wetter climates do not pack or drink enough water. This can be especially problematic when you combine that with alcohol or coffee consumption," said Cam Juárez, Community Engagement & Outreach Coordinator and Public Information Officer for Saguaro National Park. 
It's crucial to plan ahead before heading into the desert—or on any trail in hot conditions. Understanding dehydration and how to prepare for summer hikes can help you stay safe even in the driest conditions. Your body is constantly losing water as you breathe, sweat, and urinate. Exertion—especially in hot temperatures—expedites fluid loss. Failing to replenish this liquid at a fast enough rate leads to dehydration, which can cause headache, cramps, dizziness, and nausea, among other symptoms. On dry wilderness trails, dehydration can quickly become critical and, in the worst cases, fatal.
What's actually happening to your body when you're dehydrated? As your blood becomes less concentrated with water and thickens, your heart must work harder to maintain blood pressure, and you may faint. Reduced blood flow to the brain causes a headache and, ultimately, confusion and irritability. 
Hikers should drink at least one liter of water per hour in hot conditions—and more during especially strenuous exercise. In desert areas like Saguaro, Juárez suggests that all hikers carry between four and 6 liters of water for an average dayhike. Pay attention to your thirst: Dehydration can happen quickly in dry, hot climates.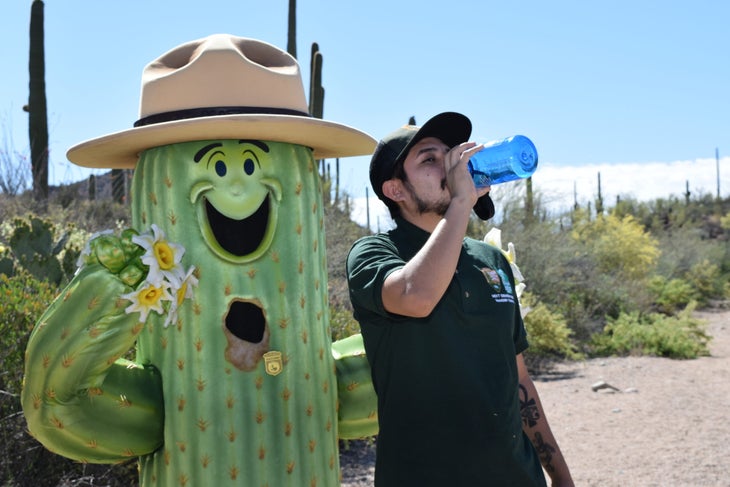 Juárez recommends avoiding alcohol for 12 hours leading up to your hike and limiting caffeine consumption. If you sweat a lot, replace electrolytes by adding sports drink mix to your water and consuming salty snacks. Be aware that without replenishing salt through snacking, drinking excessive water can lead to hyponatremia, a sometimes-dangerous medical condition that occurs when there isn't enough sodium in the bloodstream. 
To remind yourself to snack as well as drink, Juárez suggests carrying both a water bladder and water bottles when hiking in hot conditions. "I drink from the hydration bladder when moving. When I stop for breaks, the water bottles come out along with a snack," he says. "If the water bottle is out, that is my signal that it is also time to eat. This helps to keep everything in balance."   
Be sure to monitor your water consumption throughout the day. 
"When hikers get to half of their water, that is a good time to turn around. You need adequate water to return to your vehicle," says Juárez. Further, avoid hiking during the peak hours of the day: On hot days, the park recommends hikers begin at sunrise and finish by 10 a.m. 
Mild dehydration can be treated by replenishing fluids and electrolytes. Get out of the sun and drink. Soak a bandana, hat, or shirt with water from a stream or lake to help cool down.