How National Parks Are Trying to Keep Visitors Safe in Deadly Heat
As extreme temperatures blaze across the nation, parks are taking extra measures to keep visitors safe.
Photo: Owen Smith/Image Source via Getty Images
Heading out the door? Read this article on the new Outside+ app available now on iOS devices for members! Download the app.
As high temperatures roll across the globe, hikers may be getting a glimpse of their future. Historic data indicate that heat waves have been increasing in frequency, intensity, and duration—and without aggressive climate change measures, these trends are predicted to continue in future decades. 
This summer's heat waves are threatening hiker safety: Multiple hikers have died in national parks this year, with the National Park Service stating that extreme heat likely played a role. At least five people are suspected to have died in three national parks due to the heat this summer: Big Bend National Park, Grand Canyon National Park, and Death Valley National Park.
Jeff Stebbins, a Public Affairs Specialist at Grand Canyon National Park, said that data indicate a 71 percent increase in the volume of distress calls when temperatures hit 95°F. "So far this year, our SAR team has responded to 181 calls," he said. 
Despite the heat waves, hikers are still venturing out to national parks, which remain open. "Parks aren't closing for extreme heat, but ranger programs and events may be canceled or changed to a cooler time of day," Park Service spokesperson Cynthia Hernandez said.
In lieu of closing trails, NPS offers online resources such as Plan Like a Park Ranger and the NPS Trip Planning Guide to promote hiker safety. In addition, it maintains a web page dedicated to preventing heat-related illness. Individually, the three parks where deaths have occurred this year have taken extra measures to address the risks to visitors during periods of extreme heat by focusing on education and prevention.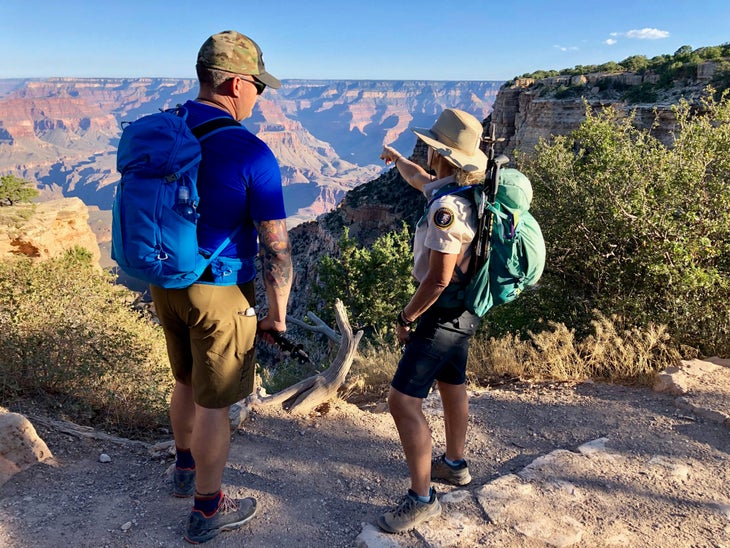 Big Bend National Park, which has seen three heat-related deaths this summer, warns visitors of the dangers of heat with signage at visitor centers and park bulletin boards, large electronic message boards at park entrances, and park staff and volunteers stationed at the busiest trailheads. 
"We tell visitors to be off trails by 11 a.m., and to spend the heat of the afternoon enjoying scenic drives, siesta in the shade, and to stay out of the heat," Tom VandenBerg, Chief of Interpretation and Visitor Services at Big Bend National Park, said.
Despite the recent fatalities, there are no plans for the park to close down during a heat wave. 
"If Big Bend National Park were to close when temperatures reached extreme levels, it could be closed for months at a time," said VandenBerg. "Remember that Big Bend is very diverse and offers a wide variety of places to explore and ways to experience." 
Hundreds of miles away to the northwest, Grand Canyon National Park is also dedicated to preventive measures for visitors. 
"We focus heavily on prevention and outreach in order to educate the public on the risks they may face and how to protect themselves as best they can. We would encourage hikers to visit our website and stop by the Backcountry Information Center before beginning a hike for the most up-to-date trail conditions and advice for their itinerary," Stebbins said.
 The park maintains a new web page with daily updated trail and weather conditions along with tips on how to stay safe in the heat. QR codes posted at major trailheads and strategic points direct readers to that page. According to Stebbins, rangers practice preventive search and rescue, and the park stations personnel at strategic locations on trails. Additionally, caches are stocked at various locations with emergency water, rations, and sometimes phones.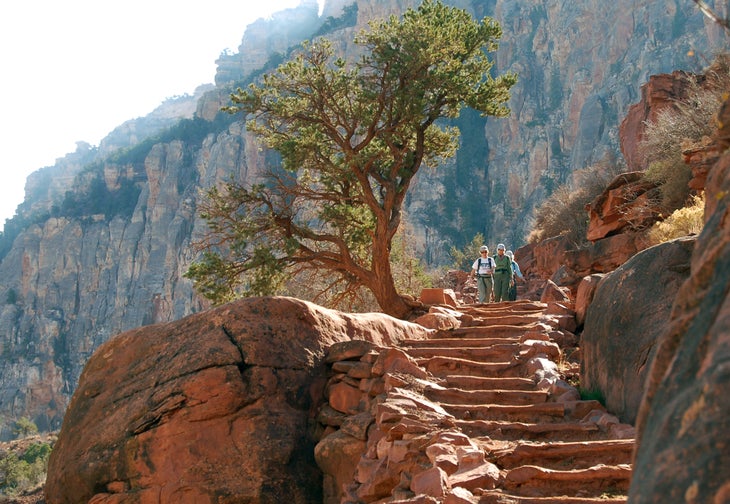 Much like Grand Canyon and Big Bend, Death Valley National Park has seen some of its hottest temperatures this year. According to Nichole Andler, Chief of Interpretation and Education at Death Valley, "our best tool to help visitors combat the heat is information and air conditioning."
When temperatures are regularly predicted to reach between 110 and 120°F, the park places an alert on its website. Death Valley also has internal safety guidelines that are triggered by heat: At 120°F, the park stops all non-emergency outdoor work to maintain employee safety. 
According to Abigail Wines, a Management Analyst at Death Valley National Park, a visitor experiencing heat illness will be attended by park rangers who are also EMTs. Their general protocol involves cooling the patient down through measures that include moving them into an air-conditioned building or ambulance, applying a cool moist cloth, and transporting them to a hospital if needed.
Just like Big Bend, management at Death Valley has no plans to enact closures during periods of extreme heat.  
"It is physically difficult to close backcountry roads, as people move barricades or drive around them," Wines said. In her 18 years of working with the park, she has "only heard that the park used to close some backcountry roads as distant lore," and commented that this practice seemed curious to her.
"Many of those roads that the park used to close are ways to get to the higher elevation portions of the park, which is exactly where people can hike safely due to cooler temperatures," Wines said.
As parks remain open and temperatures continue to climb, it's on hikers to take responsibility for their own safety. Hernandez told Backpacker that the National Park Service asks visitors to make the right choices for themselves and plan their trip in a way that reduces risks, noting that "safety is each individual's responsibility, and many national parks are wild and extreme environments."