Could Bear Attacks Rise in the National Parks?
There's no evidence that more people are being attacked by bruins in the backcountry. But shifting visitor patterns could change that.
Heading out the door? Read this article on the new Outside+ app available now on iOS devices for members! Download the app.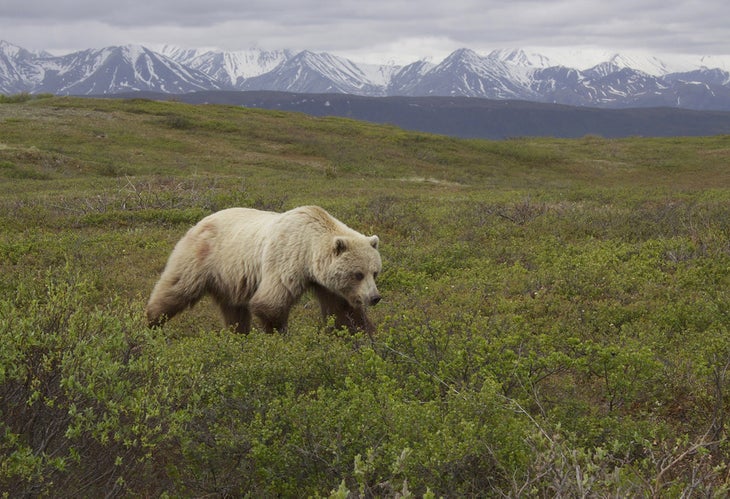 It may be early in the season, but two high-profile grizzly attacks have put some hikers in bear country on high alert.
On July 1, 28-year-old Fangyuan Zhou was bitten and scratched by a grizzly in Denali National Park before her group drove it away by throwing rocks. Just a few days before, a biker was killed outside Glacier National Park by a grizzly.
Other areas have reported high bear activity as well. Bruins in Banff National Park, Alberta were "displaying bold behavior" and the park issued a bear warning on July 4, a few weeks after closing the Legacy Trail between Canmore's visitor center and Banff due to grizzly sightings.
At parks with grizzly populations, such as Glacier, Denali and Yellowstone, one or two non-lethal encounters typically occur each year between bears and humans. Frank van Manen, research ecologist for the U.S. Geological Survey, said the number of bear attacks is still low and rare, "especially given the large number of people recreating in areas occupied by bears in North America."
According to Mannen, there is no indication of a trend toward more bear attacks at a local or continental scale. An article Yellowstone Science, a publication by Yellowstone National Park, said there was an average of 1.1 injuries per year in Yellowstone National Park from 1980 to 2014, making the chances of being attacked by a grizzly bear about 1 in 2.7 million visits.
But as the number of visitors rises in these parks and other bear habitat areas, the amount of bear-human encounters is likely to increase as well. The grizzly bear range has increased in many of these parks—a positive change for most purposes as they are listed as an endangered species.
Parks with bears have developed bear management programs, preventing the animals from obtaining food and garbage and keeping them from becoming conditioned to humans. Some parks, such as Yellowstone, have also restricted camping in Bear Management Areas so bears can have "unhindered foraging opportunities."
In Denali National Park, 80 percent of human-bear interactions take place in the backcountry, so it is those hikers who need to take extra caution. While most hikers know to play dead in a grizzly attack, that tactic can backfire by triggering a grizzly's curiosity if hikers use it to early. If a bear hasn't yet made contact, officials suggest that hikers group together, make noise, and wave their arms.