Mauled by a Grizzly. Twice.
As she ripped the tendons out of my arm, I gasped in pain. It made her attack harder.
Heading out the door? Read this article on the new Outside+ app available now on iOS devices for members! Download the app.
Editor's note: Some of the pictures in this article are graphic. Proceed at your discretion.
When I turned around and saw the sow barreling toward me for the second time, I figured my luck had run out.
I had started from a trailhead in the Madison Valley near Ennis, Montana, an hour before sunrise. I was planning on a 15- to 20-mile loop around Sphinx Mountain.
I grew up around here and worked these mountains for the last 25 years as a trail engineer for the Custer Gallatin National Forest. I knew the terrain, the wildlife, and to always be prepared, especially for bears. I had my pistol in a shoulder holster and my bear spray on the sternum strap of my backpack, and I was yelling "Hey, bear!" every 30 seconds into the predawn darkness.
As the sun brightened the sky and touched the tops of the pines, I switched my flashlight off and continued up the well-worn path, no longer feeling the need to call out. Pushing forward, up and into a clearing, I halted. Some 80 yards away, a full-grown grizzly sow was playing with her cubs in the meadow I had just entered. Our eyes met, and within a second, her dark gray-brown body disappeared up the ridge into the trees. Her cubs followed.
I calmed myself. I'd seen dozens of bears react like this in my life and assumed she was fleeing. A mother grizzly wasn't likely to abandon her cubs to pursue me, I reasoned, so I caught my breath, settled my nerves, and waited a minute before continuing, hiking away from her on another trail.
But just a few strides later, I heard brush crashing down behind me. I turned and saw 300 pounds of grizzly running down the ridge straight toward me. My hand pulled the safety pin of my bear spray and fired. I'd picked up the instinct training and working in bear country without a gun. But in two seconds, she burst through the cloud, 10 feet in front of me. I dropped onto my stomach and protected the back of my head and neck with my arms. She jumped onto my back, her front paws digging into my waist as she ground my body into the dirt. She tore into my right shoulder and arm half a dozen times until, 15 seconds later, she left.
I laid there in shock and disbelief. Had I just survived a grizzly attack? I could feel the sting of open wounds oozing blood all over my back. Cautiously, I stood up. My wounds seemed minor enough that I could walk. I didn't linger. Bears hardly ever attack twice, but I didn't want to test this one.
Adrenaline pumped through my blood and propelled me down the trail. I glanced nervously behind me every minute to make sure I was alone. Each step away from the attack eased my mind, and I realized how lucky I was to have escaped.
Eight or so minutes later, I was moving down the trail by a stream. The rushing water was loud—but not loud enough to block out the ominous sound of a large creature crashing through brush. I turned again to see the same grizzly charging toward me. She was already just 20 feet away, leaving me no time to grab my bear spray or my pistol.
She threw me to the ground and attacked again, her bites harder and deeper this time. Huddled in the same position as before, I felt the first bite on my left arm and heard the bone crunch between her teeth. As she ripped the tendons out of my arm, I gasped in pain. It made her attack harder. She bit me 20 or 30 times, lifting me up a few inches from the ground and slamming me back down, pushing me with her paws. Her claws dug into my back as I fought with all my might to stay still and silent. I knew my only chance was to play dead and wait for her to leave. While she ripped my pistol and binoculars off and trashed my daypack, I remained a statue, trying not to breathe. I focused on staying on my stomach; if she flipped me, I knew she'd kill me.
My other senses were heightened—the sound of her teeth on my bones, the smell of my blood. In my head, I kept telling myself, She's going to leave. She wants to go back and check on her cubs. Quit moving and play dead and she will go away. I used every bit of strength I had to stay motionless, and her biting slowed down. She sniffed, then bit. Sniffed, then bit. A minute passed until I felt the pressure on my chest release. She was gone.
I laid with a gash in my head leaking blood into my eyes, too afraid to move. I listened until I couldn't hear her anymore, then I pulled my hand slowly away from the back of my neck and reached for the pistol on my shoulder holster. Not there. Wiping the blood out of my eyes, I lifted my gaze from the ground to look around. I spotted my sidearm 10 feet away. I jumped up to grab it and my backpack, and set off immediately down the trail to get as much distance between myself and the bear as possible. I didn't second guess what I could or couldn't do, I just ran.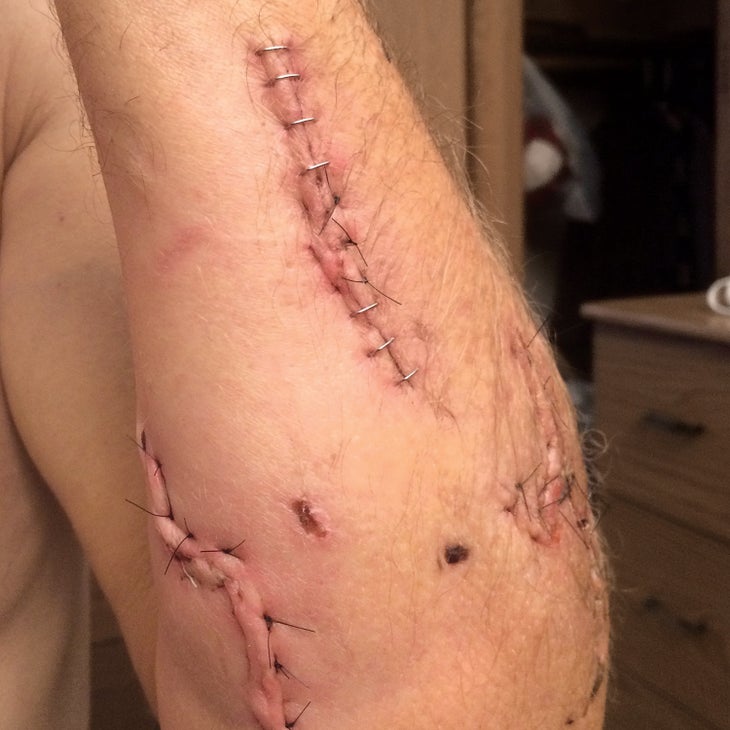 I examined my body as I moved down the trail—deep holes all over my back, shoulders, and arms. I could see blood dripping from my elbows, but nothing appeared to be gushing. Jacked up on adrenaline, I covered the remaining 3 miles in about 45 minutes and arrived at the truck, where I found another car parked beside me. I pulled my phone out and shot a video telling people to be safe in the area, and then posted it to Facebook. I got in my car and drove the 17 miles to the Madison Valley Medical Center.
When I walked in, everyone stared at me wide-eyed. There was a 5-inch flap of scalp hanging over my ear and I think they were worried I'd panic if I knew how bad it looked.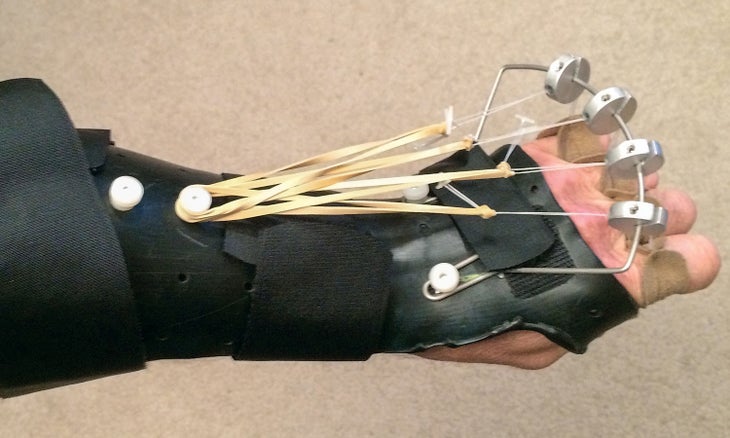 My wound tally included 20 puncture wounds on my right arm and shoulder; two severed tendons, nerve damage, and shredded muscles in my left arm; that 5-inch gash above my right ear; and puncture wounds from the grizzly's teeth and claws on my back and waist areas.
I was lucky that I got away, but unlucky that she barreled through the bear spray and that she attacked twice. (Editor's note: Bear spray is effective in deterring a grizzly attack in about 90 percent of cases.) But I was prepared. I don't second-guess my instinct to use the bear spray instead of the sidearm, but I wonder if the outcome would have been different. Even after years of experience dealing with wildlife, one thing you can't predict is how you'll react in the moment.