Yes: Bear Spray Still Works in the Wind and the Cold. This Study Proved It.
Can the most common bear deterrent work in heavy wind and sub-zero temperatures? A group of researchers set out to test it.
Heading out the door? Read this article on the new Outside+ app available now on iOS devices for members! Download the app.
When bear spray appeared on the market in 1986, it marked a turning point in how hikers practiced bear safety. Where guns had been the only option for defending against a charging griz before, the new capsaicin-based product warded off bears with no lasting aftereffects beyond stinging nostrils and eyes.
But since the beginning, bear spray has had its fair share of detractors—doubters who wondered aloud how a little spritz of pepper spray could stop one of the world's largest predators. Maybe you've even questioned whether bear spray can still work in a heavy wind, or how cold it can get and still function. Dr. Tom Smith and his colleagues are the scientists finding the answers.
Smith, a researcher with the College of Life Sciences at Utah's Brigham Young University, is a well-known figure in bear science. In one of his latest projects, he and his colleagues decided to find out how environmental factors and age affected how well bear spray worked. The results, published in 2020 in the The Journal of Wildlife Management under the title An Investigation of Factors Influencing Bear Spray Performance, detailed their forays into the science behind a bear country essential.
While not particularly common, bear attacks in North America have the potential to result in serious injury or even death in the most dire circumstances. If you do carry bear spray, congratulations: You've equipped yourself with an effective defense mechanism. In a 2006 study, Smith and fellow researchers Stephen Herrero, Terry Debruyn, and James Wilder went through 21 years of data on bear attacks in Alaska and found that spray altered brown bears' aggressive behavior in 92% of cases.
Smith's relationship with bears began during his time as a federal research scientist in Alaska, where he lived for nearly 30 years. Like many adventures, it wasn't planned:  He had started by studying caribou in Alaska and mountain sheep in Utah.
"I was really more of an ungulate person," Smith says. "But when I was picked up with the National Park Service, most of their interest was focused on bears." As time went by, his research increasingly focused on answering questions about human-bear contact and conflict, which naturally led to turning his gaze towards bear spray and other deterrents.
What Affects Bear Spray Performance?
For their 2020 study, Smith and his colleagues decided to test how temperature, wind, repeated canister use, and canister age affected bear spray's performance. They designed the study to address three common objections that bear spray's naysayers in northern climes often raise.
"You'll hear people say that [number one] there's nothing you can put in a little can that'll stop a raging bear, number two, it's too cold here for that product to work, and number three, the wind is going to render it useless," Smith says.
Back in the lab, his team enlisted the help of their science support shop to construct an apparatus using plastic tubing and a pressure gauge to evaluate canister head pressure. After this, the team chilled bear spray canisters to -50°C, then allowed them to warm to various testing temperatures. They then affixed the apparatus to the end of the chilled cans, and fired them at various temperatures to determine the effect on canister pressure.
Next, they drove the chilled canisters 2 kilometers north of the BYU campus and sprayed them onto a gigantic 112-centimeter-wide by 12-meter-long roll of white paper on the ground from a fixed height, in order to determine the effect of temperature on the distance and dispersion of the bear spray plume. A few of the researchers ended up falling victim to friendly fire, Smith recalls.
"I had people on the project that would not come back to work," he says. "One of them…released a whole can of bear spray from about 2 feet away into his face. After that, he was pretty much done working on this project."
To evaluate the effects of wind on bear spray performance, the team wisely decided against firing live bear spray canisters outdoors in breezy conditions. Instead, they used high-speed photography to capture the size and shape of the spray plume, then imported the images frame by frame into software used to perform computational fluid dynamics simulations. To ensure the realism of their calculations, Smith brought in experts in the field.
"I contacted the fluid dynamics researchers and the people who model plumes from industry to see where toxic mercury, sulfur dioxide, and all these things go," he says "I mean, that's what the EPA looks at and they're very good at it. This stuff has to hold up in court." The spray animations developed through their simulations can be seen here.
Lastly, the team evaluated canisters with expiration dates ranging from 2008-2015, plotting the weight of the can, to determine propellant loss, against canister head pressures. According to Smith, that last test wasn't originally part of the plan.
"Because I had a lot of cans that were old, I looked at the effects of age on cans as kind of an afterthought," he says. "I thought, what the heck, it's kind of interesting."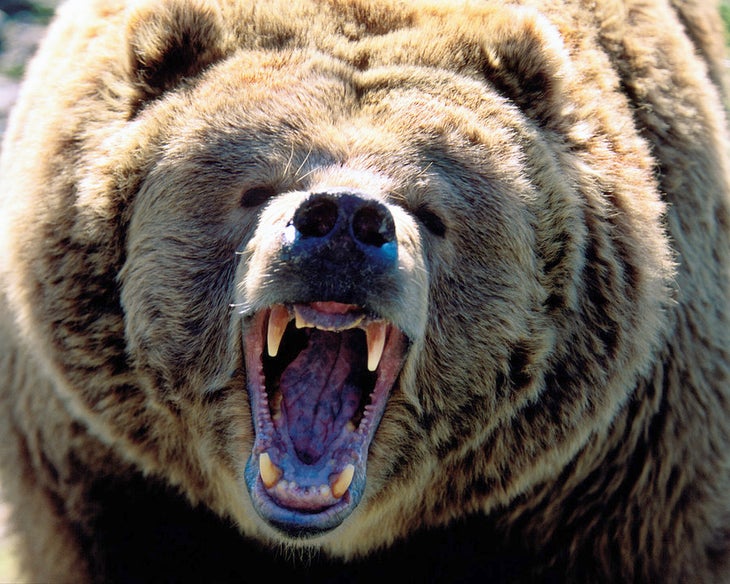 So, what were the results of their studies?
First, temperature clearly has an effect on canister head pressure—but the cans had to get very, very cold before they stopped working. The laboratory data showed that at −163°C, a can of bear spray has essentially no pressure. As the temperature in the cans rose, their pressure increased by 7.1 kilopascals for every degree increase in temperature. The field data showed that functionally, a temperature of −54°C (-65°F) rendered the canister ineffective. (Parts of Alaska have very occasionally gotten colder than that; the good news is that it's only ever happened in winter, when bears are hibernating.)  Even at the frigid temperature of −23°C, bear spray plumes reached a distance of more than 4 meters.
As for the effects of wind, the team's  modeling showed that firing into headwinds reduced plume distance to 1.5 to 2 meters, crosswinds reduced plume distance to 3 to 3.5 meters, and even the slightest tailwind pushed the plume beyond 10 meters. The team modeled wind speeds up to 10 meters/second. Anticipating questions as to why they did not model higher wind speeds, they noted that most human-bear encounters occur in wind-protected areas, and that bears tend to limit their mobility in high winds due to their impaired sight and smell (particularly relevant for snowy Arctic conditions for polar bears).
While wind did have an effect on the plume's distance, the team said it wasn't enough to nullify the benefits, noting that "the protection afforded by bear spray even under high wind scenarios [means] there is no reason to not carry it because of wind concerns."
Finally, do expiration dates matter? Weighing unused cans of expired bear spray, the team measured an average of 0.5-1.9 grams/year loss of propellant depending on brand (they posit that the differences were perhaps due to different head assembly components). Curiously, the decreased canister weight didn't seem to correlate with the canisters' head pressure at all. Based on the team's data, hikers can expect approximately 7-8% of a bear spray canister's propellant to leak after 4 years, which seems reasonable when considering that manufacturers recommend discarding cans that are 4 years old or older.
The team's conclusions: Bear spray is a reliable deterrent even in windy or cold areas, and hikers should carry it whenever the possibility of a human-bear encounter exists. (Hikers looking for further protection against the cold can carry the canister inside of a coat or keep it in a sleeping bag with the safety clip on.) The researchers recommend against test-spraying, instead encouraging hikers to carry fully-charged, unexpired product.
From Smith's perspective, the study is yet one more piece of evidence demonstrating why bear spray is such an essential safety tool in grizzly country.
"We have conducted research on both bear spray and firearms as bear deterrents," he says. "Both can be very effective, but overall, bear spray has a better track record simply because it is much quicker and easier to deploy. Because some people are reluctant to use a lethal deterrent in a bear encounter, bears can use that pause to their advantage." Telling the difference between a wary animal and a real threat isn't always easy, after all, and making the wrong choice with a firearm means killing or maiming an animal for no reason.
With bear spray's tried-and-true effectiveness, Smith says, the calculus is much simpler: "Carry with confidence, and use as needed."