Be Bear Prepared
Bear Safety Gear for Every Scenario
No one wants to run into a bear in the backcountry. But what you might not realize is that bears are more afraid of you than you are of them. They don't want to hurt you. They don't even want to see you. Unfortunately, sometimes bears and humans simply cross paths. 
Luckily, modern bear safety products allow you to stay proactive and ward off any unwanted hiking buddies, and can protect you if you do come into closer contact with a bear. In this article, we'll outline some different scenarios you might encounter in bear country, as well as some great products to help you stay #BearPrepared for each situation.
Encountering a Bear at Short Range
Ideally, a combination of bear bells, bear safes, and bear horns (see below) means that you never have to run into a bear at close range. However, sometimes it happens, and you need to be prepared. In the event that you come around a bend or through some brush and encounter a bear head on, bear spray is your best friend.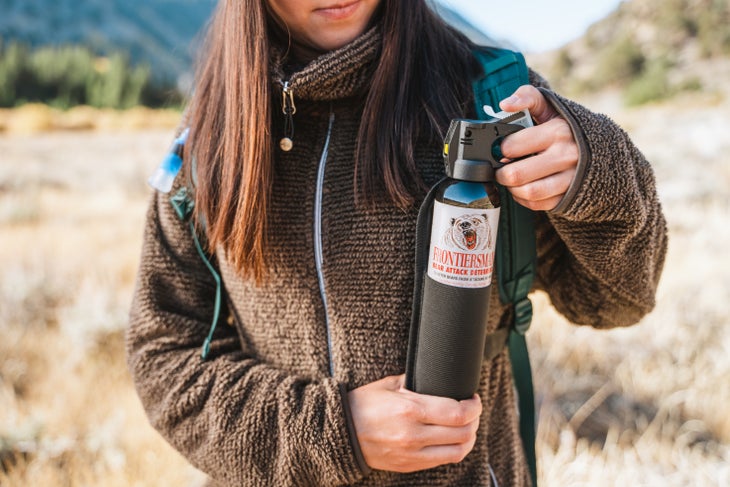 Frontiersman Bear Spray has a powerful 35-foot range and sprays out a heavy fog of 2.0% major capsaicinoids (the maximum strength allowed by the EPA), while a glow-in-the-dark safety lets you locate your bear spray in the dark. This effectiveness isn't just theory, either. The spray was live tested on charging bears by the Elmendorf Air Force Base in Alaska and Brown Bear Resources in Montana. Frontiersman consistently deterred bears in both trials.
Staying Prepared in Territory with Lots of Bear Activity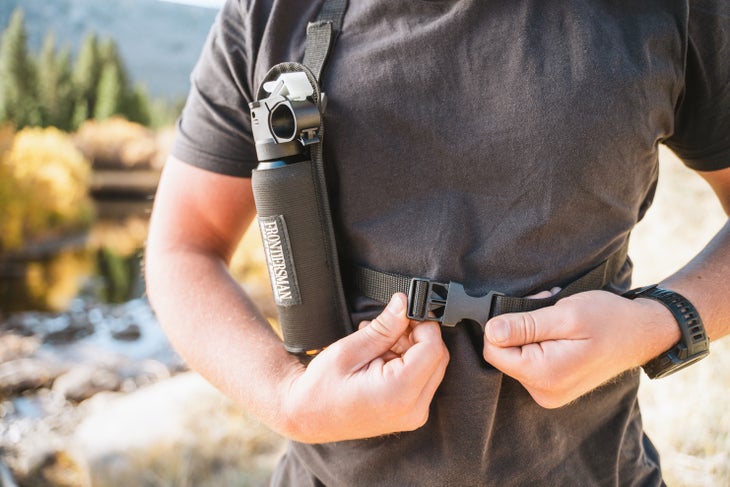 There are certain locales where bears are highly active and/or have become so accustomed to human presence that they aren't easily startled by human encounters. When you're heading through terrain like this you need to be ready for a close up bear encounter at any moment, and if your bear spray is buried in your pack, it's not going to be of much use. As a result, some form of fast-access holster for your spray is a good investment.
The Frontiersman 3-in-1 Holster allows you to carry and access your bear spray when you need it most. This holster is so great because it offers three ways to carry your spray. You can use it as a chest holster for immediate access, a belt holster with a metal belt clip so you can draw from the hip, or use the detachable carabiner, which allows you to hook your spray to a pack, bag, belt loop, or anywhere else. The 3-in-1 Holster allows for instant access, with no straps or Velcro to rip off before you pull out your spray (sometimes Velcro closures can create loud noises that can further irritate the bear, causing them to charge). In addition to the 3-in-1 Holster, dedicated Chest Holsters and Belt Holsters are also available.
Encountering a Bear at Mid to Long Range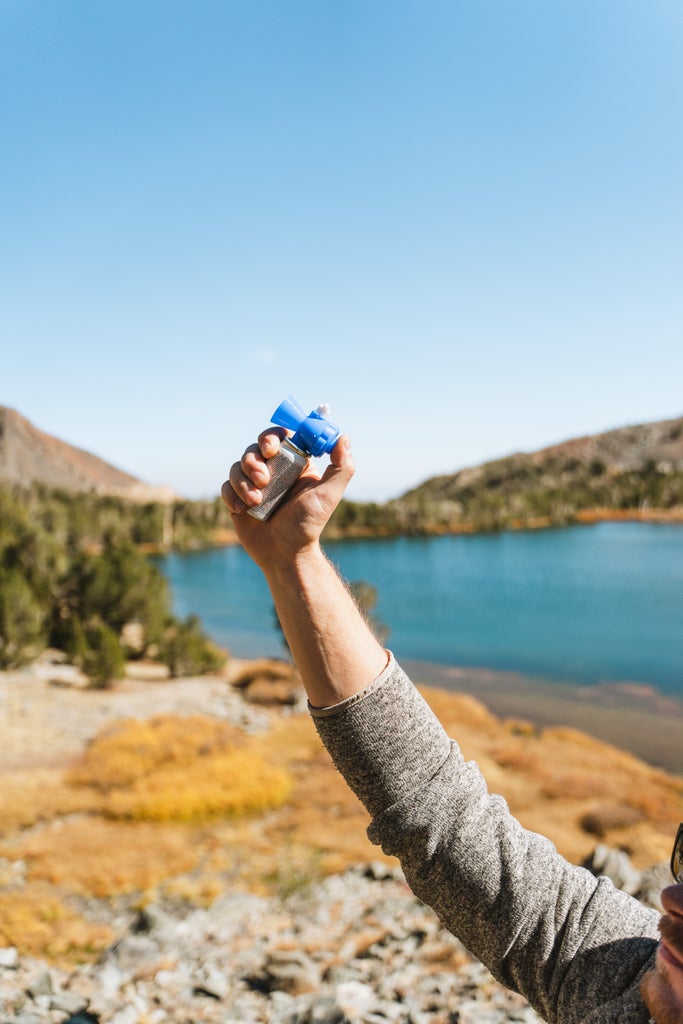 Let's say you come into a clearing and see a bear at the far side. The bear is in your path and there's no way around it, but it hasn't seen you yet and you aren't sure what to do. In this situation, you need something that will create a loud noise to startle the bear, so it leaves your path of travel and you avoid an encounter. 
The pocket-sized Frontiersman Bear Horn is an excellent choice. It features a 115-decibel horn audible up to half a mile away. With the locking on/off top you don't have to worry about accidentally sounding the horn when it's in your pocket or bag, and simple push-button activation allows for fast use when you need it. With 60 bursts per horn, you can ward off bears for years to come.
General Bear Prevention on the Trail
Ideally, you never see the bear and the bear never sees you. Startling bears is the main reason they become aggressive. So when you're hiking in bear country, make sure you have some method of making noise to let bears know you're in the area, so they can steer clear of your path. 
Bear bells like these Frontiersman Bear Bells create a light jingle as you walk, perfect for letting bears know you're around. A magnetic silencer keeps your bell quiet when you don't need it, and a Velcro strap means you can attach this bell wherever you want.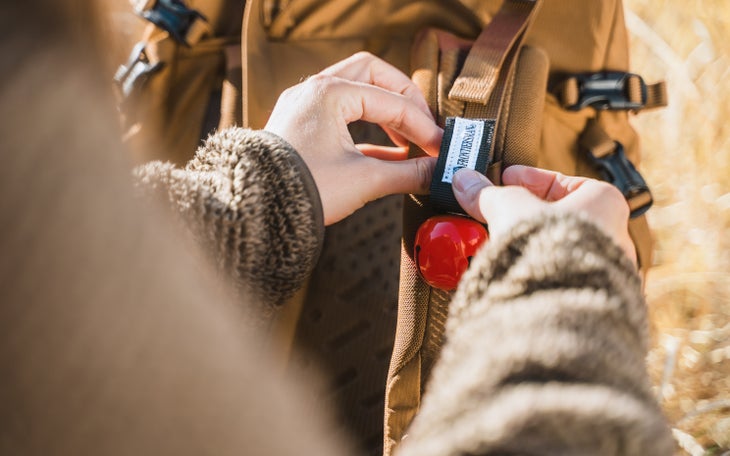 Campsite Bear Safety
When you're camping in bear terrain, keeping your food and smellables secure at night is a must. Particularly in places with high human traffic, many bears have gone nocturnal to avoid human contact, so they're likely to come sniffing around looking for food after dark. Hanging bear bags is a common solution to keep bears from getting into your food, but this requires nearby trees with branches at a proper height, and it also doesn't seal in the odors that attract bears in the first place. Traditional bear canisters are another option, but are usually wide and bulky, making them difficult to pack, especially in smaller weekend packs.
The Frontiersman Bear Safe is an excellent solution. Unlike most bear canisters, the Frontiersman features a slim, tapered build, making it easier to stow in your pack, while still repping a hefty 11.86-liter capacity. An airtight gasket stops odors from escaping (and keeps your food fresh), while a high-pressure release valve lets the container flex without breaking, in case a bear does decide to toy with it. It also doubles as a seat when you want to take a break on the trail or at your campsite!