Ask A Bear: Will Music Attract a Bear?
Got a burning ursine question? Ask our resident bruin expert in our new 'Ask A Bear' column.
Heading out the door? Read this article on the new Outside+ app available now on iOS devices for members! Download the app.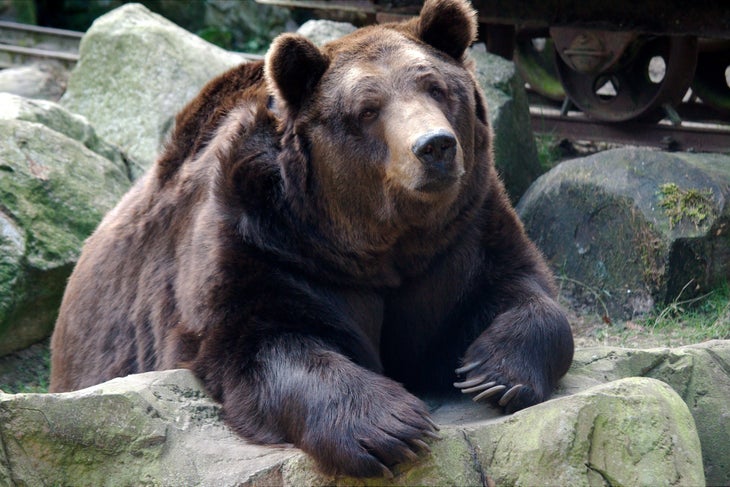 Q: Would listening to music on a portable speaker (like iPod earbuds) while sleeping attract or deter bear visits? —David, Austin, TX
A: Well…that depends on what you're listening to, David. If it's something by Grizzly Bear, Panda Bear, or Minus The Bear, I'll probably leave you alone. But if it's Miley Cyrus, I swear to Ursa Major I'll chomp you good.
Relax, relax—I'm just kidding. You're probably safe. See, like you, I like to smell my food rather than hear it. I'm attracted to just about any interesting smell you can think of—lamb chops, strawberries, toothpaste, face wash, sunblock.
But unusual sounds generally annoy me, and music (except for the aforementioned bands) would definitely fall into that category. That's why those guys in tan and green with the weird hats tell you to clap your hands, talk loudly, and sing whenever you walk through my forested living room. Have you ever even heard the average person sing "Dancing Queen?" If you have, no need to wonder why you "came all this way to Montana" and never even saw me.
So if you wanna crank the tent tuneage, go for it—your tentmate is more likely to maul you because of it than I am. Unless it's Miley…
—BEAR
Got a question for the bear? Send it to askabear@backpacker.com.