Ask A Bear: Breastfeeding Around Bears?
Our resident bruin expert answers all your questions in our weekly feature, 'Ask A Bear.'
Heading out the door? Read this article on the new Outside+ app available now on iOS devices for members! Download the app.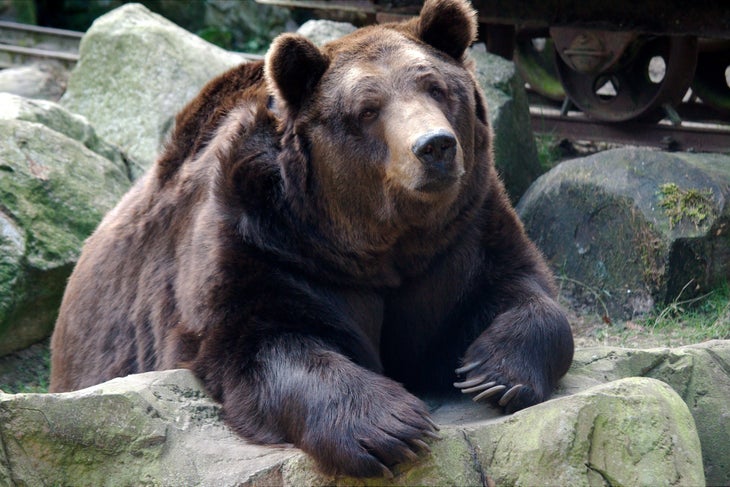 Q: My wife has been breastfeeding our 3-month-old daughter, and she'd like to get out for her first post-pregnancy backpacking trip this summer. While we cannot take the little one along with us yet, we had planned to take a breast pump and dispose of the pumped milk.
We can't seem to find any information about whether it is safe to camp in bear country while…uh…lactating. So, how about it? Is it safe to camp in bear country when you are a breastfeeding mom? Thanks! —Mike from Virginia, via email

A: Hey Mike. First of all, congratulations on the new cub—here's hoping she has two eyes, ten claws, and a shiny fur coat.
Secondly, as long as you dispose of the milk properly, your wife should be good to go on that backpacking trip. There's no evidence to suggest that lactating females would attract bears any more than those who aren't. If it's inside your body, a bear probably can't smell it; any food or external odors left on your skin or clothes are more likely to attract bears.
As for disposal: You can treat it much the way you would treat dishwater. Scatter it broadly at least 200 feet away from water sources, and well away from your camp (strain it, if need be). This way, impact should be minimal. If you want to truly reduce your impact to zero, however, you should probably wait to go backpacking until your wife stops lactating. It'll certainly cut down on her discomfort.
And if you ever need a babysitter…
—BEAR
Got a question for the bear? Send it to askabear@backpacker.com.