It Takes Grit to Finish the Triple Crown. Just Ask Akuna.
Will "Akuna" Robinson is an Iraq veteran, a thru-hiker, and now, one of the few African-American backpackers to complete the country's three most famous long trails.
Heading out the door? Read this article on the new Outside+ app available now on iOS devices for members! Download the app.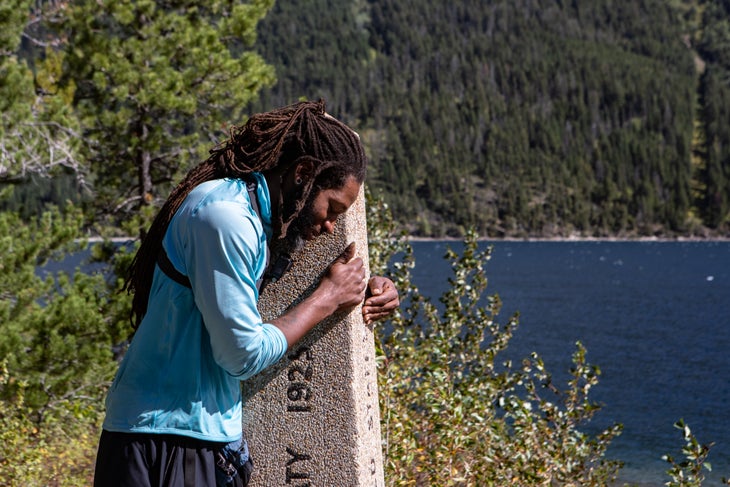 Will Robinson first heard of the Pacific Crest Trail in 2003, when he found a guide for it while rifling through a box of books on his base in Iraq. Back then, he wasn't yet Akuna the thru-hiker, just a 22-year-old soldier looking for something to take his mind off of the war around him. In fact, he wouldn't set foot on a long trail until more than a decade later.
After coming home, Robinson spent 12 years consumed by post-traumatic stress disorder, alcohol abuse, and a series of surgeries to help repair a wrist that he had injured while he was deployed. In an essay published on The Trek last year, Robinson recalled how his "depression, pain, and overall mental state deteriorated" as time passed.
"I cut off friends, family, and stopped doing the things I once loved because I no longer found joy in anything," he wrote. "I went through the motions every day with a smile on my face even though I was dying inside."
Then, in 2016, Robinson was channel surfing when he came upon a broadcast of Wild, the film adaptation of Cheryl Strayed's PCT memoir. Figuring he needed a "drastic change," he began researching gear and bought a ticket to California. Just three weeks later, he was standing at the trail's southern terminus. 
Robinson set out on his journey as a kind of self-administered therapy, planning to "walk off the war" the same way that Earl Shaffer, the first Appalachian Trail thru-hiker and a World War II vet, had. That first year, he doubted he'd be able to finish.
"There was no way I imagined getting [to Canada]. I was more just going out to see what happened on the PCT. I knew that was where I needed to be to get to a better place mentally," Robinson said. After hiking 1,600 miles, his thru-hike ended when he dislocated his knee on Mt. Whitney in California.
But Robinson had caught the bug. During the off-season, he began training, loading up his pack and logging 10- to 20-mile urban hikes around his hometown of Slidell, Louisiana. In 2017, Robinson—now going by Akuna, from "Hakuna Matata," because of his no-worries attitude—returned to the PCT. This time, he finished. In 2018, he bagged the Appalachian Trail. And on September 15, 2019, the 38-year-old completed the Continental Divide Trail to finish the Triple Crown.
Robinson's achievement is a rare one: At the end of 2018, the American Long-Distance Hiking Association—West recognized just 396 Triple Crowners. Black Triple Crowners are even rarer: By some accounts, Robinson is the first Black male hiker to claim the feat, following Elsye "Chardonnay" Walker's successful Triple Crown in 2018.
"I want to get more veterans and people of color out," he says. "But more than anything, I just don't want to be the last African-American [to finish the Triple Crown]."
Now, 16 years and more than 9,000 miles after he first picked up that guidebook, Akuna says he found something on the trail that took him back to his army service: a community, united by a common purpose.
"These are some of your brothers and sisters," he says. "When you're in the military, you're part of a whole. And you have the same thing with thru-hiking. You find a place where you belong."