What Has Your Gear Done for the World Lately?
As more and more outdoor brands adopt give-back programs, it's time to wonder: What does my purchase accomplish? Can good gear really do good? On a trip with LifeStraw's clean-water campaign in Kenya, Dennis Lewon investigates.
Heading out the door? Read this article on the new Outside+ app available now on iOS devices for members! Download the app.
About 800 students gather under sparse trees for an assembly at Eshihaka, a primary-through-middle school in rural western Kenya. There isn't enough shade for everyone and many are standing in the sun. It's hot, more than 90°F, and as a guest I'm given a chair in the shade. I sit down and reflexively take a swig from my water bottle. It's automatic, a simple act I've done countless times. Today it makes me self-conscious. 
The students standing in the heat don't have bottles of cool, filtered water. Far from it. The drinking water at Eshihaka, as with many other schools in the area, comes straight from a well on school grounds—untreated, unfiltered. On any given day, the well water could be contaminated with cholera, typhoid, dysentery, or other disease-causing microorganisms. Drinking it is like playing Russian roulette.
"Students get sick and don't come to school," says Wilfred Litlema Mungoni, the head teacher. It's a common problem in the region, which has Kenya's highest rate of childhood diarrhea. "We are very glad you are here," he tells me as we prepare for a formal introduction before the assembled students. Single-story classrooms form a loose perimeter around the grass courtyard. "We have been hoping you would come."
Eshihaka is one of 249 schools scheduled to receive water filters this week. I'm here with my 11-year-old son Tate to help install them. We're volunteers with LifeStraw's Follow the Liters program, teaming up with Kenyan staffers, and before my team of six leaves Eshihaka in about two hours, there will be safe water for every student and teacher in the school.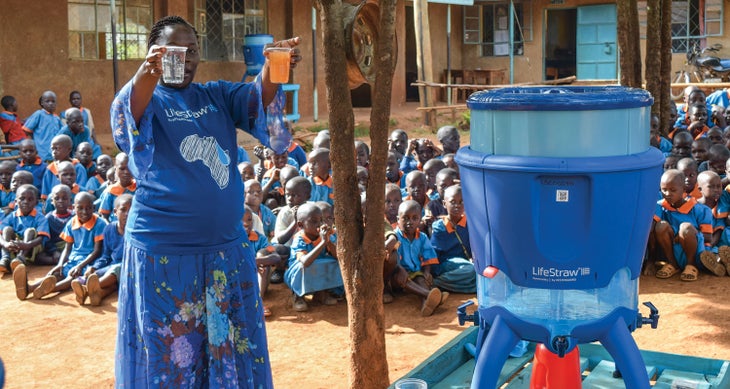 But first there's work to do: unpacking and assembling filters, testing them, and training the kids how to use and maintain them. And we can't start those tasks until after formal introductions. And a welcome song. And maybe dancing.
I've come to Kenya to see how LifeStraw delivers on its promise to provide clean drinking water to a child in the developing world for one year for every filtration product it sells to travelers, hikers, and backpackers like me. It doesn't take long to understand a key part of the project's effectiveness: Unlike most other corporate-giving programs, with this one, the cause came first.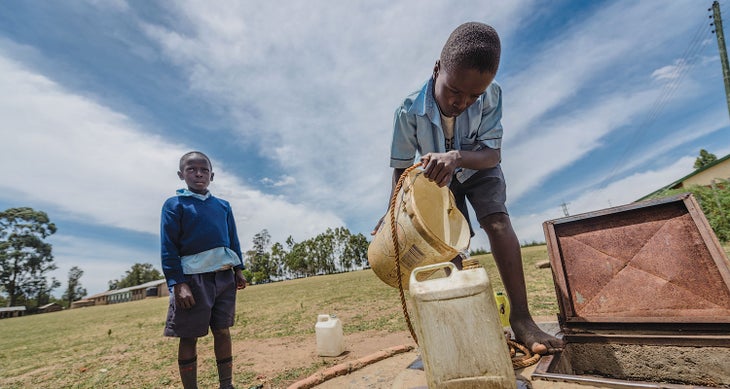 LifeStraw is not the first outdoor gear company to embrace "cause marketing"—in which for-profit revenue is used to subsidize nonprofit organizations or other causes. Patagonia was a pioneer, committing to donate 1 percent of annual sales to environmental causes starting in 1986. (Patagonia's Yvonne Chouinard cofounded the nonprofit 1% for the Planet in 2002.) The strategy has become even more visible in recent years, after TOMS shoes popularized the one-for-one model by providing shoes to a child in need for every pair of shoes purchased at retail. The outdoor industry in particular has embraced cause marketing, which seems fitting: Done right, it's a circle of virtue that's good for business and good for the planet (which, yes, is also good for business).
It's at the vanguard of a larger trend outlined in The End of Advertising, a new book by Andrew Essex that argues companies have to reach consumers in meaningful ways in the age of ad blockers and commercial-free streaming. But that doesn't mean anything works. Done wrong, even the best-intentioned campaigns can be perceived as marketing gimmicks—or worse. After the 2011 tsunami in Japan, for instance, Bing offered to send $1 for every retweet of a post which, not surprisingly, contained a link back to Bing. It gave the appearance that Bing had a pile of money that it would only donate if a marketing goal was met.
Done right, cause marketing clearly aligns with a brand's values. A mission-driven, long-term program stands in contrast to opportunistic giving, as can happen with companies that don't have clear goals around philanthropy. The former comes to define a brand, and consumers today are responding to that kind of authenticity. A 2017 Unilever survey found that 33 percent of people choose to buy from brands they believe are doing social or environmental good. And most importantly, the results have to be effective. What good is it to support a cause if nothing really gets done?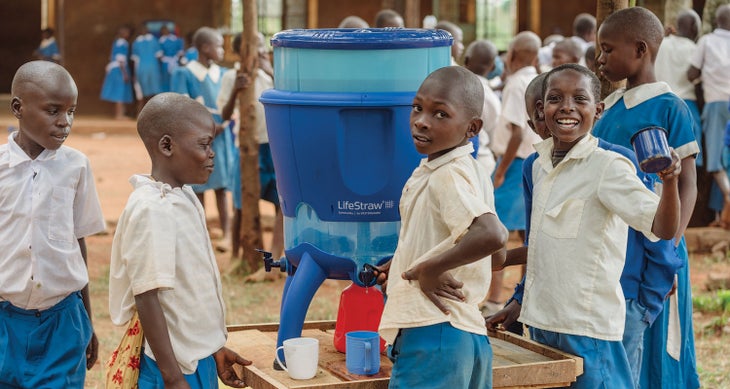 That's what drew me to Kakamega, a city in western Kenya that's far from the country's wildlife preserves and hiking trails, last February. Here, I'll get to see firsthand—and participate in—a week-long Follow the Liters campaign.
Like plenty of backpackers, I've seen the Follow the Liters promise on LifeStraw's packaging. But I became interested in a full immersion because of the program's unusual history.
Mikkel Vestergaard, CEO of Switzerland-based Vestergaard, the family-owned company behind LifeStraw, knows more than most corporate executives when it comes to the cause part of things. He's been at it for more than two decades. As a young traveler, he was drawn to Africa for adventure, and in South Sudan, at age 22, he "embedded" with the Sudan People's Liberation Army on patrol for about 10 days. "I was bulletproof and borderline stupid," he tells me when I meet him in Kakamega. But the experience inspired him get involved in South Sudan in more appropriate ways, doing development work and volunteering as an election observer. From there, his path was set. "I first got involved in humanitarian work in the '90s, making tents and blankets for refugee camps," he says. "Now, everything we get involved in has to have a positive impact. We focus on three areas: global health, water safety, and food security."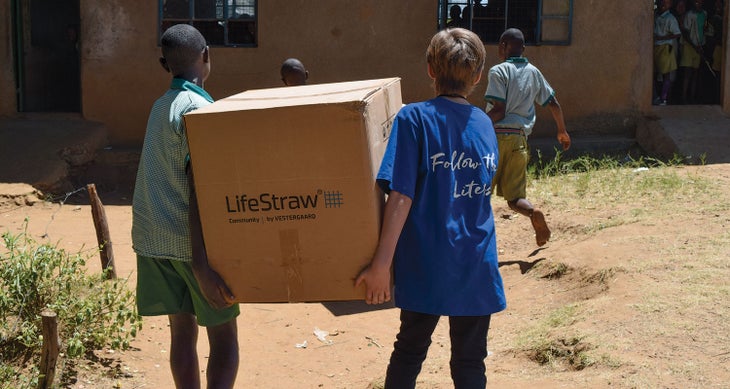 LifeStraw's origins can be traced back to a commitment to help eradicate Guinea worm, a waterborne disease that once plagued African countries. Vestergaard developed the LifeStraw Guinea Worm Filter (a precursor of the straw-like device backpackers use today). The filter launched in the 90s in partnership with the Carter Center, an NGO established by President Jimmy Carter. Today, Guinea worm is set to become only the second human disease completely eradicated, after smallpox.
That success prompted Vestergaard to tackle broader water-safety challenges, and laid the technological foundation for LifeStraw's entry into consumer filtration products. He saw this as a new business model—a way to secure long-term, sustainable funding instead of relying on governments, NGOs, private donors, or other fickle sources. (LifeStraw currently devotes more than 6 percent of annual retail revenue to Follow the Liters.) He was an early pioneer in a new wave of for-profit companies making cause-related efforts part of their DNA.
But unlike brand leaders who are content to write a check to a nonprofit, Vestergaard believes it's critical to commit to a place and take ownership of the work in order to better understand the challenges and maximize long-term effectiveness. "We implement the program ourselves, without a third party," he says. That approach helped the company earn a 2017 Halo Gold Award, a prestigious recognition in the cause-marketing field.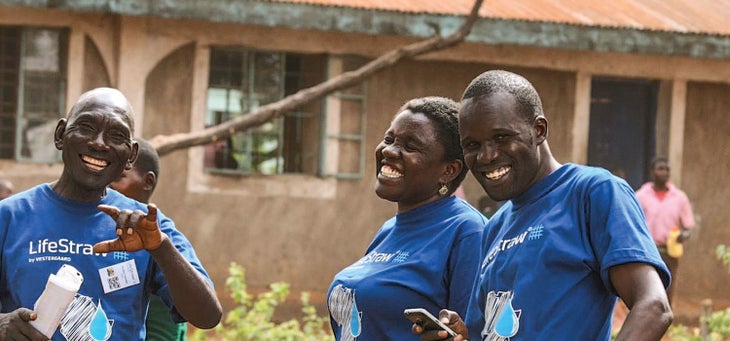 Adhering to this philosophy, LifeStraw employs a staff of 35 Kenyans to administer the Follow the Liters program. In 2011, the company distributed almost 900,000 family-size filters to households in western Kenya (covering about 90 percent of the region's population), ensuring that kids would have safe water at home. Which would be great if they weren't drinking untreated water at school.
The Follow the Liters program, delivering customized community-size filters to schools, closes the gap. Three times since 2014, the brand has brought more than 40 volunteers—mostly its own employees—to the region for a week-long blitz delivering filters. As a result, the program is on track to reach 1 million students by early 2018. A smaller program is also underway in India, and there are plans to expand into new regions and technologies. Later this year, the company is introducing the LifeStraw Flex, a squeeze filter that also reduces heavy metals, including lead. It's part of the company's mission to broaden its commitment to bringing safe water to communities around the globe.
I wonder: As government aid budgets shrink and priorities change, and the need to address social and environmental issues falls more and more to the private sector, will this be a model others will follow?
To hit LifeStraw's goal, we'll have to reach some 200,000 students this week. It sounds ambitious, but the process has been refined over time. Volunteers and staff split into teams and fan out across the countryside, putting in 12-hour days. My team consists of Tate, four Kenyan staffers, and me.
As a backpacker, Tate is well aware of the need to treat water from lakes and streams. But like most kids in the United States, he takes day-to-day drinking water for granted, and is surprised to learn the consequences of not having access to a safe source. According to the Centers for Disease Control and Prevention, diarrhea kills 2,195 children worldwide every day—more than AIDS, malaria, and measles combined.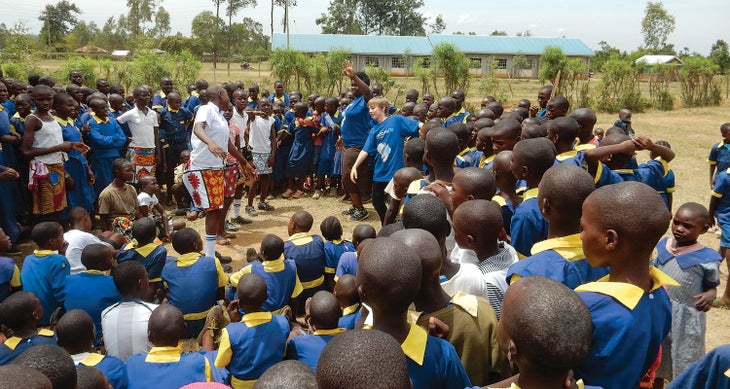 In Kakamega, we gather with the other volunteers for a weekend of training. The group is heavy on Europeans, but includes people from across the globe, North America to India. Four volunteers from the U.S. won a contest to join the trip. (Tate and I paid our own way to Kenya, but LifeStraw covered our expenses during the program.)
Tara Lundy, LifeStraw's head of program development, demonstrates how the equipment works. (Unlike most of the filters hikers use, the Community model removes viruses as well as bacteria and protozoa.) The gravity-fed filters look like large, blue water coolers on legs, with four spigots around the perimeter. They can process about 12 liters of water an hour, and with maintenance will last for up to 100,000 liters. (LifeStraw estimates that's three to five years of use, and will fix or replace filters as needed.)
"Each school should have tables ready for the filters, and water to fill them with," Lundy says. "You want to get them assembled and filtering as soon as possible, so there's clean water for the kids to drink before you leave."
Tate is following along, but Lundy really gets his attention with her final piece of advice. "The principal, or head teacher, will lead a formal introduction," she says. "As guests, you might be offered a snack and a soda. You could be pressed for time, or maybe you don't normally drink soda. But it's polite to accept." Tate, for whom a soda is a very special and rare treat, tells me that he plans on being extremely polite.
After a 6 a.m. breakfast, our crew—team name Wildebeest—heads out for an hour-long drive to the first school. We travel through green fields of sugar cane, which dominate the low-lying terrain. The roads vary from potholed asphalt to rutted dirt, and are lined with streams of people on foot and bicycle. Kids in uniforms—red, blue, green—make their way to school.
Our Kenyan leaders include David Manya, who grew up in the area and is well-known by local school officials; Daniel Olubero, the area coordinator, who is looking forward to the kids' reaction to Tate's presence because he's never brought along a foreigner their age; and Elizabeth Oside, who will lead trainings and songs. My job is to collect school demographic data, and Tate's is to help whoever needs help.
We arrive at Saint Cyrilla Emulembwa Primary School before 8 a.m. and park in a grass field. The filters are here already; large boxes the size of dishwashers sit under the school's eaves, unopened. After introductions, we get out the pieces and go to work. Hundreds of students crowd around to watch us fill and test the filters. They're dressed in red-checked shirts, with boys and girls alike sporting clean-shaved heads (to prevent lice), and it's immediately clear that this is an event.
Olubero was right about the Tate effect. The kids listen attentively when Olubero explains filter parts and operation, but when Tate serves as Oside's model for a hand-washing demonstration (we bring soap, too), the students break out in delighted giggles. Later, at another school, the giggles go three notches higher when a young girl tries to teach Tate a dance and he gamely swings his hips, trying but failing to stay in sync with hers. "Like this?" he asks, prompting more laughter.
At each stop, we alternate between frantically working to stay on schedule and being mindful that some things shouldn't be hurried. When a head teacher insists on giving me a walking tour of school grounds, I get a firsthand look at why Mikkel Vestergaard's philosophy of commitment to a place matters. Here, without a well, students have to walk a quarter mile to the river. Two different U.S. nonprofits came to build wells in recent years, the head teacher tells me. "This one, it was dug in the wet season, so now it doesn't have water in the dry season," he says, pointing at a cement-capped well. Then he walks me over to a similar cement pad 50 yards away. "And this one, they never came back to finish it, so it doesn't have a pump." Kids are still getting water from the river.
The two failed wells show how easy it is for aid work to fall short despite the best of intentions. To prevent such lapses, LifeStraw makes a five-year commitment to each school. A local staffer will return monthly to the schools, ensuring the filters are being used and maintained. (In a June 2017 follow-up survey, LifeStraw found that 93 percent of schools visited had functioning filters, and 83 percent reported improvements in student health.)
Vestergaard sees another benefit in staying so close to the cause. If he was just writing a check to a nonprofit, he and his employees wouldn't be out here every year. "I get inspired and connected by going into the field," the 44-year-old CEO says. "I get to meet my staff in a different way. And I get to connect with the communities we're working in; it's so important that they become names and faces, not just data in a spreadsheet."
Midway through the second day, Team Wildebeest is starting to get into a rhythm. But efficiency doesn't mean speed. If the assembly and training go more smoothly, that just opens the door for more songs and visiting. At one school, we sit with the head teacher and members of the board, talking at length about the importance of safeguarding their only source of water. I sense we're slipping behind schedule when another round of sodas is offered, and I hope Tate knows you only need one soda to be polite. He doesn't.
Perhaps fueled by extra sugar, Tate helps Olubero come up with a twist on our introduction. What if, instead of including Tate in the formal introductions (where in truth he can be a distraction to the kids), we hide him in an empty filter box?
At Eshihaka, we set the box down and ignore it as the head teacher goes through the formalities. "We are welcoming these people to bring us clean, safe water," says Mungoni, as Olubero steps up to address the assembled students. After introducing our team, he says, in Swahili so the youngest children understand, "I have a surprise for you. It's in this box. Can you guess what it is?"
Then, a loud countdown: "3 … 2 … 1!" When Tate springs out of the box, some of the kids are too shocked to make a noise. But then the cheering and laughing erupt, and soon there's a crowd escorting Tate as he helps test and label the filters.
I watch him alternate between work and play, and am reminded of something Vestergaard told me. "'Let's go have an adventure' morphed into this humanitarian mission," he said, recalling his evolution from young traveler to disease killer. But that doesn't mean the adventure is over.
"I didn't think it would be this much fun," Tate says, catching his breath after a sprint around the courtyard.
I wonder what he'll remember a few years from now. It's clear he's seen a deep connection between the gear he uses and doing good, which I expected. But now I realize he's also learned that while doing good you can also have a really good time.
Before we leave, Mungoni, the head teacher, tells me, "I wish you could come back next year and see us. Every pupil will be healthier and study better."
We both look at the bottle I'm holding. Mungoni knows that small filters subsidize the larger models for his school, but this is the first one he's seen. I explain how hikers like me use the bottle filters to drink from streams and lakes, that our need for safe water supports theirs.
He smiles. "That's so simple."
Editor-in-Chief Dennis Lewon says Tate doesn't look at his school's water fountains the same way anymore.