Monongahela National Forest, West Virginia
Classic eastern mountain scenery along West Virginia's skyline pathway.
Heading out the door? Read this article on the new Outside+ app available now on iOS devices for members! Download the app.
I first walked the crest of Monongahela National Forest's North Fork Mountain Trail 20 years ago as part of a college lark. In all its autumn grandeur, I thought it was the most beautiful place on Earth, so wild, remote, untrammeled, diverse, and pulsating with foliage that it overloaded the senses.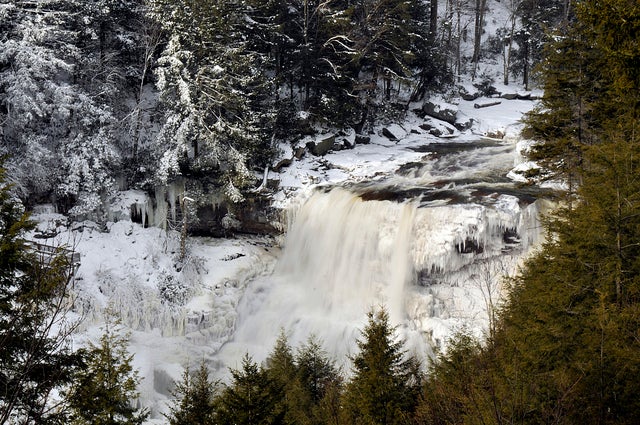 Now, one fine October day two decades later, I have returned, cringing at the possibility that the high-mountain pathway has been spoiled or that my memories had greatly exaggerated reality.
I can happily report that this mountaintop trail in West Virginia is still as good as mountain country gets in the East. (By the way, if you're wondering how to pronounce Monongahela — and who isn't? — it's moh-NON-ga-HEE-la, with the accent on the second and fourth syllables.)
The fairly flat trail is ideal for those seeking the perfect overlook, because each tabletop rock outcropping provides an even more stunning vista than the last. Linger at sunset and you can watch as the horizon fades to soft pink.
Don't get caught up in all the viewpoints and miss what's under your nose, though. North Fork Mountain, along with the Smoke Hole Canyon on the eastern spine of the mountain, was recently highlighted by the Nature Conservancy as one of the most remarkable natural areas in the eastern United States. The mountain plays host to a dizzying assemblage of rare plants and animals.
The trail winds along the lee side of the mountain rim cliffs. But wander 100 yards or less from the rim and the world becomes one of roaring wind and gnarled pines that are missing branches on their windward sides. They scent the air with the sweet, slightly dry smell of fallen needles. Except for the lack of water, the entire length of the 24-mile North Fork Mountain Trail is ideal for a two- or three-day backpacking trip. Elevation ranges between 3,000 and 3,795 feet, with some small saddles and moderately difficult knobs. For those with cars to shuttle, the blue-blazed trail can be broken up into two roughly equal 12-mile sections, thanks to a dirt Forest Service road that meets the trail midway. The road is recommended for four-wheel-drive vehicles only.
Monongahela Visitor's Information
Contact 
Monongahela National Forest
Potomac Ranger District
Route 3, Box 240
Petersburg, WV 26847
(304) 257-4488
Seneca Rocks Visitor Center
Box 13
Seneca Rocks, WV 26884
(304) 567-2827
Location
The Monongahela National Forest is located in eastern West Virginia, 100 miles northeast of Charleston and 8 miles west of Franklin. For more information on the area, contact the Petersburg Chamber of Commerce at (304) 257-2722.
Getting to Monongahela
From Harrisonburg, Virginia, drive west on U.S. 33 to Franklin, West Virginia. The southern terminus of the trail is 9 miles west of Franklin at ridge crest on U.S. 33.
Seasonal Information
The recommended seasons are spring and fall. Summers are hot and dry with highs in the 90s. Winters can reach lows of 20 degrees F.
Wildlife
While walking from the trail to the cliffs, you might discover white-tailed bucks lying low in the thick mats of blueberry bushes. Grouse often thunder out of the brush, and turkey vultures soar overhead. There are wild goats that have been startling hikers for years.
Insects
Contact park office for information.
Plant Life
The narrow trail leads under maple and oak trees that shimmer red and yellow when backlit by the high sun. It's a place where such far-north species as aspen and white birch are treated to a little southern hospitality, and warmth-loving magnolias get a Yankee nod of approval for toughing it out so far north.
Like most national forests, these woods have been logged at various times, but the summit of North Fork Mountain was spared the axe. Here the trail passes through an ancient forest consisting of several oak species that are stunted and twisted by the wind. The trail is so isolated and rugged that in places, it's in danger of being overrun by the mountain laurel, vast fern beds, flaming azaleas, and grasses that line the route.
Blueberries and huckleberries can be found in the high alpine openings in the Spruce Knob area. Usually ripening from late June to early July, these morsels are delicious when eaten still warm from the sun. But be aware that snakes may be found in the same rocky locations as the berry bushes and bears are particularly found of berries.
Monongahela National Park Facilities
Campgrounds in the Seneca Rocks area include Big Bend, Seneca Shadows, and the privately-owned Yokums Private Vacationland. Sites typically include picnic tables, lantern posts, and fire rings. Piped water and flush toilets are available April through October.
Camping is allowed outside of designated areas, and there are cabin rentals in some areas.
The Seneca Rocks Visitor Center is open April 1 through October 31, 9 a.m. to 5:30 p.m. daily, and November 1 through March 31, weekends from 9 a.m. to 4:30 p.m.
Monongahela National Park Parking
Information available from park office.
Permits
No permits are required. Fees for developed campgrounds range between $5 and $30.
Policies
Information available from park office.
Hazards
There is no available water along the trail.
Only trained and experienced climbers should attempt to scale the rocks.
Weather in the area, especially on Spruce Knob, can be severe. Be prepared for rain throughout the year and snow in every season but summer. Ridgetop winds can be fierce.
Be aware that poisonous timber rattlers and copperhead snakes are found in the area.
Most of the forest roads are narrow and winding, surfaced with gravel, and are often very rough. Watch for other vehicles and use extreme caution when driving.
During hunting seasons, hikers are urged to dress in high visibility clothing.
Leave No Trace
Stay on trail where possible to avoid trampling sensitive plants along the edges of the trail and near cliffs.
Respect areas of private land; the trail crosses private land in four areas.
Pack in, pack out.
All LNT guidelines apply.
Maps
Forest and trail maps are available from the National Forest office and Seneca Rocks Visitor Center.
"Monongahela National Forest Hiking Guide," a detailed guidebook that contains trail locations and topographic maps, is available for $12.95 from the visitor center and Petersburg Ranger District.
Other Trip Options
Located northwest of the Spruce Knob-Seneca Rocks National Recreation Area, Dolly Sods is comprised of a 10,215-acre wilderness and a 2,000-acre scenic area.
Flat Rock Roaring Plains offers 20 miles of hiking trails where you can escape the crowds.
A bird banding station is operated by West Virginia University and members of the Brooks Bird Club from mid-August to early October in the nearby Dolly Sods Scenic Area. You may observe the banders at work as they carefully band thousands of small songbirds.
George Washington National Forest lies to the east in Virginia.
Canaan Valley Resort and Blackwater Falls state parks lie to the north in West Virginia.
For state park information, call (800) CALL-WVA.
Little-Known Fact: The famous Seneca Trail in the Monongahela National Forest followed the Potomac River, once linking the Algonquin, Tuscarora, and Seneca Native American tribes.