Urban: The Vegas Strip, NV
This 5.3 mile sunset tour of Vegas takes in all the sights and sounds.
Heading out the door? Read this article on the new Outside+ app available now on iOS devices for members! Download the app.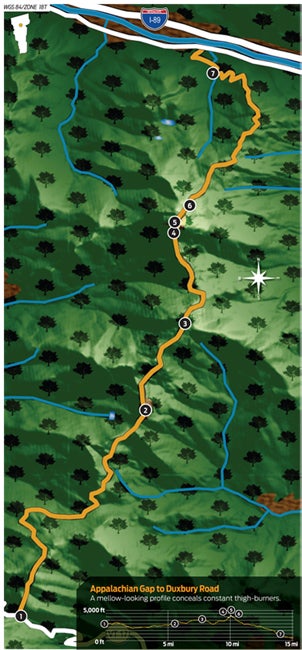 Odds that you'll want to stretch your legs while visiting the glitz-and-glam mecca: 100 to 1. Odds that this is the best hike in town: even. Begin this tour after sunset—when the temperature shifts from broil to bake—and hike north to the Stratosphere, the tallest tower west of the Mississippi. Swing southwest to the Wynn Monument and its multitier waterfalls (fed by the Colorado River!). Continue past Venetian buttes, rocky skyscrapers, and ponds with flocks of flamingos—and don't miss the always faithful Bellagio geysers. Caution: This route has lots of risky slots. Blinded by luck? Even in a blackout, you can find your way out with a GPS . INFO No permits required, no overnight camping allowed. visitlasvegas.com. Trip data: backpacker.com/hikes/27397
1. Bally's trailhead

0664486E 3998159N; mile 0

Head north along a wide swath of pavement and flashing lights, leaving the two 26-story rock towers behind you.
2. Desert oasis

0664771E 3999384N; mile .9

An easy climb through trees leads to several milky waterfalls that burst from the dark walls of the Wynn Monument.
3. Light show

0665281E 4000449N; mile 1.7

Enter the Riviera, a curved plateau streaked with fallen stars.
4. High tower

0665924E 4001731N; mile 2.6

Cross Las Vegas Boulevard to the Stratosphere, the tallest building west of the Mississippi. Keep your camera handy: BASE jumpers sometimes dive its 1,149 feet. Continue south.
5. Wild frontier

0665372E 4000689N; mile 3.3

Navigate a lonely stretch of trail that cuts past a never- ending circus and countless slots. At waterfront (one mile ahead), view the shipwreck off of Treasure Island.
6. Hail, Caesar!

0664410E 3998555N; mile 4.8

See a volcano erupt overhead as the trail enters a marble amphitheater big enough to hold the Roman army.
7. Always faithful

0664367E 3998176N; mile 5.1

The Bellagio's choreographed geysers blow as high as 240 feet every 30 minutes. More monster buttes and peaks loom ahead.
8. Sweet view

0664468E 3997914N; mile 5.3

Head to the top of the 50-story Eiffel Tower for a 360-degree vista of the entire valley ($10 during the day, $15 at night).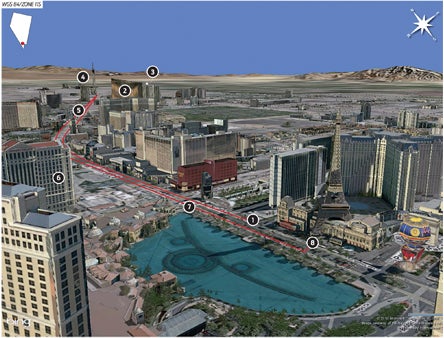 *Bing Map Providers: Bing, Microsoft Corporation, NAVTEQ, Image courtesy of the Nevada State Mapping Advisory Committee, Pictometry International Corporation.
City Bound

Check out other urban hikes.