Urban: Manhattan, NY
If you don't mind the crowds, hiking Manhattan is urban hiking at its finest.
Heading out the door? Read this article on the new Outside+ app available now on iOS devices for members! Download the app.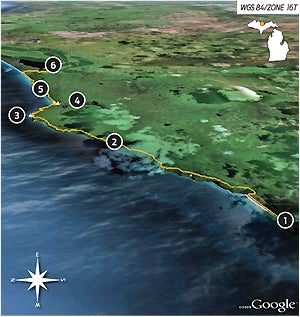 Hiking park-to-park in the Big Apple is not for solitude seekers. But what's a little trail sharing between a few million friends? On this 7.6-mile trek, you'll wander skyscraper canyons and ford rivers of people. (Prefer quiet trails? ) INFO No camping in parks. nyctourist.com. Trip data: backpacker.com/hikes/609467
1. The Tribeca Boardwalk

0583425E 4508426N; mile 0

Boardwalk cuts through black-eyed Susans and waist-high grass.
2. Lady Liberty

0583259E 4509606N; mile .9

Glimpse the Statue of Liberty from pier's telescope.
3. The High Line

0583750E 4510309N; mile 1.6

This elevated railway has been transformed into a park on stilts.
4. Madison Square Park

0585415E 4510566N; mile 3.3

Refuel with a Concrete Jungle (custard, bananas, hot fudge).



5. Bow Bridge

0586771E 4514371N; mile 6.4

Cross iconic bridge to reach the Ramble's wide-open lawns.
6. The Point

0586876E 4514279N; mile 7.4

Watch ducks ferry around lake. Grab a beer at Loeb Boathouse.



*Google Earth Providers: Google, Data SIO, NOAA, U.S. Navy, NGA, GEBCO, Image Digital Globe, Image Bluesky, Image Sanborn.
City Bound

Check out other urban hikes.