Trip Finder: Rockies
Your favorite Rockies hikes—from dayhikes to weekenders to multiday trips.
Heading out the door? Read this article on the new Outside+ app available now on iOS devices for members! Download the app.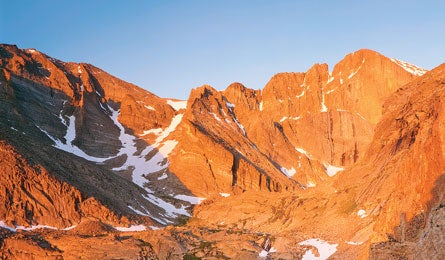 Longs Peak, CO. (Glenn Randall)
Reader expert Chris Connelly, of Windsor, CO.
DAYHIKES
WILDFLOWERS Rustler Gulch Trail, CO
In late July, the mountains above Crested Butte go kaleidoscopic with chiming bell, Indian paintbrush, cow parsnip, and columbine. Sample the show on a mellow, 10-mile round-trip hike through Gunnison NF north of Gothic. Bonus: views of crumbling Precarious Peak. fs.fed.us/r2/gmug
PEAKBAGGING Scotchman Peak Trail, ID
Yes, the ascent is leg-quiveringly steep. But the reward for grunting your way up 3,700 feet in 4.2 miles to Scotchman Peak's 7,009-foot summit? Equally breathtaking vistas of the rugged peaks around your perch, including the Blacktop, Goat, and Sugarloaf Mountains. fs.usda.gov/ipnf
WILDLIFE Mt. Washburn Trail, WY
Want a highlight reel of Yellowstone's A-list fauna, but don't have a week to play hide and seek? Hike this 6.2-mile round-trip from the Dunraven trailhead to the lookout atop 10,243-foot Mt. Washburn, says Frasier. He's spotted bison, elk, and a mama grizzly with cubs all in one hike. nps.gov/yell
WEEKEND
WILDFLOWERS Ice Lake Trail, CO
No split vote here: Readers agreed that backpackers will find the Rockies' best blooms in Ice Lakes Basin in the San Juan National Forest. Linger on this leisurely four-miler past Lower Ice Lake (which sits just below treeline) and switchback up the cliff to the upper basin. fs.fed.us/r2/sanjuan
PEAKBAGGINGGranite Peak, MT
Got solid climbing skills? There's no better challenge than Montana's 12,799-foot apex and its 26 "switchbacks from hell," dizzying Snowbridge ridge, and three pitches of class 4 and 5 rock. Tackle it in three days via the 11.6-mile approach from the West Rosebud trailhead. fs.fed.us/r1/gallatin
WILDLIFEAmphitheater Lake Trail, WY
The safari begins at the trailhead of this 10.1-mile round-trip in Grand Teton National Park: "Moose love to hang out in the lupine meadows near the start," says Chuck Wolfe, of Michgan. Keep your eyes peeled for black bears, mule deer, osprey, and bald eagles on the way to the sheer-walled cirque. nps.gov/grte
MULTIDAY
WILDFLOWERS Big Sandy to Highline Trail, WY
Score 80 miles of jagged Wind River peaks, huge trout, and flowers galore, says Chris Connelly. From Big Sandy trailhead, connect Jackass Pass, Cirque of the Towers, Texas Pass, Shadow Lake, and Upper Green River Lakes. See geranium, daisies, and raspberries. fs.fed.us/r4/btnf
PEAKBAGGING Longs Peak, CO
Earn your Rockies bona fides with this 43-mile loop across RMNP's Continental Divide and back, ending on a sneak route up Longs. "It's the most rewarding Fourteener I've ever done," says Diane Mikulis. (See backpacker.com/grandloop for tracklogs, video, and more beta.)
WILDLIFEBig Salmon Lake Trail, MT
This 57-mile loop through the heart of the Bob teems with elk, moose, and bear. Pack a rod and dry flies: The trout fishing is "out of this world," notes Frasier. From Holland Lake, track northeast to camp at Necklace Lakes, Big Salmon Lake, Flathead River, and Upper Holland Lake. fs.fed.us/r1/flathead
THE EXPERT
For Chris Connelly, 46, of Windsor, Colorado, last summer's solo trip in the Wind Rivers was the year's standout. Best campsite: open tundra benches 1,000 feet above Baldy Lakes on the third night.