Trip Finder: Ridgewalks
From the West Coast to the Rocky Mountains to New England, we've got nine epic ridgewalks just for you.
Heading out the door? Read this article on the new Outside+ app available now on iOS devices for members! Download the app.
West Coast | Rocky Mountains | New England


Gifford Pinchot

Photo by Dave Schiefelbein

WEST COAST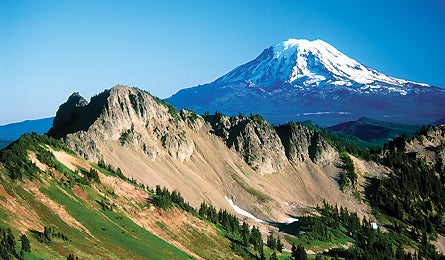 2 DAYS

Tahoe National Forest, CA

The Pacific Crest Trail from Donner Pass to Squaw Valley is 15 miles of heart-pounding exposure. From the Donner Summit trailhead, hike seven miles north past weather-stunted white bark pine and granite basins to Warren Lake. Camp here, then continue five miles to Squaw Valley, going up and over 8,949-foot Tinker Knob. Tag the summit and drop 3.8 miles through carpets of yellow mule ear. fs.fed.us/pct
3 DAYS

Gifford Pinchot National Forest, WA

Cruise the sky-high Goat Rocks, a two million-year-old volcano, on this 24-mile out-and-back from Walupt Lake Campground (20 miles south of Packwood). Camp at the trailhead, then rise for a 2,000-foot climb to lupine-covered Nannie Ridge and the PCT. Ascend four miles to 6,400-foot Cispus Pass and views of St. Helens, Rainier, and Adams. Spend your second night amid blueberries near Snowgrass Pass. Return to Walupt on day three. fs.fed.us/gpnf
4 DAYS

Chena River State Recreation Area, AK

See the forest from above the trees on this 29.5-mile loop. From mile 50.5 on Chena Hot Springs Road (57 miles east of Fairbanks), hike five miles to treeline, where a flat ridge leads to rocky 4,421-foot Chena Mountain summit. On day three, overnight at Upper Angel Creek. From there it's three easy miles through dwarf birch to Milepost 49.1 (then left to your car). dnr.state.ak.us
West Coast | Rocky Mountains | New England
West Coast | Rocky Mountains | New England
ROCKY MOUNTAINS
2 DAYS

Grand Teton National Park, WY

Get a lifetime of airy views on this Teton Crest Trail 20-miler. Take the Teton Village gondola to pick up the TCT at the top of 10,927-foot Rendezvous Mountain. Cross meadows for eight miles to the rocky Marion Lake camp. Next day, go five miles to Death Canyon Shelf and views of 13,770-foot Grand Teton. Finish by dropping 3,000 feet in six miles to Death Canyon trailhead. (For more Tetons treks, turn to page 83.) nps.gov/grte
3 DAYS

Flathead National Forest, MT

This 20-mile out-and-back on the Whitefish Divide is one of Montana's least traveled alpine trails. Why? Steep climbs and a mostly unmarked trail divert crowds to easier terrain. From Whale Creek Road, 19 miles northwest of Polebridge, a panoramic, loose 10-mile ridge hike traverses the spines of Nasukoin, Link, and Lake Mountains. You'll hover just shy of 7,000 feet. Turn around at the 5,600-foot Red Meadow Pass. Pack bear spray. fs.fed.us/r1/flathead
4 DAYS

Rio Grande National Forest, CO

Get big rewards for little effort on this rolling 30-miler at elevations above 10,000 feet. From 30-Mile Campground, west of Creede, go 4.5 miles on the Weminuche Trail to the CDT. It's 6.5 miles to 13,821-foot Rio Grande Pyramid's grassy campsite. Day two: an easy four miles to Main Ute Lake. Camp, then U-turn to Weminuche Pass on days three and four. fs.fed.us/r2/riogrande
West Coast | Rocky Mountains | New England
West Coast | Rocky Mountains | New England


Bigelow Preserve

Photo by Tim Seaver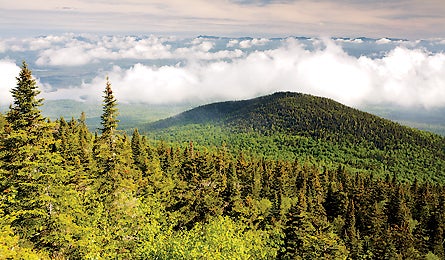 NEW ENGLAND
2 DAYS

Bondcliff, NH

The summit of 4,698-foot Mt. Bond is on every New Englander's best-of list. Or should be. From Hancock Campground near Lincoln, take the Wilderness Trail 4.7 pine-shaded miles to the Bondcliff Trail, where the climbing starts. You'll gain 2,650 feet on the way to Bondcliff's apex for uninterrupted White Mountain views with no roads in sight. Go two more miles to the Guyot Campsite, a 12-person shelter with five tent sites. fs.fed.us/r9/forests/white_mountain
3 DAYS

Bigelow Preserve, ME

Discover the Bigelow Mountains, a favorite secret of local hikers. This range has Katahdin-like exposure (12 miles of trail above treeline) yet only a fraction of the more famous peak's traffic. From ME 27/16, 0.5 miles east of Stratton, take the Bigelow Mountain Trail west to Horn's Pond Lean-to. Tackle the remaining 14 miles over two days (camp at Safford Notch and Little Bigelow), enjoying spruce- and lake-filled scenes along the way. state.me.us


Presidential Range

Photo by Tim Seaver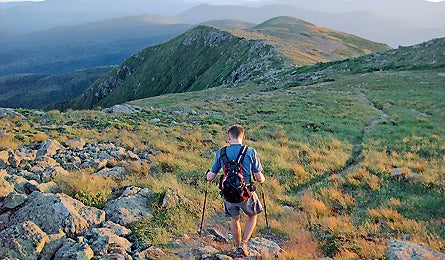 4 Days

Presidential Range, NH

End to end, this 25.5-mile traverse from Pinkham Notch to Crawford Notch delivers a classic tour of Presidential highlights. You'll bag up to eight 4,000-foot peaks and spend nearly the entire trek above treeline. Reserve Madison, Lake of the Clouds, and Mizpah Springs Huts (check outdoors.org for rates and reservations). Wake early on day two to summit Mt. Washington.
West Coast | Rocky Mountains | New England