Trip Finder: Northeast
Your favorite Northeast hikes—from dayhikes to weekenders to multiday trips.
Heading out the door? Read this article on the new Outside+ app available now on iOS devices for members! Download the app.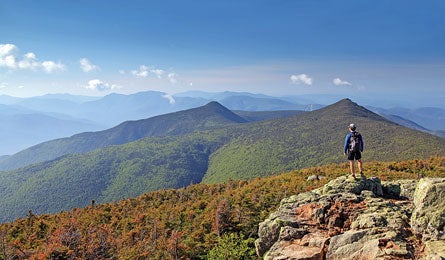 Get a Presidential view from Franconia Ridge. (Tim Seaver)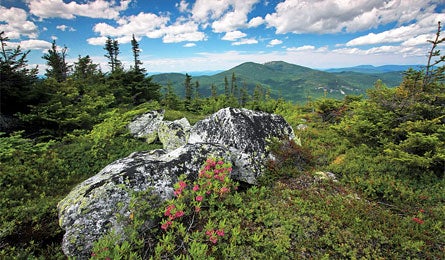 Hike to the summit of 3,335-foot Sunday River Whitecap. (Tim Seaver)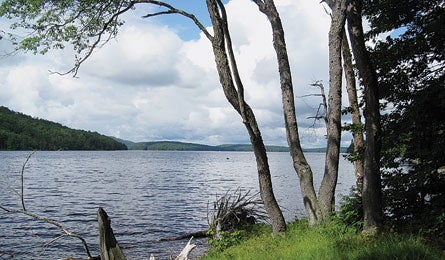 Amble along Cranberry Lake's edge in the 'Dacks. (Gillian Scott)

DAYHIKES

RIDGEWALKSFranconia Ridge Loop, NH

Traverse three White Mountain peaks on this granite ridge, and score 20-mile views across the Pemigewasset Wilderness to the Presidential Range. Take the Old Bridle Path from I-93 at Franconia Notch; summit 5,260-foot Mt. Lafayette at four miles and turn right onto Franconia Ridge Trail to Mt. Lincoln and Little Haystack Mountain. Return via Falling Waters Trail for a nine-mile loop. Be prepared for the Whites' infamously variable conditions. dartmouth.edu/~doc/hiking/franconiaridge

SHORELINESBabson Farm Quarry Loop, MA

From 440-million-year-old granite cliffs jutting into the Atlantic at Halibut State Park, you'll see 692-foot Mt. Agamenticus, 35 miles away in southern Maine. A 2.5-mile maze of easy hiking trails weaves around the remnants of the granite quarry that operated here from the 1840s until 1929. The now-defunct quarry slowly filled with rainwater to a depth of 60 feet, and now resembles a sapphire-blue infinity pool against the backdrop of the green-gray Atlantic. mass.gov/dcr/parks
RIVERVIEWSMt. Tammany, NJ

See the Delaware River twisting through Delaware Water Gap National Recreation Area from this 1,527-foot peak on the New Jersey-Pennsylvania border. Begin the four-mile loop with a 1,250-foot climb up the rocky Red Dot Trail from the Dunnfield parking area. "There are a couple of really good viewpoints on the way up, starting with Mt. Minsi at mile .5," says Katie Levy (above). From the summit plateau, return via the Blue Dot Trail, which connects to the AT. nps.gov/dewa


WEEKENDS

RIDGEWALKSGrafton Loop Trail, ME

The 2007 opening of this trail's western section completed a 39-mile loop over the alpine ridges of six 3,000-plus-foot peaks, punctuated by mossy valleys and dense forests. Start a three-night trek at the southern trailhead on ME 26 near Newry and hike clockwise; in 7.1 miles reach the 3,335-foot Sunday River Whitecap. Meet the AT just past the 4,170-foot Old Speck summit and follow it across ME 26 to begin the eastern portion. Camping is allowed only in designated sites. outdoors.org

SHORELINESDorr Mountain to Cadillac Mountain, ME

The short hikes on Mt. Desert Island are seemingly designed to show off stay-awhile views, with open ledges that overlook Acadia National Park's 40 miles of rocky shoreline. Hit the highlights on this overnight. Camp at Blackwoods Campground, and hike the 3.3 miles (one-way) up 1,270-foot Dorr Mountain. Day two, leave camp by headlamp and take the 7.4-mile South Ridge Trail to 1,530-foot Cadillac Mountain, the first point in North America to see the sunrise (October to March). nps.gov/acad
RIVERVIEWSC&O Canal, MD

The mighty Potomac and bluff-lined Fifteen Mile Creek parallel most of this 15-mile point-to-point in Green Ridge State Forest near the West Virginia border. From Little Orleans, follow the gently graded C&O Canal south 2.5 miles to the white-blazed Long Pond Trail. At mile 6.9, camp along the creek across from a slab some readers call "Smiling Rock" because of its upturned ends. Day two, continue to the Pine Lick Trail to finish the long day at the visitor center. midatlantichikes.com


MULTIDAY

RIDGEWALKSMetacomet Trail, CT
This 51-miler on the New England National Scenic Trail follows the 200-million-year-old Metacomet Ridge north past Revolutionary War sites, Connecticut River views, and basalt ("traprock") cliffs formed by ancient magma flows. From the southern terminus near Berlin, follow blue blazes along an increasingly untrafficked trail toward the 761-foot traprock specimen Ragged Mountain, a favorite among climbers: Try the Broadway route (5.8) up the Main Cliff. newenglandnst.org


SHORELINESCranberry Lake 50, NY

For lakeside shoreline, traipse through the Adirondacks' Five Ponds Wilderness on a 50-mile loop around 7,000-acre Cranberry Lake. Gillian Scott (above) suggests starting in Wanakena and traveling counterclockwise for an easier first day, when your pack is heaviest. Along the loop you'll see beaver ponds, sandy beaches, evergreen islands, and winding Oswegatchie River oxbows—but not a lot of people. "We went in July and didn't see anyone," Scott says. cranberrylake50.org
RIVERVIEWSPine Creek Rail Trail, PA

See the Pine Creek Gorge—aka the Pennsylvania Grand Canyon—from bottom to top on a 50-mile loop. Pick up the Pine Creek Rail Trail in Ansonia, and follow the rushing creek to Rattlesnake Rock, 19 miles south. Meet the 30-mile West Rim Trail for a more rugged and remote return. En route, peer 800 feet down into the gorge and 2,000 feet across the airy gap to the opposite rim. Walk 1.5 miles north and east along Colton Road and US 6 to return to your car. dcnr.state.pa.us



THE EXPERTS

Katie Levy, 26, who lives in Philadelphia, recommends Pennsylvania's 63-mile Conestoga Trail for its high-and-low views of the meandering Susquehanna River.
Husband-and-wife team Herb Terns, 41, and Gillian Scott, 37, spend 50-plus days a year in the 'Daks. A good day: skijoring with their dog, Rocky, near undeveloped Pharaoh Lake.