Trip Finder: Appalachians
Your favorite Appalachians hikes—from dayhikes to weekenders to multiday trips.
Heading out the door? Read this article on the new Outside+ app available now on iOS devices for members! Download the app.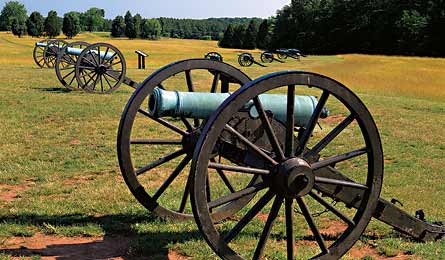 Confederate cannons on Henry Hill. (Mary Liz Austin)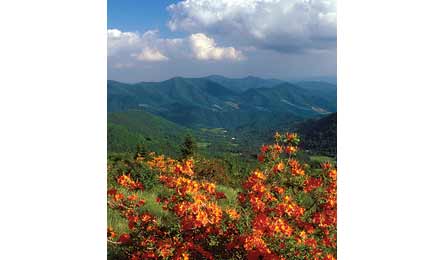 Flame azaleas atop the Roan Highlands (Pat & Chuck Blackley)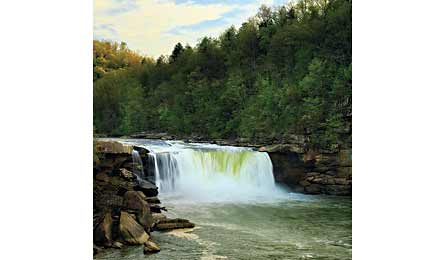 Cumberland Falls on the Sheltowee Trace (Pat & Chuck Blackley)

DAYHIKES

FIRE TOWERSHigh Knob Trail, VA

When an arsonist burned down the fire tower atop 4,223-foot High Knob in southwest Virginia in 2007, locals quickly galvanized around an effort to rebuild. It's no surprise why: The five-state, 100-mile view over the rolling hills of George Washington National Forest will make your knees quiver more than the 5.8-mile (round-trip), 2,000-vertical-foot hike. Take the High Knob Trail from the trailhead in Brandywine Recreation Area on WV 33. Reconstruction is set to begin this spring. fs.fed.us/r8/gwj

HISTORYGroveton Loop, VA

"The cost of freedom and ideals was paid for handsomely here in Virginia," says Dwayne Hoffman (above). Explore the sites of two Civil War skirmishes (the Battles of Bull Run) in Manassas National Battlefield on a 6.2-mile loop through field and forest. Start at the Stonewall Jackson memorial and pass an old hospital and two memorials to the Battles of Bull Run. According to local legend, the ghosts of fallen soldiers still haunt the Groveton Confederate Cemetery. nps.gov/mana
FLORA Colbert Creek to Mt. Mitchell, NC

Start this 14-mile out-and-back on the difficult Colbert Ridge Trail in the Carolina Hemlocks Recreation Area. After 3.8 miles, take the Black Mountain Range Crest Trail. Hike it in August to see the meadows lit with orange tiger lilies and a profusion of waist-high pink turtlehead. Follow the blossoms up 6,647-foot Mt. Craig. "The flowers shoot out of the rock up there," says Gabriel Butler (below). Continue to North Carolina's highpoint, 6,684-foot Mt. Mitchell, then hike back. cs.unca.edu/nfsnc


WEEKEND

FIRE TOWERSAppalachian Trail, NC/TN

Trailside vistas in the Smokies open onto purple mountains tumbling off to the horizon, their slopes trailing misty tendrils toward the sky. Start at Newfound Gap and follow the AT 31.4 miles north toward Davenport Gap. Share campfire laughs with fellow hikers, berry-rich meadows with black bears, and get drop-away views at Charlies Bunion. Take the side trail 5.2 miles before Davenport Gap, and hike .6 mile to the turret atop 4,928-foot Mt. Cammerer to suck in one last sunset. nps.gov/grsm

HISTORY Ridge Trail, VA

Few places have had more strategic significance than Cumberland Gap, where Kentucky and Virginia intersect near Tennessee. Take two days to explore this 21-mile point-to-point along the Ridge Trail in Cumberland Gap National Historical Park. The gap forms a passage through the Cumberland Mountains that was used by Shawnee and Cherokee tribes, and later Daniel Boone. During the Civil War, the gap changed hands several times before General Burnside won it in 1863. nps.gov/cuga
FLORARoan Highlands, TN

The treeless balds between Carvers Gap and TN 19E on the North Carolina-Tennessee border harbor some of the world's last habitat for the Gray's lily, a deep-orange, bell-shaped flower with brown freckles dotting the petals' interior. Hike 14.4 miles north (one-way) on the Appalachian Trail in late June to catch the bloom on Little Hump and Hump Mountains (at 6.8 and nine miles, respectively). Camp on Little Hump Mountain for unhindered sunset and sunrise views. nature.org


MULTIDAY

FIRE TOWERSSheltowee Trace, TN/KY
From Pickett, Tennessee, to Cumberland Falls State Resort Park in Kentucky, the Sheltowee Trace spans 59 miles of limestone ridges, creekside campsites, and visits the banks of the Cumberland River. You'll pass 75 waterfalls, including 113-foot Yahoo Falls, Kentucky's tallest. Inside Cumberland Falls park, take Trail 2 to 1,400-foot Pinnacle Knob, and climb the fire tower (call ahead for access; 800-325-0063) to see hills rising above the Cumberland Plateau. sheltoweetrace.com


HISTORYNorth Bend Rail Trail, WV

This 72-mile section of the American Discovery Trail in North Bend State Park passes through 13 tunnels blasted and bored by the B&O Railroad in the 1850s— including the longest, 337-foot Tunnel #10 at mile 30.4. Take a headlamp through Tunnel #19 at mile 21.9. Old train hands claim to have seen the shade of a woman in a wedding gown, and hikers have reported sudden temperature drops, mysterious breezes, and arches that appear to glow deep underground. northbendsp.com
FLORAArt Loeb Trail, NC

Survey the best of eastern blooms on this 36-mile route in Pisgah National Forest. Begin near Cold Mountain and traverse balds fringed with blueberries (July). At mile 24.6, hit 6,040-foot Shining Rock's quartzite summit, then go left to the Shining Creek Trail. Descend under a canopy adorned with flowering yellow-and-orange tulip poplars and an understory colored by magenta princess slippers (both April). Loop back to the Art Loeb on the Big East Fork and Greasy Cove Trails. ncnatural.com



THE EXPERTS

Former Air Force Staff Sgt. Dwayne Hoffman, 34, of Manassas Park, Virginia, heads to Sky Meadows State Park to hike the South Ridge and Ambassador Whitehouse Trails.
Gabriel Butler, 32, of Richmond, Kentucky, loves to dayhike nearby Red River Gorge. He heads off-trail near Auxier Ridge in his ongoing hunt for hidden arches along the rim.