Trail Mix: West
Your region's go-now guide.
Heading out the door? Read this article on the new Outside+ app available now on iOS devices for members! Download the app.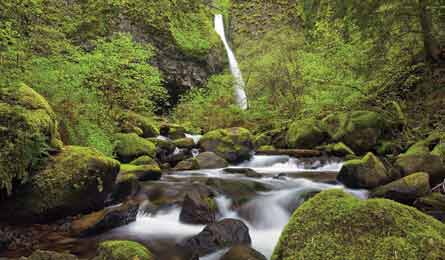 Pontail Falls (Photo by: Terry Donnelly)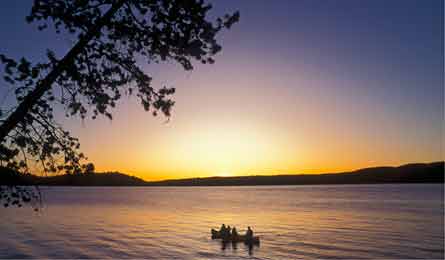 Paulina Lake, OR (Photo By: Greg Vaughn)
Explore: Portland's Gorge Hikes

Rock of Ages, Columbia River Gorge National Scenic Area

This 8.8-mile loop wastes no time warming up: You'll catch views of 192-foot Horsetail Falls before leaving the parking lot. The views keep coming as you climb
nearly 3,000 feet to snag glimpses of an arch, three more waterfalls, and the gorge (Trip ID 251760). Scan the code to download our free smartphone app, GPS
Trails, and get 15 more gorge dayhikes.
Perfect Days

Bozeman, MT Beehive Basin


Right from the trailhead, the steely Spanish Peaks beckon beyond lush alpine meadows filled with blue-bells and paintbrush (midsummer). An 800-foot climb over
2.1 miles takes you to an unnamed lake at the foot of the cirque. Before you leave town, hit the Lone Peak Brewery for a pint of the Hellroaring ESB
(lonepeakbrewery.com). Trip ID 948861
Denver, CO Lumpy Ridge Loop


Trek past mammoth Picasso-esque boulders and aspens to crystalline Gem Lake on this 10.2-mile loop on Rocky Mountain NP's eastern edge. Drive home along the
Big Thompson River so you can stop at Glen Haven's General Store for homemade double-wide cinnamon rolls (open until 6 p.m.;
glenhavengeneralstore.com). Trip ID 60518
Los Angeles, CA Morris Peak


Gain a 7,215-foot summit on this 9.8-mile out-and-back along a stretch of the PCT. After soaking up views of neighboring peaks, head home via CA 178 W to
soak yourself in Remington Hot Springs' cement pools, a quarter-mile hike from a parking area on Kern Canyon Road (free;
bit.ly/remingtonsprings). Trip ID 16893

Solitude Finder

Paulina Lake, Newberry Crater, OR
The parking lot may swarm with day-trippers and fleets of RVs, but rest assured, for those willing to walk to it, there's peace and quiet aplenty at Oregon's
"other crater lake" (70 miles north of the national park). From the trailhead at Little Crater Campground, start a 7.2-mile, counterclockwise loop toward the
Pumice Cone and Inter Lake Lava Flow; the crowds melt away within a mile on the lakeside trail. Overnight at the North Cove wilderness camp at mile four
(often people-free, even on summer weekends). There, kick back in the shade of the lakeside camp, cool off with a dip, or just admire the views of Paulina
Peak's ragged summit across the cerulean waters. On the drive out, grab an ice cream at the Paulina Lodge store. Trip ID 1215788
Bragging Rights

Win Our "Be A Mapper" Contest

What's better than hiking? Hiking, and earning prizes for doing it. Hit the trail with your GPS unit and camera (or a smartphone running our free GPS Trails
app; see left), report back on your adventures, and you could win gear in our third annual mapping contest. Our 2011 grand-prize winner, 50-year-old Peter
Scott (pictured above), a writer and photographer from Coarsegold, CA, mapped 460 miles last summer (key strategy: high-mileage days), and credits the contest
with jumpstarting his upcoming guidebook to the Central Sierra. His favorite route? A 52-mile, partly cross-country loop through the Sierra's Ritter Range to a
set of alpine lakes (Trip ID 1348403). Click here to learn more.